Forty years ago, on 21 January 1981, the first production DeLorean rolled out of the factory in Dunmurry, Northern Ireland. Although the DMC DeLorean has been considered a future classic for some time, the earliest cars now qualify as bona fide historic vehicles in the UK. A recently closed legislative loophole means that DeLorean owners won't be able to fit the colour-coordinated black and silver number plates to their cars, but they will soon be rightly welcomed into the ranks of true classics at shows up and down the country.
I've long been a fan of the look of the DeLorean and I was bang on target demographic for that mid-eighties movie trilogy, but until recently all I'd done was sit in one. When I found out that a 1982 DeLorean had been consigned for auction on The Market, I immediately called dibs on taking it out for a test drive.
The story of the DeLorean is well-told, but if you've been trapped in the past (or the future) for four decades, here's a quick recap.
General Motors executive, John DeLorean, quit the Detroit firm in 1973 to start the DeLorean Motor Company (DMC). After a few false starts with previously untried manufacturing methods, the chassis was re-engineered by Colin Chapman at Lotus. Another automotive legend, Giorgetto Giugiaro, recreated the futuristic design of the DeLorean based on a Lotus double-Y back-bone chassis, similar to the Esprit.
Struggling to find a suitable power unit, the DMC engineers eventually settled on a 2849cc 90-degree V6 petrol engine made by PRV – a joint venture between Peugeot, Renault and Volvo. Disappointingly, the car's performance didn't match up to its looks or its price tag and there were also issues of build quality.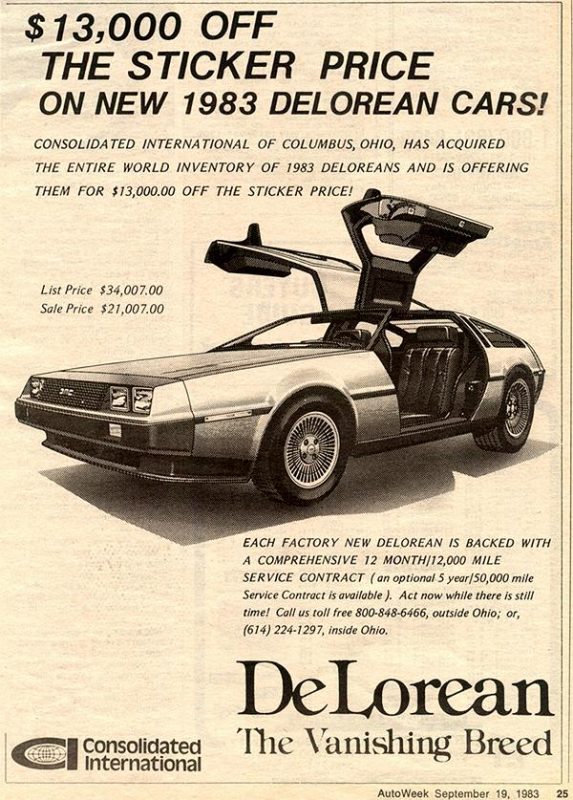 Consequently by February of 1982, only half of the DeLoreans built had found buyers and the cash-starved company went into administration. A new interim owner was found, and those cars already in production were completed, but by the end of the year the Dunmurry plant in Northern Ireland was closed down.
It is believed that around two out of three DeLoreans built still survive and there are active enthusiast communities on both sides of the Atlantic. Back in 1995, a mechanic from Liverpool bought up the DMC name and logo, as well as all the extensive original parts inventory from the factory and now gives excellent support to DeLorean owners around the world from his business near Houston, Texas.
Values of DeLoreans have been steadily gaining from an average UK price of around £25,000 five or six years ago, to selling for £35,000 and above over the last two years – if only we could go back in time eh? Importing your own car from the USA, where DeLoreans are more plentiful and prices can be as low as £22,000, is usually the cheapest route. Add in a few thousand for shipping, and a few more for a specialist like PJ Grady of Canvey Island to bring it up to spec, and you've still got a good deal. Sourcing and importing a car can take some time though, and there are very few ready for sale at any given moment in the UK, so when one comes onto the market – or even The Market – you need to act fast.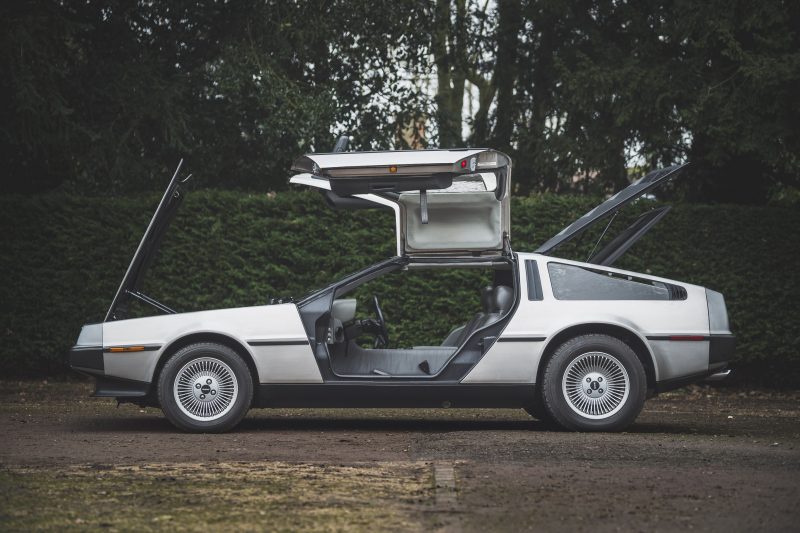 Having been told that it drives "as well as any DeLorean ever did", I wondered just how good – or bad – that really was. And just what reactions would I get when I took it for a drive?
From the moment I started the car and heard the syncopated clatter of the uneven V6 behind me, and then pulled down on the subway grab-handle imagining the hiss of air from a space-capsule airlock, I was immediately transported back in time. No I don't mean the whole flux-capacitor thing, I mean that I felt very firmly shoved back into the early 1980s.
No longer did the DeLorean seem at all futuristic, it was very much a classic car – from the slight whiff of petrol mixed in with ageing leather and vinyl to the rather awkward and non-adjustable driving position. Admittedly I am taller than most with long legs, but whilst my body was reclined like a racing driver, my feet felt like they were only inches from my thighs.
With the car not quite pointing at the roller door of the building, I had to immediately apply some steering input and this is where another classic factor hit me – no power steering. Of course it's most noticeable at low speeds but it felt like I had to man-up and wrestle the car through the door and onto the roadway through the business park, heading for some open country.
By the time I'd got out of the park, around a large roundabout and off onto the road toward Wantage, I had noticed several pedestrians and other drivers doing a double-take as I passed and I had been beeped twice. Of course it's not always easy to tell the intended tone of a car's horn, but I like to think it was in appreciation of the car rather than in frustration of my hesitant road positioning being sat in the left hand seat.
As this car was a five speed manual rather than the slightly more common automatic, I had to get used to a clutch pedal that felt stiff by today's standards and shifting gears with my right hand. My previous holiday rental experience in manual, left-hand-drive cars usually involved missing out a couple of cogs on the way up and down the box but, reverse aside – I'll come back to that (pun intended), all five forward gears were easy to select.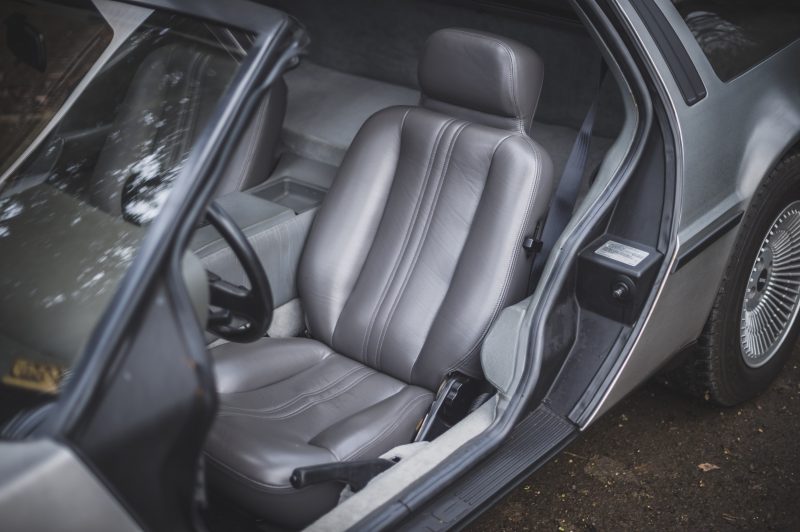 The road skirting the Ridgeway heading west isn't especially winding but there are a number of meandering bends and the DeLorean handled them without issue; allowing me to relax a little and become more used to the way the car handled – albeit requiring a constant but slight correction on the steering. Keeping up with modern traffic on a single carriageway at 50mph posed no problem for the V6, despite its rather mean 130bhp.
I stopped in the large forecourt of a service station and car dealership to make a few notes on my drive so far and realised that due to the car's turning circle being better suited to Washington than Wantage, I would have to back up the car to turn around. Reverse is clearly marked on the gear knob, left beyond 1 and 2 then back, but there's no mention of whether you need to push the stick down, lift a collar, lift the whole stick or just pull it across.
This is where being in a very noticeable car, on a reasonably busy through road, is less than ideal. I tried every possible combination to find reverse gear, but each time I crept forward in second and was now running out of tarmac. Remembering that I was actually in 2021 rather than 1981, I turned to Google for the solution. I could then, with a degree more confidence that I wouldn't break something, haul the stick up toward the car's roof with both hands and slot it across and back into reverse.
Heading north past the Williams F1 HQ and out onto another open road I thought I'd better check the fuel level, the needle had been hovering around the penultimate marker since I'd set off but now seemed to be teetering close to empty. Conscious that not all classic cars' fuel gauges work properly I decided to keep an eye on it. After having driven quite a fair stretch of straight fast road, I started to get a touch of range anxiety but knew of another petrol station not far away.
You know that thing in modern cars, where a little white triangle next to the petrol pump sign on your fuel gauge shows you which side the filler cap is on? Well the DeLorean doesn't have that and, having consulted Google again, I'm not even sure they could easily illustrate that it's under the bonnet in front of the scuttle.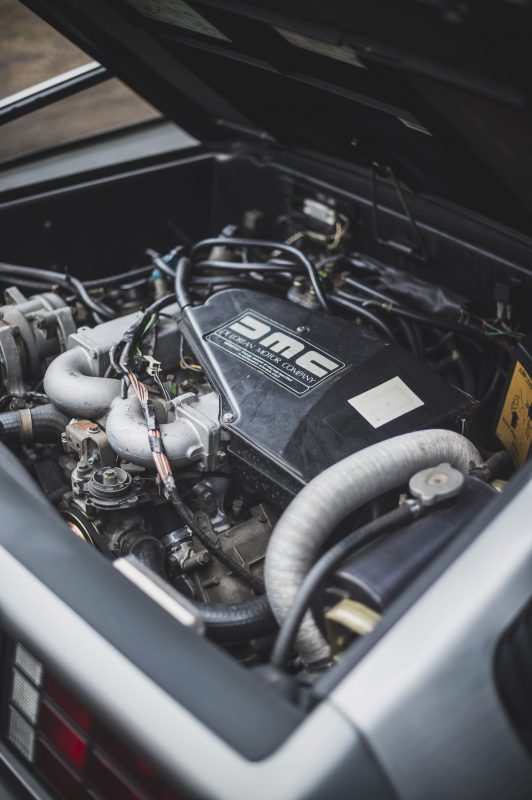 Still racking up the double-takes, waves, beeps and thumbs-up (I'm sure they were thumbs), my return journey took me around the town of Abingdon. Being in the home of the most popular British sports car marque, I still felt welcome driving a stainless-steel transatlantic Ulsterman and was kindly let out at two busy junctions.
I'd left a section of dual carriageway to the end of my drive to test the DeLorean's turn of speed once it had warmed up nicely. It pulled up the slip road smoothly and, still accelerating, managed to get sufficiently ahead to pull out clear of a lorry that had been tracking me along the merging lanes.
It reached 70mph without a problem and I still felt there was much more to come – definitely at least 88 – but perhaps not the 130mph top speed claimed by DMC. In any case, the speedo is only marked up to 85.
As my drive came to an end, I tried to gather my thoughts on what was good about the DeLorean and where especially it was left wanting. Whilst left hand drive isn't brilliant on the UK's roads, there is pretty good all round visibility compared to some mid-engined cars and it's something you could easily get used to. You can get them converted, but it will cost you both in terms of labour and a slight drop in value to those seeking originality.
The handling wasn't as bad as I feared, probably in large part due to the suspension upgrades that the previous owner had given the car to stiffen things up and correct its natural nose-high stance. The build quality too, whilst not perfect, was good enough for me – but then I'm not as sensitive to panel gaps and shutlines as some, particularly on a classic car.
The DeLorean's biggest drawback, and the only one which I felt would be good to improve on, is the lack of power. The contemporary Esprit 2.2 had 160bhp and the Ferrari 308 GTBi had 205bhp, but both of those tipped the scales about 200kg less than the DeLorean. Significant engine modifications can apparently deliver around 190bhp which would definitely be a marked improvement, whilst retaining a period performance feel.
Unlike its step-cousin the Esprit, which went through several lifetime iterations, the early demise of DMC meant that the DeLorean was never allowed to evolve and improve. It therefore became a kind of one-off automotive design cul-de-sac, never to be returned to. However, this surely adds to the appeal – they are comparatively rare and there is nothing else quite like them in terms of looks or their broad following.
Clearly the DeLorean's starring role in the Back to the Future movie trilogy has given a huge boost to the car's desirability, but that doesn't explain why kids too young to have seen any of the films still turn their heads and point as you drive past, or why they flock around those gullwing doors at car shows. To my generation the DeLorean looks retro cool, to them it is probably like something actually from the future.
I'll finish up with a challenge. Can you name another car that, for the same money, could display alongside the most exotic supercars and still get more attention?
Words by Stewart Longhurst