Most have us have done it, and most of us have silently cried into our whisky late at night as a result. We sit alone, staring into the dying embers, weeping for what might have been, and we curse our stupidity for thinking the grass could be greener.
I'm talking, of course, about that old Range Rover Classic you sold for peanuts and have missed ever since. You, like me, will have scoured the small ads since in the hope you can recapture the moment, but it's starting to dawn that that ship has sailed and the only early Range Rovers you can afford now comprise little more than a moody V5 and an oxidised pile of what used to be Solihull steel.
And yet there is still hope. There is a vehicle out there that is essentially a Range Rover Classic – and it's draped in more practical clothes. It goes like Rangie, sounds like a Rangie, and has all of its bigger brother's effortless cool. It's also cheaper to buy and is almost guaranteed to appreciate in the very near future.
Welcome to the Land Rover Discovery.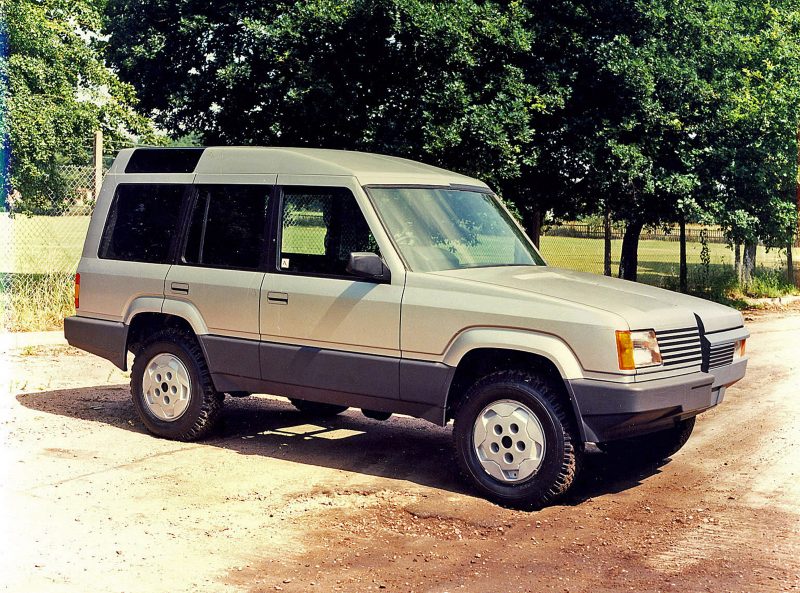 THE EARLY YEARS OF DISCO
The Discovery, code-named Project Jay and launched to a delighted press and public in 1989, has all the good stuff: a 3.5-litre V8 petrol engine; a five-speed manual gearbox; full-time four-wheel-drive system with lockable centre differential and a low-range gearbox; coil spring suspension on all four corners; and a seven-seat interior stuffed full of great design features. By any logical measure, it is a much better car than the Range Rover Classic with which it shares so much.
And, best of all, to call it practical is to barely scratch the surface. Here is a vehicle that combines the seating capacity of a Renault Espace with the off-road agility of an Argocat. It will cruise all day on the motorway at 90mph and then cross your grouse moor at a canter without complaint. It is probably the finest dual-purpose vehicle of its time.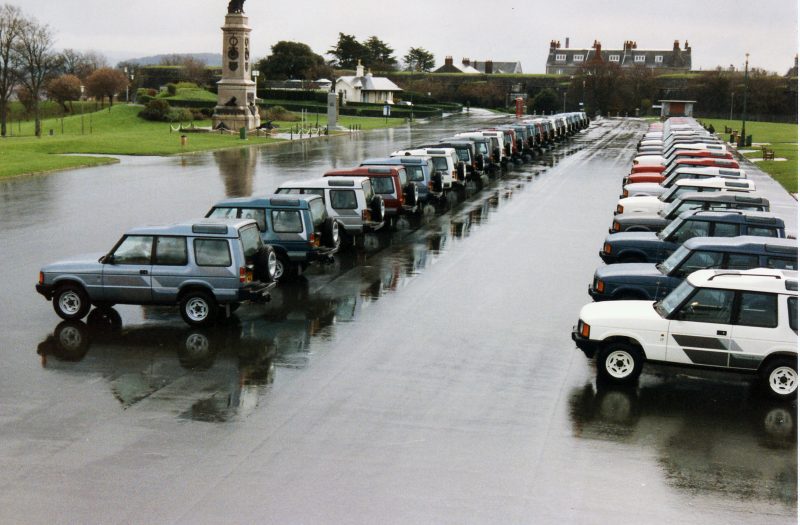 ENGINE AND TRANSMISSION
Buyers could choose from either a 3.5-litre, SU carburettor fueled (fuel injection came along in 1990) V8 petrol engine or the then-new 2.5-litre turbocharged 200 TDi diesel engine, both of which came mated to a five-speed gearbox. Given a relatively unporky kerb weight of just under 2,000kgs, the all-wheel-drive Discovery offers decent, if uninspiring, on-road performance.
But the car's raison d'être is all-surface mobility and to that end both engines are tuned for torque rather than power, so either Discovery has massive low-range grunt. This, allied to the Disco's supple suspension, low-range gearbox, and four-wheel-drive, gives it immense off-road ability and a 3.5-tonne towing capacity.
As well it might, because the Discovery not only shares the Range Rover's underpinnings; those very same components are to be found underneath the Defender, the vehicle of choice for countless Third World armies, and conveyor of alms to the poor and desperate.
The diesel engine might return up to 30mpg given a tailwind and a gentle touch, but what you really want is the petrol engine. Yes, its fuel consumption is as dismal as the Range Rover's but if you divide the fuel cost for any given journey by the number of passengers carried, the result is generally a plausible man maths argument. A petrol Discovery is also unlikely to be banned from a city centre near you for the foreseeable future, which means we can legitimately tout this old V8 as a genuinely environmentally friendly mode of transport. Funny old world, isn't it?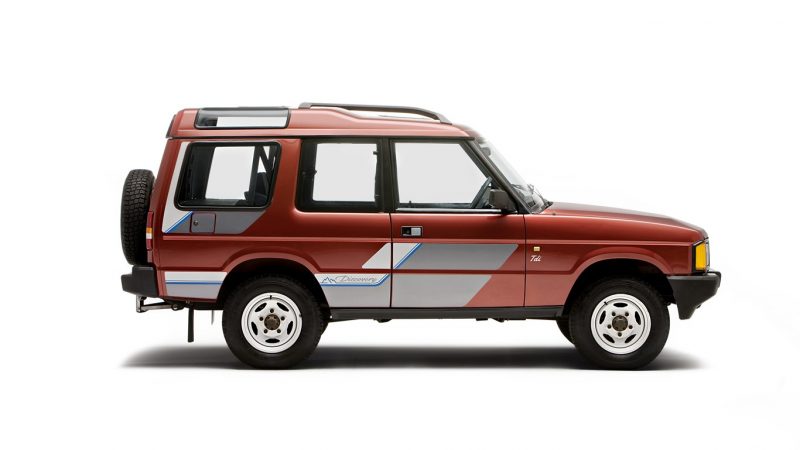 EXTERIOR
The Discovery's shape is now so familiar that it is easy to forget just how ground-breaking it was at the time. The raised rear roof, complete with Alpine glazing to let in the light and evoke memories of Land Rovers of old, not only endows the car with incredible headroom, it also allows everyone an unobstructed view through the windscreen.
Initially launched with just three doors, a five-door option hit the market in 1990 shortly afterwards. The shape might not be as timeless and elegant as that of the RRC but it isn't far off. Just try not to stare at the Morris Marina door handles or the Austin Maestro van rear lights, will you?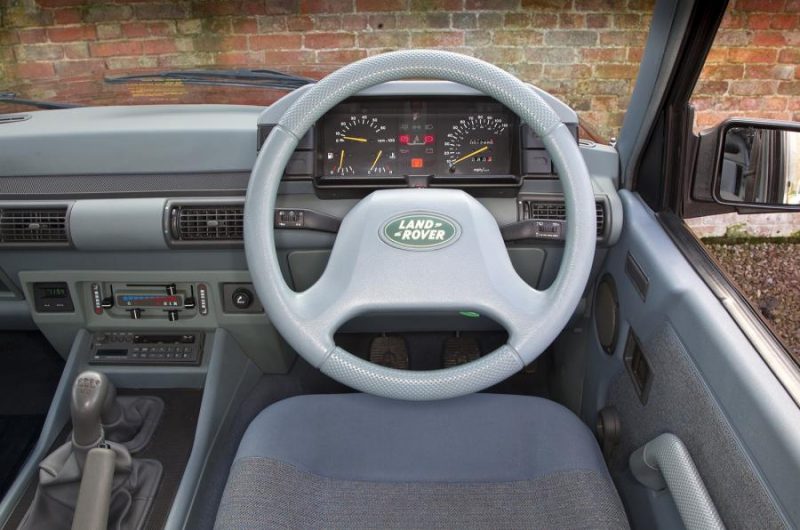 copyright - Autocar
INTERIOR
But, there is far more to an early Discovery than a re-purposed Range Rover chassis. You see, when it was first launched it was acknowledged as being very clever indeed; the Range Rover might have been displayed in The Louvre (and elsewhere) as a design classic but the Disco's interior, designed by Sir Terence Conran, is so innovative and gorgeous that it won a British Design Award all by itself in 1989.
And while the Sonar Blue colour scheme might look a bit period to us now, it moved the Discovery away from the wood 'n' leather cliché that had haunted British cars up to that point while also providing a thirty-year cultural backdrop for the current Range Rover Velar's hugely successful experimentation with alternative materials and textures. It was a vegan hipster's wet dream before being a vegan hipster was even a thing.
It also came with some very clever little design quirks like a removable centre console bag that did double duty as a cooler and a handbag. No, it isn't going to give Louis Vuitton any sleepless nights but it was cool and has become very collectable, mainly because everyone thought was it was a pointless affectation and threw it away.
As they did the bag in which you can store the two glass sunroofs after you've unclipped them to give you a taste of the al fresco lifestyle currently promised by the Range Rover Evoque convertible.
Other clever touches include roof-mounted map storage pockets, rear passenger grab handles that are integral to the front headrests, and a dimpled finish to many of the surfaces for a touch of tactile stimulation.
Five seats came as standard, with the option of a further two side-facing dickey seats that you can fold up and out of the way in the boot. They might only have lap belts to hold your nearest and dearest safely in place but at a time when the alternative for the  Land Rover enthusiast was the Defender – a car with less in the way of passive safety equipment than a running chainsaw – the Discovery did at least offer a slightly safer way for him to indulge his passion. In fact, middle-seat passengers enjoy more legroom than they do in the Discovery 2 whose seats were crammed together to make room for 'proper' forward-facing third-row seats.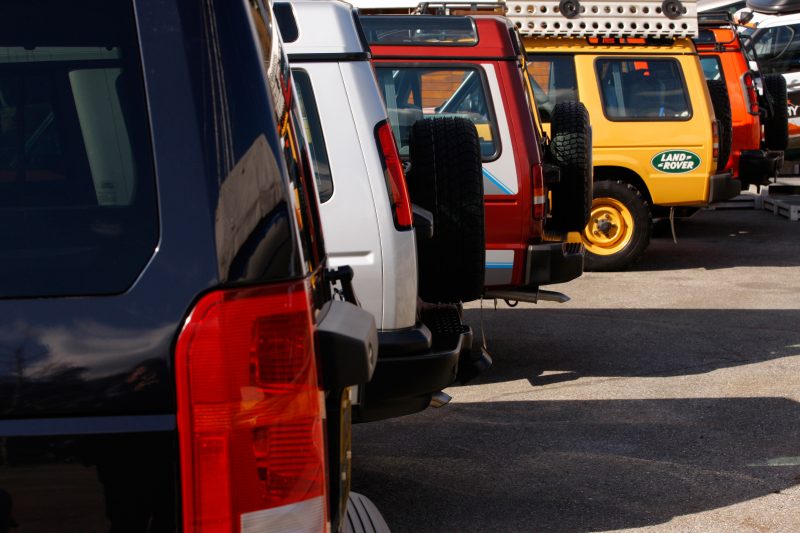 THE REFRESH
Nineteen ninety-two saw the introduction of a gently refreshed Discovery to the showrooms. Tweaks included an optional brown interior, new colours and the deletion of the side decals (only fitted in the first place to hide wonky panel fit…) and an automatic gearbox.
There is nothing wrong with any of that but it does mean that the Discovery 1.5 isn't the classic original, so, like a ginger step child serving twenty years for pedophilia, we won't ever speak of it again.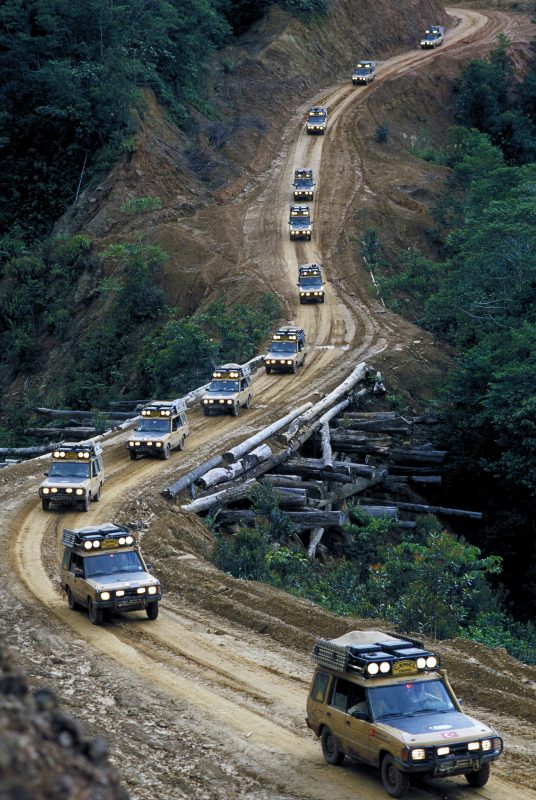 DRIVING
If you've driven a Range Rover Classic then you know what to expect: a ride that is simultaneously strangely wallowy yet decently precise; a lusty, torquey engine; an imprecise, long-travel gearchange; and huge road presence.
It'll amble in traffic like a champ and devour motorway miles like a Trump supporter swallows late night tweets. Rough stuff is dismissed with complete disdain and I promise you that you'll run out of bravery before it does; your grandma might be able to drive it to Tesco's but you could drive it across the Darien Gap.
It's also agile enough to serve up (some) fun on twisty back roads but practical enough to haul you and six people to the south of France with a large caravan hanging off the back.
BUYING ONE
All the interest is in the early cars, which means your new whip needs steel wheels, three doors and a carb-fed engine. Sure, no-one is going to laugh if you bring along a fuel-injected V8 but if protecting your outlay is where your interests lie, then it's all about the launch-spec cars.
Speaking of which, the so-called 'G-WAC' cars – named for their registration number, which is in the series G??? WAC – fetch a disproportionate amount of money as folk think they're either pre-production examples, press cars, or otherwise of special interest. I'd pay a small premium for one, if for no other reason than if everyone else is you're probably going to get it back when you sell but don't go mad.
And why petrol? Well, given that more than 90% of all Discos sold were diesel, the remaining petrol ones – the ones that have escaped an inappropriate diesel engine transplant, that is – have rarity on their side. They also sound bloody awesome, are a piece of cake to repair or tune, and as you aren't going to be using it as your everyday hack, the appalling fuel consumption is irrelevant.
Other than that, you are looking for rust, originality, and provenance in that order. Everything can be revived but in the same way that no one was rushing to resuscitate Ian Brady, some cars should just be left to die a dignified death, so abandon any thoughts you might have had about dragging that wreck out of the hedgerow that has been growing through it for the past twenty years; life's too short and good cars are too cheap.
So, once you've found a reasonably rust-free car (and no Land Rover of that period is going to be completely free of rust …) you're looking for originality. That means no screw holes in the dashboard, no rips in the seats, and standard bodywork.
It also means finding one with the centre console and sunroof bags intact. This is a big ask because, always assuming they haven't disintegrated or been lost over the years, they're now worth more than most of the cars they're fitted in.
There were few special editions but the 'Country Life' edition is worth seeking because, despite an uber wanky name, it came with a leather-wrapped Nardi steering wheel, a few bits of wooden interior trim, some meh graphics and a super-cool picnic hamper. Only 50 were made, and I've never seen one.
Finally, you want provenance, so if you can find a car that has only had a couple of owners from new you are on to a winner. Such cars might not be common but they are out there and they're worth paying a premium for.
Which brings us to the very best news of all. At a time when the very best Range Rover Classics are starting to breach six figures, a very good Discovery can be yours for under five figures. I know, it simply doesn't make sense, does it?
Oh, and you needn't worry too much about the mechanical condition as everything is available, mostly at rock-bottom prices. I wouldn't care if it was on its last legs as long as the interior trim was good and it wasn't riddled with rot; if push comes to shove you can pick up a mechanically strong but rotten vehicle for pennies – and nothing comes apart as easily as a Land Rover.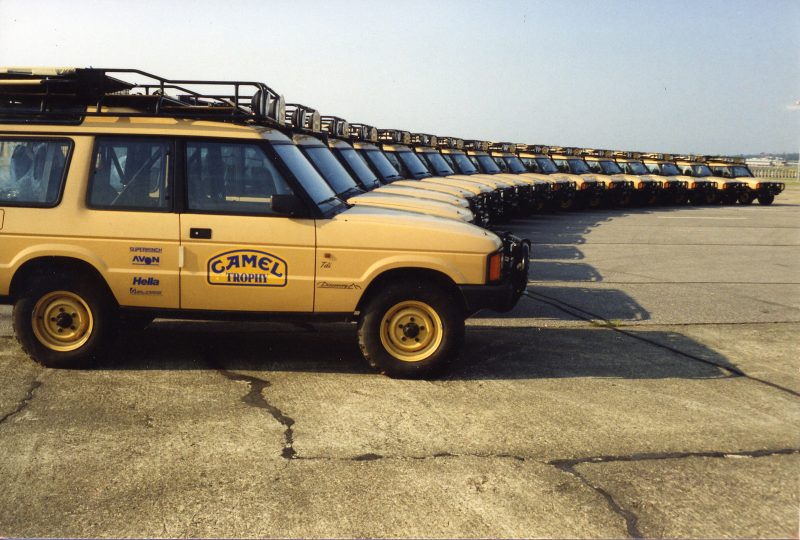 POST-PURCHASE
Your first job should be a complete fluid and filter change; you should then implement a strict regimen that maintains frequent changes of both, preferably with the very best synthetic oil you can find. Oil technology has come on leaps and bounds since the late sixties (which was when this car was effectively designed) and decent oil won't only help prolong the life of the components, it'll help them function better.
After that it's simply a case of getting on top of the niggling little faults that will develop and sourcing all those unique bits and bobs that have fallen off, disintegrated, or been jettisoned over the years. eBay is your friend here and while there are chancers out there asking £200+ for a centre console bag, no one is paying that yet and more sensible offers are being accepted on the quiet.
MODIFICATIONS
No, just no. Why would you? It's already got more off-road ability than you need and is an appreciating classic precisely because everyone has bodged and 'improved' them over the years, leaving standard cars rarer than a Theresa May public appearance.
Carlton Boyce