I bet you can remember your first kiss with absolute clarity, can't you? Mine was Tracey Tipper on the day she'd been crowned May Day Queen. I was smitten and cycled past her house with a bottle of homemade apple blossom 'perfume' on the off chance she'd be playing out on her drive. Eventually, she was and she thanked me for it with a chaste peck on the cheek that I can still remember forty years later.
Heady stuff, eh? And I can recall the first time I ever saw an Audi RS2 in the flesh with equal clarity. It was at a filling station somewhere off the A303 in Wiltshire in the late summer of 1994. My first daughter was still four months away from making an appearance and I was filling up my Golf GTI (mark 1, obviously…) with adrenaline-shaking hands after a mind-blowingly quick cross-country run in the late evening when a Nogaro Blue RS2 pulled up alongside me.
The driver (mid-sixties, brown polyester) got out, stretched his back and nodded. "Not mine", he said without being asked. "Just delivering it." He hawked up a greeny-brown gob onto the dusty concrete of the forecourt and looked me in straight the eye. "Jammy bastard."
"Is it…" I started to ask.
"Yep, it is" he grinned. "Very."
We shared a moment, he and I. But, unlike me and the lovely Miss Tipper, my love for the RS2 remains unrequited.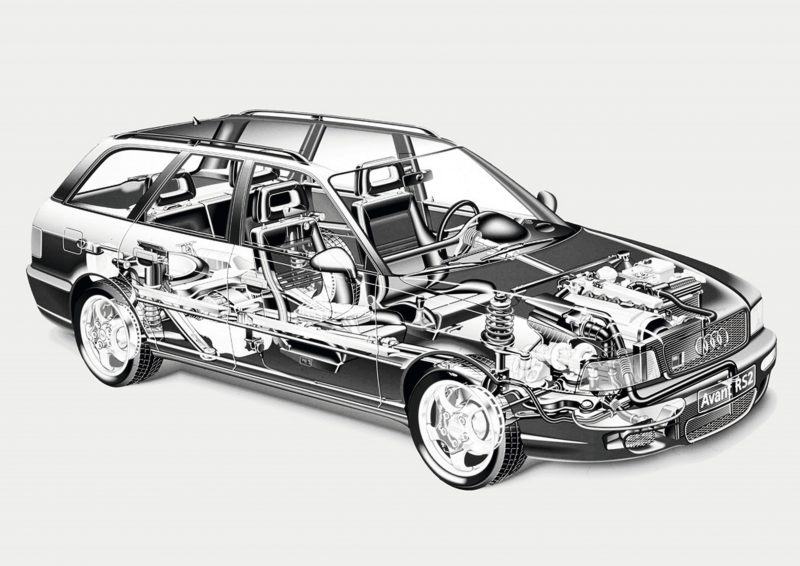 HISTORY
Keen to build a hyper-performance 80 estate but lacking the wherewithal and/or credibility, Audi shipped body shells and crates of parts to Porsche at Stuttgart-Zuffenhausen and asked them to weave some magic on what was an otherwise a boringly unremarkable estate car. Porsche, only too happy to oblige and bursting with confidence following the success of doing something similar to create the mighty Mercedes 500E, fiddled about with the contents of the crates before hand assembling the RS2 in the very factory that had previously produced the Porsche 959. (It's probably fair to say that the staff of the Rossle-Bau plant know what they're doing when it comes to building fast cars.)
While the body shell, engine and transmission were largely Audi, albeit heavily modified, the brakes, wheels, and suspension were Porsche through and through. The result was a compact estate car that went like, well, like a Porsche and was the first of a long line of ultra-high performance Audi RS models. (RS, in case you don't know, stands for 'Renn Sport' in German or 'Racing Sport' in English.)
The 2.2-litre, five-cylinder, 20-valve engine is force fed via a 30 percent larger, Porsche-fitted KKK turbocharger running 1.4 bar of boost, an upgrade that plays centre stage to more Stuttgart mods including a larger intercooler, bigger injectors, and a modified, high-performance camshaft. A big-bore, free-flowing exhaust system helps the engine make the most of these modifications, as does a better, smoother induction system. Bosch, acting orchestra conductor, contributed a dedicated ECU to make sure that everyone played nicely together.
The result was 311bhp and 302lb/ft, enough for a 0-62mph time of around five and a half seconds, yet the really impressive statistic is that it will hit 30mph from rest in 1.5 seconds, which was faster than any of its contemporaries, even the mighty McLaren F1. That made the RS2, at city speeds at least, the fastest car in the world.
Let me say that again. The RS2 was, in its day, THE FASTEST CAR IN THE WORLD! As Autocar put it at the time:
"It is a most extraordinary horizon-chaser. It'll stay with a Ferrari 456 most of the way past the quarter-mile post on to the kilometre, thanks to some spectacular forced induction in-gear increments: 40-60mph in third in 2.8sec, 60-80mph in fourth in 3.6sec, 80-100mph in fifth in 5.1sec and 100-120mph in sixth in 7.7sec."
The top speed, in case you're wondering, is a nothing-to-brag-about and largely academic 166mph, at which point the rev counter is bouncing off the 7,200rpm limiter.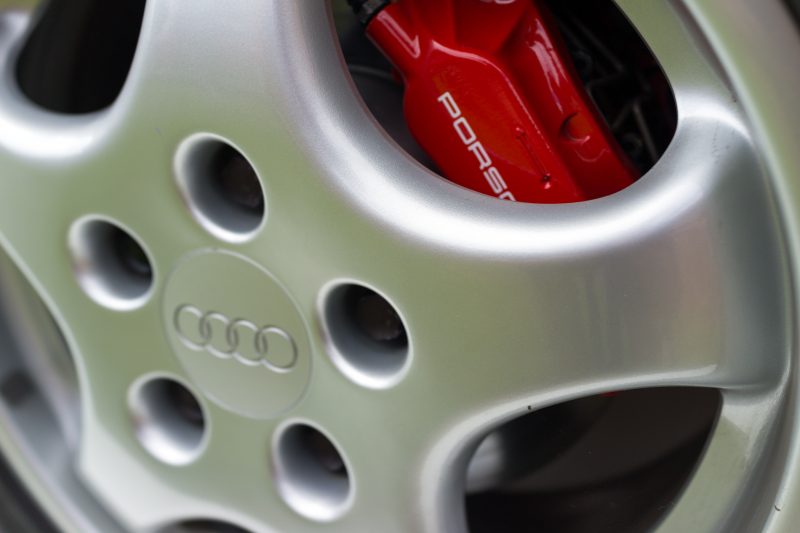 But power is nothing without control and the chassis is a thing of beauty, if not delight. The RS2 is suspended via the S2's all-round transverse links, a set-up that Porsche modified by dropping the ride height by 40mm before fitting firmer dampers. Porsche-badged red Brembo brake calipers snuggle in behind 17-inch Porsche 968 Clubsport alloy wheels (the wing mirrors come from a 993 911 as part of the Porsche-Audi lend-lease deal). The rear differential can be manually locked too, which is more of a party piece than the sort of thing that enriches your life on a daily basis.
The interior gained a three-spoke steering wheel and the Recaro seats could be had as either full leather, or a fetching leather 'n' suede combo. The RS2-only white dials are a very visible sign of intent and the standard array is supplemented by three auxiliary gauges that show oil pressure, oil temperature, and voltage
Oh, and the outside benefits from a full-width red reflective strip that Porsche fitted to ape that of contemporary 911s along with a Porsche-scripted engine cover. Honestly, it's as if the guys and gals at Porsche were deliberately baiting Audi, adding more and more Stuttgart stuff on it in the hope they could goad them into crying "enough!". If they were, then Audi didn't and the final roll-call includes Porsche-sourced front foglights and indicators as well as its name on both the front and rear badges.
In all, 2,891 cars were built over an eighteen-month period, slightly more than the 2,500 originally planned. Of these, it is thought that just 182 came to the UK as fully fledged right-hand-drive models and each one would have set its new owner back £39,500 plus options. But, as no one knows how to leverage the option list like Audi, most will have written a cheque for around £45,000. Or just over £70,000 today.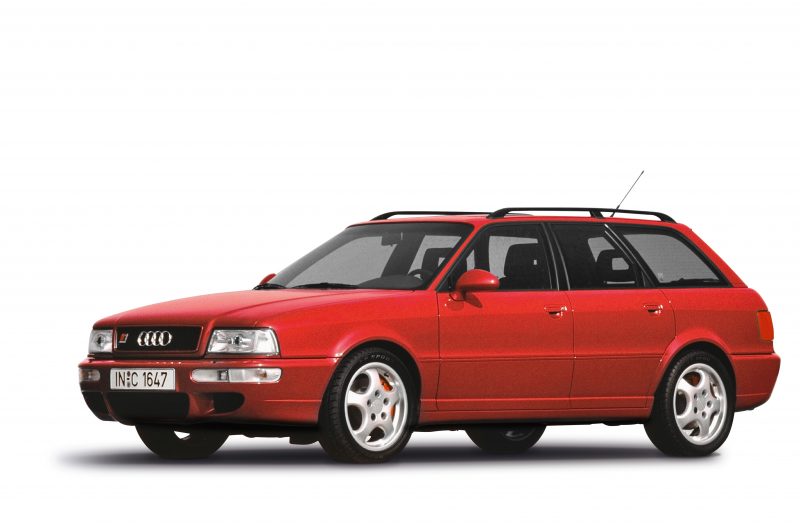 DRIVING ONE
Other colours are available but the Nogaro Blue ones – a colour, incidentally, produced to recall the two victories achieved by Frank Biela on the Nogaro circuit in the previous year's French Touring Car Championship – are the models that best capture the zeitgeist of the early nineties. Understated and wearing their muscularity lightly, the Audi RS2 is an extraordinarily capable car with an uncanny ability to blend into the background when it isn't deploying its considerable power.
But when it does, all hell breaks loose. A six-speed manual gearbox and Audi's trademark Quattro all-wheel-drive does its best to tame all that power and torque but the RS2 was an unruly beast, even when fettled by Porsche.
The turbo lag doesn't help. Modern classics tend to show their age in two areas: brakes and turbo technology, and while the RS2 stops pretty well thanks to those Porsche-supplied ventilated calipers, the turbo lag is of epic proportions and can be measured in seconds. Literally. Seconds.
Some folk will tell you that left foot braking helps and some of them might even be talented enough to be able to wring every last ounce of performance out of an RS2 by caressing the brake pedal with our left foot. I'm not one of them.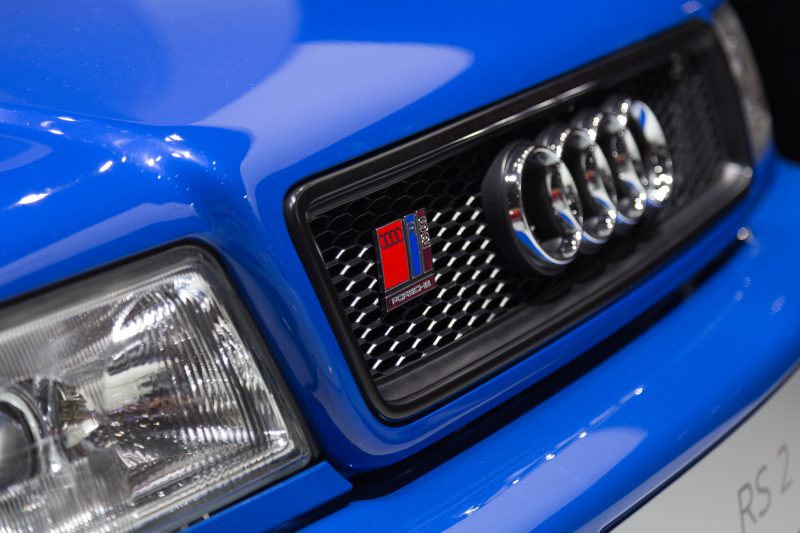 Understeer is the predominant handling characteristic but as it's a front-heavy, four-wheel-drive Audi you didn't need me to tell you that, did you? And anyway, who cares? When you're driving a bona fide legend you're too scared and intimidated by the weight of history and its agreed-value insurance to throw it around, especially when the steering is as light and uncommunicative as this.
No, far better to adopt the old slow-in-fast-out model and keep the turbo on-song by hanging on to a lower gear than you might otherwise choose. Thus driven, you'll find yourself howling out of roundabouts like you're being chased by Katie Price, at which point you'll find that structural rigidity has improved a fair bit over the years too, as has the quality of gear changes. Appalling is too kind a word for the quality of the RS2's.
But it does ride better than you might think, largely due to the surprisingly compliant 40-series tyres. And lest we forget, it goes like bloody stink and grips under hard acceleration like only a well-sorted all-wheel-drive car can.
It's wieldy, too. It might have been a mid-sized estate car, back in the day, but it's tiny by modern standards, dwarfed by even the most mundane shopping trollies. That, and the thin pillars, might not make you feel terribly secure but you'll appreciate its diminutive size when you're threading it along a narrow country lane.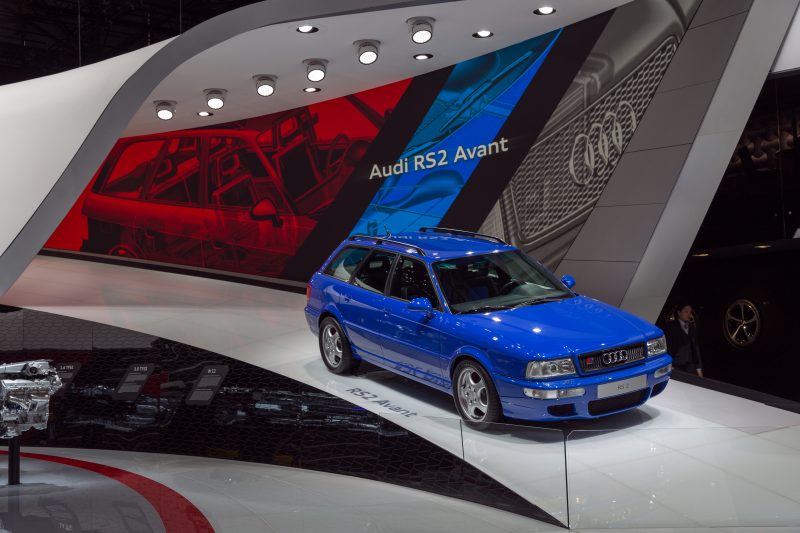 BUYING ONE
Your first problem is finding one to buy in the first place. I spent two years looking and finally gave up, buying a Honda NSX instead. (And no, I'm not completely convinced I did the right thing either, especially after I drove a Lotus Carlton…) I could find the odd one listed alright but the ones I went to see were all ratty old dogs, even if they were cheap ratty old dogs.
Good ones, if you can find 'em, are easy to spot. They'll have been serviced on time, without exception. I wouldn't object to a switch from the main dealer network to a specialist – Audi or Porsche – after a few years but a couple of missed oil changes or skimpy service history would probably be too much of an obstacle to overcome.
Sills and wheel arches can rust but otherwise the RS2 is as tough as they come. This is no needy, flaky Italian model; the RS2 is built in Germany, by Germans, from German stock.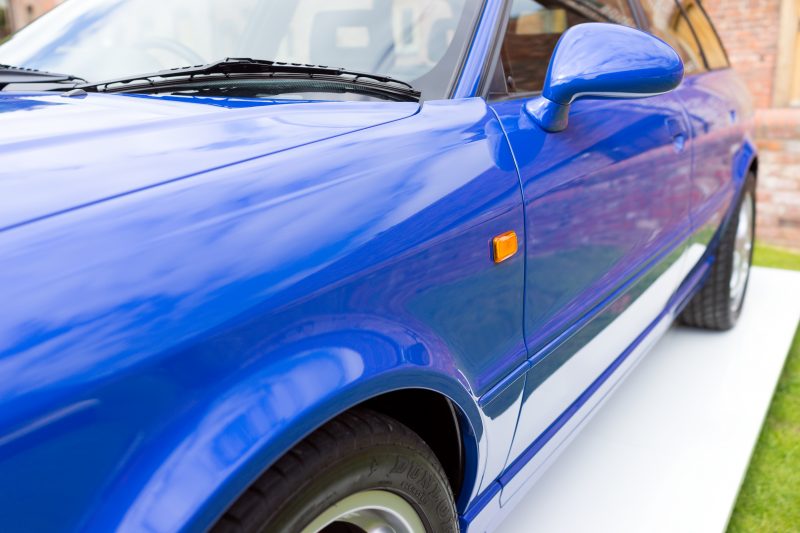 WHAT TO PAY
They're still available for twenty grand but I wouldn't – and nor should you. Thirty thousand seems to be the entry price for a half-decent one, with forty thousand getting you something that you can treasure.
As ever, paying more now for the very best cars is always worthwhile and is the very best way to protect what is still a hefty investment. If it helps you get your case for buying one past Mission Control, we've seen them average a 16.8 percent increase in value over the last year, a rise that we can't see slowing anytime soon.
Part of the appeal is the rarity of course, as is its ground-breaking status as the car that not only developed the template for all future ultra-fast Audis but for Euro-cool estates across the continent. But the real killer is that it appeals to Audi and Porsche aficionados alike, both of whom are unusually well-heeled and not adverse to paying top money for the right car.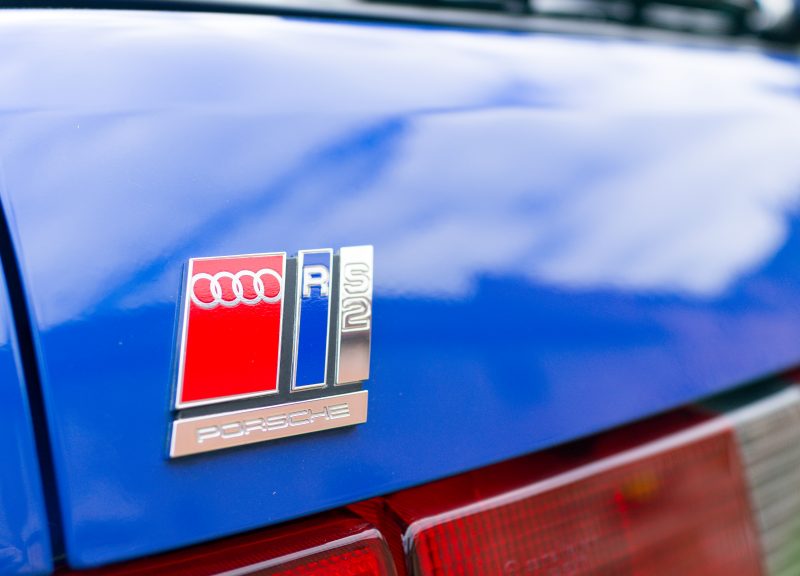 OWNING ONE
The original bespoke 245-section tyres were a tight fit under those beautiful wheelarches and modern tyres come up a bit wider, according to owners. (Yes, I know; who'd have thought?) The solution is to fit 235, or even 225, section rubber instead and originality be damned.
Nor do the dampers age especially well, so if yours crashes and bangs it's probably time to dig deep and get them replaced.
Owners also report that the RS2 isn't as practical as they first imagined. The problem isn't fragility, temperamentality, or even reliability, it's its size; the very same wieldiness that you appreciate so much on a country lane also means that the rear seats are strictly for the under-10s and even the boot isn't as big as you might hope, which means you can forget packing in a fortnight's-worth of suitcases for a family holiday in Cornwall.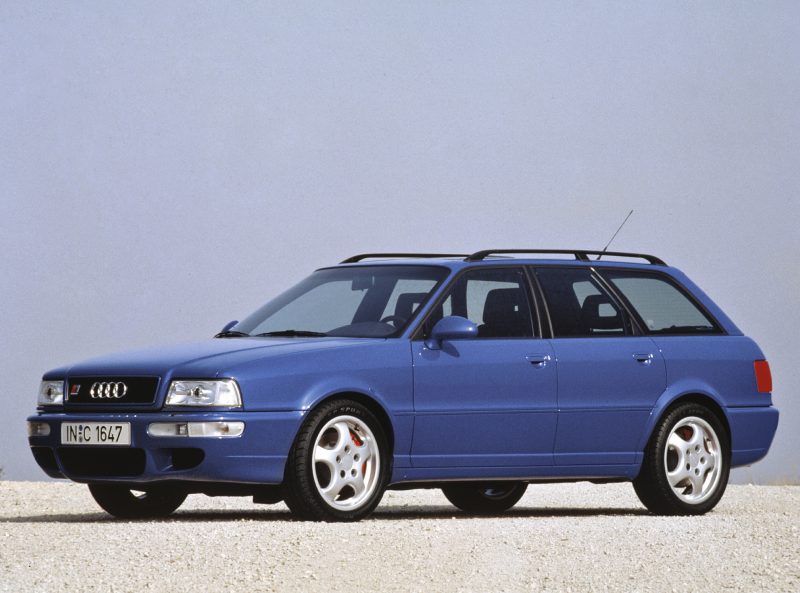 MODIFYING ONE
No, I wouldn't but I can understand why you might. The temptation to sort that turbo lag out would test the resolve of even the most originality obsessed collector, while the brakes from a Porsche (who else?) 993 turbo and a power hike courtesy of a remap might prove to be easily reversed modifications that would make the RS2 even more rewarding to own and drive.
Other than that, don't touch it. Okay?
Carlton Boyce