The Austin-Healey 3000 – or 'Big Healey' to the sort of chap that weighs 25-stone and thinks that being morbidly obese makes him hard – only had an eight-year lifespan. That brevity comes as a bit of a shock to those of us that see it as, possibly, the quintessential lusty British sports car: if Sid James and Barbara Windsor had ever made a road-trip film, it would have featured an Austin-Healey 3000 and been called Carry On Topless.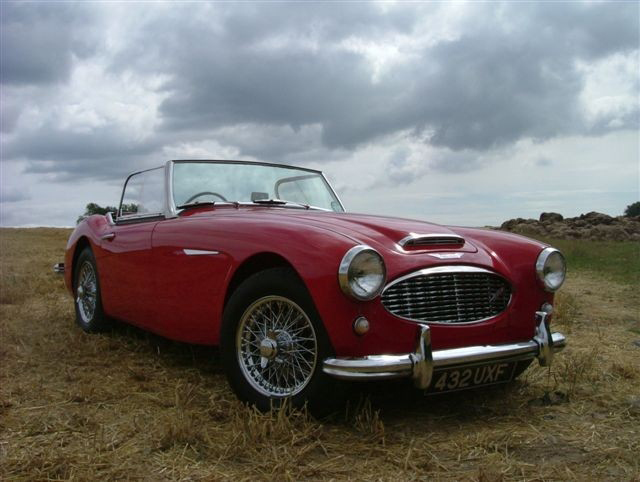 History
Born in 1959, the AH3000 was essentially an Austin-Healey 100-6 fitted with a 3.0-litre, straight-six, 124bhp/162lb.ft, C-series engine. (And the 100-6 itself was merely an Austin-Healey 100, albeit one fitted with a straight-six, 2.6-litre engine rather than the earlier car's four-cylinder, 2.6-litre engine. Confused? Welcome to life in the 1950s…) Built by Jensen Motors at BMC's Abingdon factory, the 3000 also featured front disc brakes, which was quite the thing, back in the day.
Built on a stiff ladder chassis, the inner sills acted as an additional stiffening member, as did the tub (which comprised the vehicle's bulkhead, floorpan, inner body, and A and B posts) which was welded directly onto the chassis. Both added significantly to the car's torsional rigidity; commonplace now perhaps, but decently advanced for the time.
It was initially made available as both a dedicated two-seater (BN7) and a 2+2 (BT7), which opened up the family market too. It sold well – anything that looked like this and could reach 60mph in 11 seconds as well as the magic ton, was always going to – eventually shifting more than 13,500 units in total.
The Mark II was announced in 1961, and to say that it represented gentle evolution would be an understatement; the changes were limited to triple HS4 SU carb and a re-profiled camshaft that upped to power to 132bhp, as well as vertical bars on the front grill. Interestingly, the introduction of a brake servo was big news, and only partly because it meant the bloody thing actually stopped on demand – providing you actually forked out the extra wonga for it.
Yes, an actual brake servo was an extra optional. Welcome to life in the 1960s….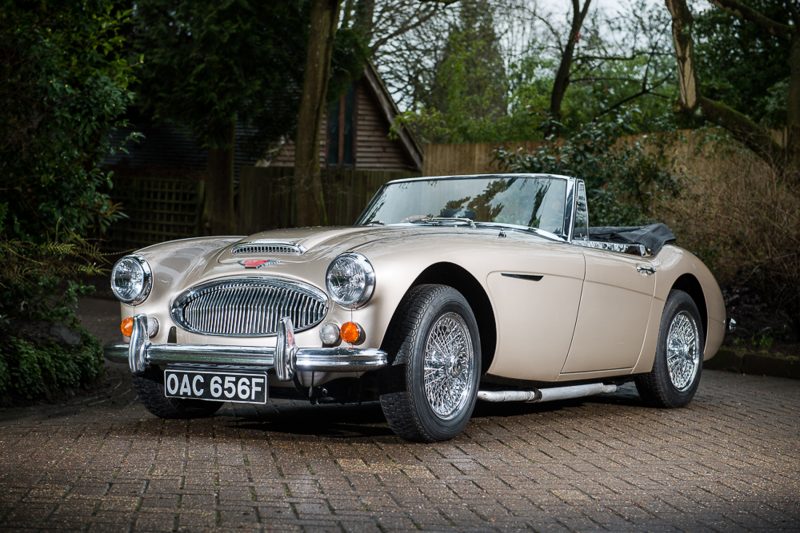 copyright - Classic Car Auctions
With the AH3000 fast becoming an automotive anachronism, the company was forced to act and so 1962 saw the two-seat body style binned, leaving only the 2+2. The new model also gained wind-up windows, a different windscreen, a proper folding roof, and twin HS6 SU carbs instead of the troublesome triple HS4s. Say hello to the Austin-Healey 3000 Mark IIa.
The Mark III came along two years later bringing with it 150bhp, a standard brake servo, and a more cohesive and ergonomic 2+2 interior including a centre console and an array of aircraft-style toggle switches. Despite losing the standard-fit wire wheels of the earlier cars, the MKIII soon became the biggest seller,eventually finding homes with 17,712 owners, albeit with more than 90 percent of them going Stateside.
Folk will tell you that the MKIII is too big and soft and heavy to be taken seriously but they are talking rubbish; none of the 3000 range is even close to being a lithe sports car, and the later cars are simply a bit more civilized. If you think that having wind-up windows and a spot of walnut on the dashboard adversely affects the ownership experience then you are either a complete knob, or drive a Lotus Seven.
Oh, and can I just point out that even the very last MKIII cars weighed well under 1,200kgs…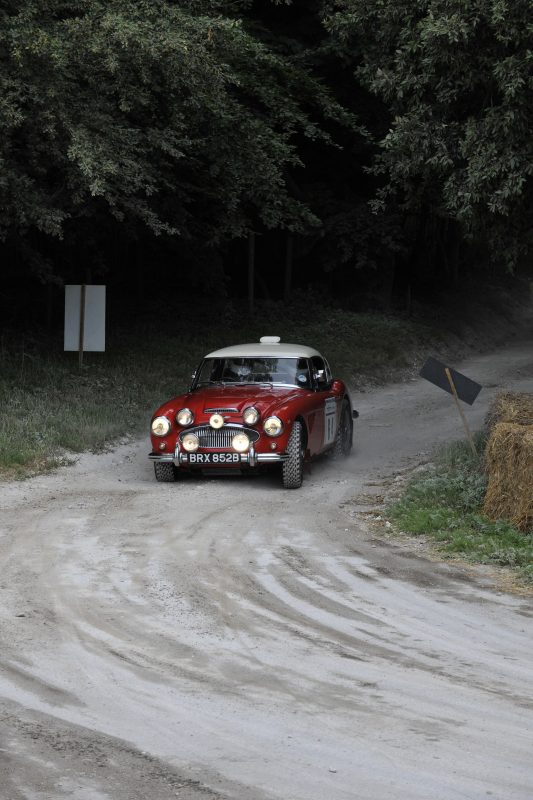 Motorsport
The Austin-Healey 100, 100-6, and the 3000 were all a great success on both track and in rallying, in the hands of drivers like Pat Moss (who won the 1960 Liege-Rome-Liege rally in one, no mean feat as it was widely considered to be the toughest European rally of the period), Donald Healey (who completed a flying kilometre at 192.62 mph in a 224bhp supercharged and aerodynamically tweaked AH100), and Carroll Shelby (who eventually broke 15 U.S. and international speed). Sadly, victory at Le Mans remained elusive, with DNFs in 1960, 1961, and 1962.
Despite Autocar gushing that the Austin-Healey 3000 was 'A classic competition car among the all-time greats in motoring history' in 1963, its size was starting to count against it following the introduction of the Mini Cooper, and its days were numbered as the factory withdrew its support.
Competing in them today is still great fun, but the emphasis is more on fun than being ultra-competitive. I'm braced for the hostile emails and comments defending them, but really, which would you choose: a sorted Cooper or a Healey?
Having said that, they do make fine long-distance rallying weapons thanks to bulletproof build, simple, durable mechanicals, and a torquey, easy-to-drive engine. They also look super-cool with a roll cage, spot lights and racing decals. If I had one, I'd equip it just like Pat Moss' car and might even treat myself to a pair of string-backed gloves.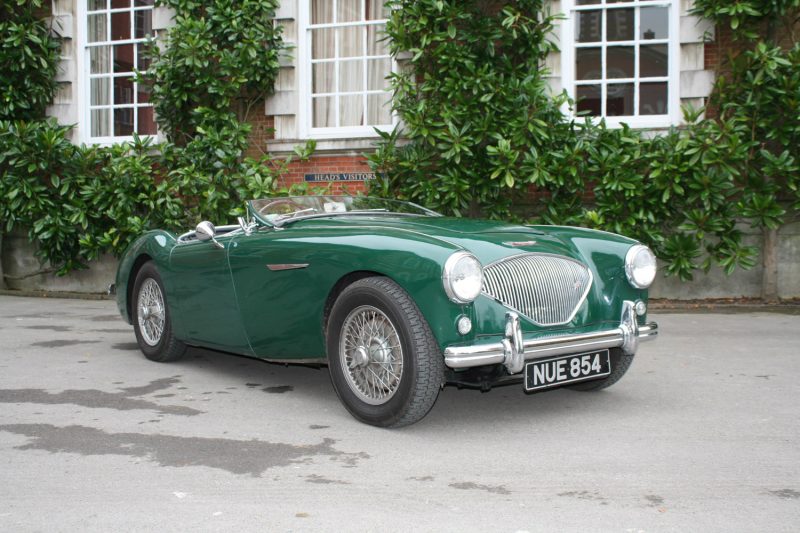 copyright - Coys
Driving one
If you are willing to accept that the Austin-Healey 3000 is more of an open grand tourer than a convertible sports car you won't be disappointed; thus mentally oriented, the 3000 is enormous fun to drive, if a little ponderous.
And the inherently ponderous nature of the car is even more apparent if the one you're driving isn't in tiptop condition; I drove a well-worn example for a couple of hundred miles and came away hugely unimpressed. Yes, the engine had a certain old-school charm – and the exhaust note was actually quite nice – but it was cramped, noisy, loose, and almost suffocated me with carbon monoxide and unburnt hydrocarbons.
A good one though is almost lovely, with a laid-back, whoofle to it that even I, a sybarite of the highest order, could possibly learn to appreciate. Not love, but then I'm too secure in my own sexuality to have to drive hairy-chested old sports cars to prove my heterosexuality.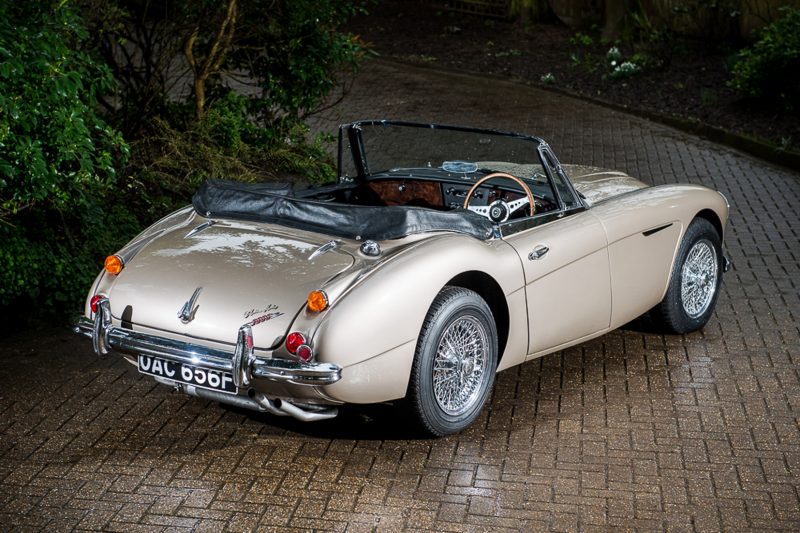 copyright - Classic Car Auctions
Buying one
It's a British-built car from the 1950s, so rust is always going to be the biggest problem you'll face – and as there was precisely zero rust-proofing applied at the factory the Healey might even set a new benchmark for just how quickly and extensively it can revert to its molecular components.
So, take a long hard look at your prospective new toy and if you can't find any rust, take another, even closer, look. Almost every chassis component and body panel is available, albeit at a price, so rot isn't a deal breaker but don't pay over the odds; the Austin-Healey 3000 is nowhere near rare enough that you need to buy what is essentially nothing more than a chassis plate and a logbook to get your feet under the table.
The interior is unlikely to be original by now, and if it is it is likely to be in horrible condition; if the wet, cold European climate hasn't done for it then the dry, sun-baked American one will. Again, new parts are available – and everything can be remade or re-trimmed in any case – but the good stuff isn't cheap, and you really don't want to fit the second-rate stuff…
It's a tough old thing, so the mechanical components are likely to be the least of your worries; the bodywork and chassis are way, way more important so don't sweat worn stuff like steering and suspension components – and even a new engine and gearbox aren't going to break the bank.
The final trick is to drive a few before deciding which one to buy; I'd never advising buying the very first car you see (although we've all done it…) and it's never been more important than in this case because the difference between a good 'un and a bad 'un is vast, and you'll never confuse the two once you've experienced the gulf.
Speaking of which, don't automatically dismiss a restoration project. If the shell is sound they're brutishly simple cars to work on with the sort of engineering that Brunel would understand. A couple of years and a relatively modest outlay would see you behind the wheel of a car that has been built to your specification rather than someone else's.
That'd be quite something, wouldn't it?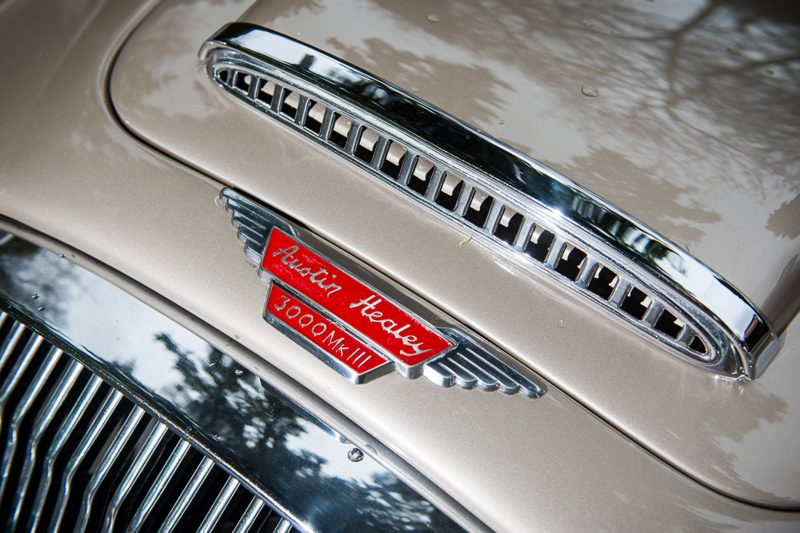 copyright - Classic Car Auctions
What to pay
Prices are nowhere near that of the Jaguar E-Type, which shows how fickle you lot, the car-buying public, can be. Prices start at around £30,000 for a ratty project and end up somewhere north of £100,000, with decent, usable cars that need a bit of TLC around the £40,000 mark. Prices are rising gently, with an annual growth rate of around 10 percent. Yes, other cars are showing flashier results, but a slow, steady growth is always going to be a better bet for the cautious investor and remember, even 10 percent is ten times greater than you'll get from a building society.
As more than 90 percent went to America, only 5,000 or so stayed here in Blighty – and of those, quite a few went to Japan in the nineties and early noughties to feed their insatiable demand for crappy old British cars. Having said that, they're starting to make their way back now and while we all love a rust-free California car (sorry, I misspoke: let's make that 'slightly less rusty than a UK born and bred car', shall we?) as the basis for a ground-up restoration, a converted left-hand-drive car will never be worth quite as much as a genuine British-market, right-hooker.
Also, given that an awful lot of good cars have now been converted to historic rallying specification, original, standard cars are starting to become hard to find. This increases their desirability and so bumps up their value – and that's a premium I'd happily pay to lock-in future residuals.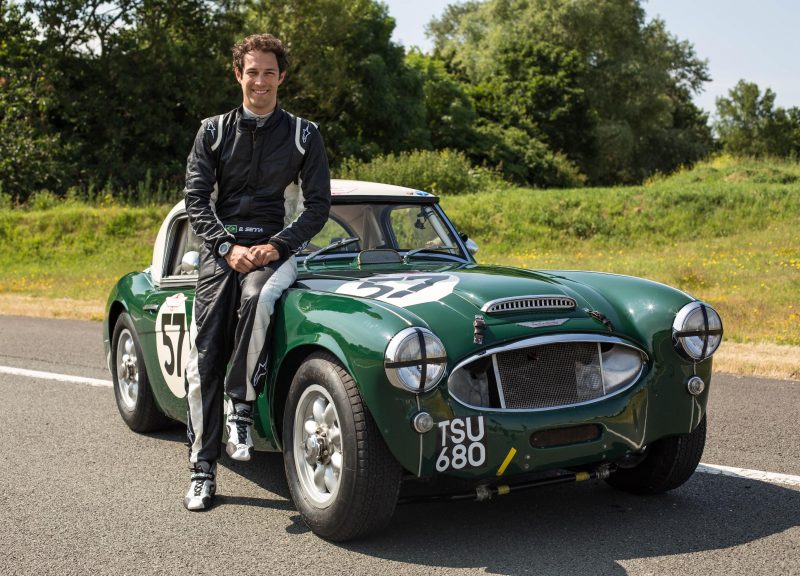 copyright - Wise Old Fox Ltd
Owning one
The Austin-Healey 3000 is very sensitive to even small changes in its suspension geometry, so your first job should be letting someone set it up properly – and no, that doesn't mean a £25 tracking job at your local fast-fit tyre outlet. You'll need to budget a morning or afternoon and a few hundred quid but it'll be the best money you ever spend on it and could transform the car, as long as the suspension bushes, dampers, springs, and tyres are all in good order.
While you're at it, it is worth considering fitting telescopic dampers at the back, a fairly small change that makes a huge difference. Similarly, if you want to run modern radial tyres it's worth looking into upgrading the Panhard rod to cope with the extra lateral g-force they generate.
The brakes will probably need overhauling, which is the ideal time to fit the brake servo the original, tight-fisted owner didn't pay the extra for.
Engine cooling was always marginal even when new, so it's worth upgrading the radiator when it finally expires; in fact, the key to running any old car is a series of sympathetic upgrades as and when the original components fail. Few, if any, potential owners will ever criticize you for fitting electronic ignition, a modern fuel pump, spin-on oil filter cartridge, or a bigger radiator. And anyway, even if they do, you've kept the old ones, haven't you?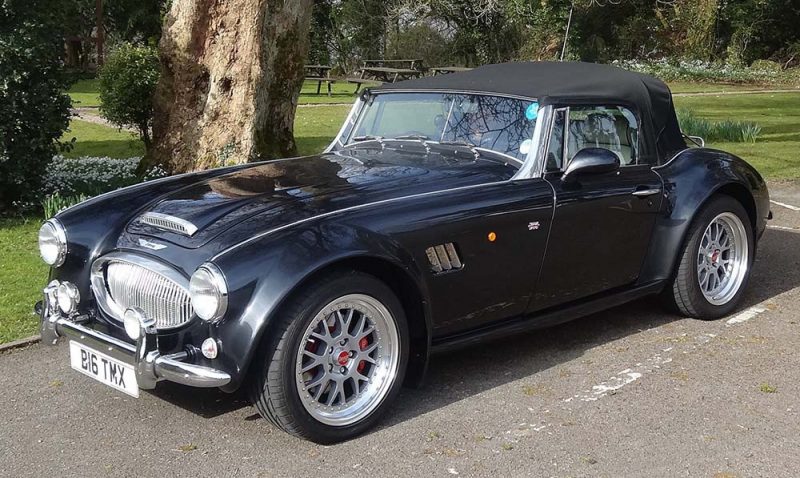 copyright - Sebring
The replicas
I know, I know, but hear me out. While I'm never going to even try to defend the sort of back-street, Ferrari-lookalike, kit-cars that provide the final resting place for old Toyota MR2s, a decent replica of an all-time classic might be worth considering because companies like Sebring offer the chance to drive a very convincing classic car that benefits from thoroughly modern mechanical underpinnings.
And such an approach could give you the very best of all worlds: classic looks wrapped over a faster, safer, and more reliable car than anyone was able to build even twenty years ago. No, it probably won't appreciate like an original car but a good one will probably hold its value and provide a far nicer ownership experience.
Oh, and you can spec yours with a V8 engine, which is never a bad thing.
Heresy? Perhaps, but you know I'm right…
Carlton Boyce