Arctic Sweden has more than its fair share of beautiful scenery, but I wasn't seeing any of it right then. The road was straight and only mildly undulating. Dense pine trees lined the verges, occasionally parting to reveal small lakes beyond. The deer fencing wasn't in great shape and elk gates hung open, often on one hinge. Consequently, the area had an air of neglect.
I was also grouchy and bored. We'd covered 500 miles since a snatched breakfast in Sundsvall and just wanted to get to the hotel. Ten straight hours at the wheel can overwhelm even the best adaptive cruise control and I had a bad case of road fever. The central white lines clicked past in my peripheral vision, adding a metronomic pulse to the monochromatic landscape.
So I inched my right foot down, the words of our taxi driver ringing in my ears. We'd spent the time between the hotel and Volvo's headquarters grilling him on the road conditions we could expect to find in the far north and, crucially, the attitude of the police to speeding. He'd quipped that all you had to do to stay out of trouble was to 'just drive faster than the cops", which became our road-trip mantra.
And so our speed crept up. The posted limit was 120km/h but we were travelling way faster than that. A little voice was telling me that this wasn't a good idea. A bigger voice was telling me that it was: we hadn't seen a cop in two days, and we'd already travelled this stretch of road, so we knew there were no speed cameras.
But I am, at heart, a cautious man, so I eased off the throttle and let us roll to a more reasonable speed. I glanced down and saw 70km/h on the speedo, which felt way too slow. I looked back up to find a herd of reindeer walking out into the road in front of me. They were, perhaps, 75m away and my faith in Swedish engineers was repaid as the brakes pulled us to a halt with metres to spare.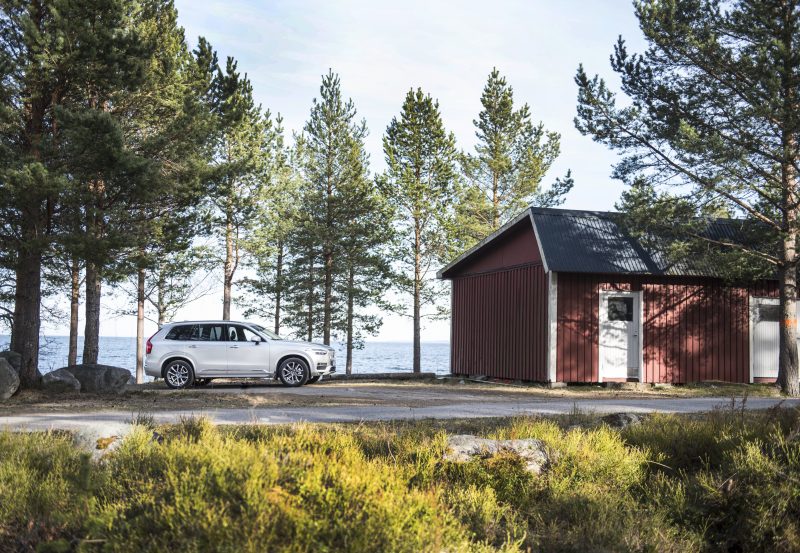 The plan had been simple: fly to Kiruna, drive an XC90 for a few hours to get some snowy shots for an article I was writing before flying straight home. Hopefully there would have been time to eat some moose too, but otherwise it was to have been a flying visit in every sense of the word.
But I was then asked if I'd mind driving the car back from Kiruna to Gothenburg. Mind? Of course not, and sensing the possibility of an Arctic Circle road-trip, I offered to collect it and drive the whole 3,158kms there and back. After all, driving is what motoring journalists do, right?
The very nice chap from Volvo agreed, and we found ourselves collecting the keys to a brand new powdery silver XC90 D5, which was stuffed to the gunnels with Scandi cool and high-technology. As predicted, it turned out to be the finest long-distance vehicle I've ever driven, soaking up punishing twelve-hour days with disdain.
The early stages of the drive were simple. Ease out of Gothenburg and use the XC90's adaptive cruise control to lock onto the car in front and ride the kilometers with only minimal mental effort. Doing so, we rediscovered the joy of measuring progress in kilometers rather than miles. Miles might slip by at one every minute, making for easy calculation, but at motorway speeds one kilometer slips away every half-a-minute or so. There is real satisfaction to knocking off a century of anything and a hundred kilometers pass a lot faster than do a hundred miles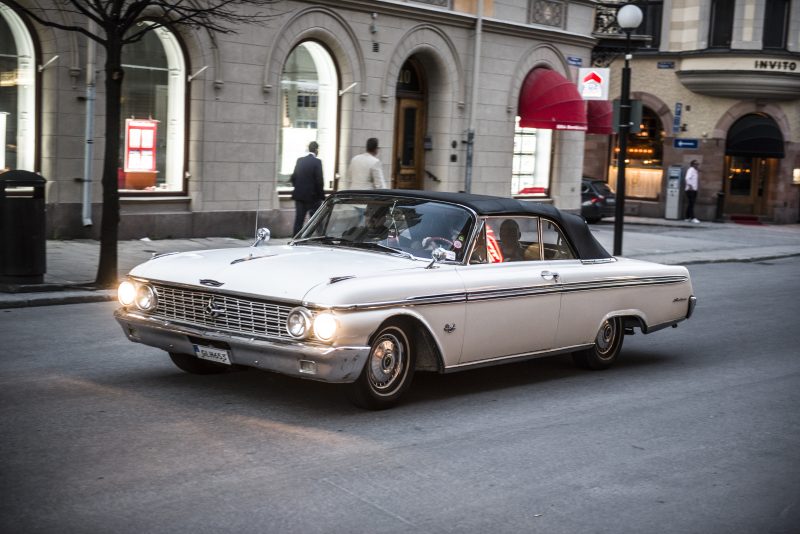 Nonetheless, 700kms takes a long time to cover and we were glad to reach the town of Sundsvall. We ate in the pub next door to our hotel, which revealed four things about Sweden: everyone speaks very good English; no one pays for anything in cash, using debit cards for even the smallest purchase (it wouldn't surprise me if Sweden turns out to be the world's first cashless society); reindeer is bloody lovely; and Swedes love old American cars. We wolfed our food down and went outside to chat to them. We weren't quite at the 'midnight sun' stage but we weren't far off. At nine o'clock it was still bright and the cars cruised around the town in wide circles, chrome glinting in the sunlight.
These loops were interspersed with frequent stops to admire each others' cars and we found them friendly and curious as to what we were doing there. Our diesel XC90 was widely admired but one man, driving an early seventies Impala with a rumbling, burbling V8 engine, summed up the mood of the evening as he nodded towards his petrol-powered classic: "Listen to it!" he smiled.
He had a point.
At five minutes to ten they all got back into their cars and drove away. Our Impala driver explained that they'd agreed to be gone by ten o'clock, and in return the police had agreed to leave them alone. This seemed to me to be a very Scandinavian arrangement.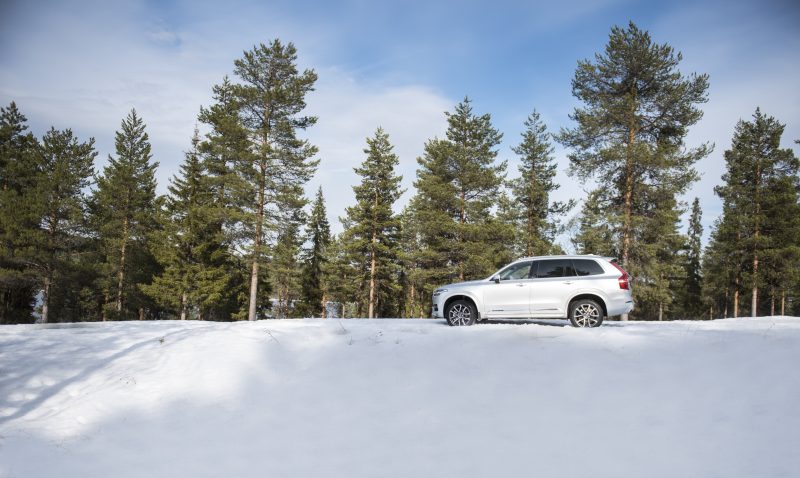 We were up early to start our fast run up and into the Arctic Circle. We calculated that we'd pass our hotel by mid-afternoon on the way and would continue non-stop until we reached the largely symbolic start of the Polar region. The E4 isn't one of the world's great roads but it is picturesque at its southern end and, right on cue, we blasted past the Tree Hotel in the mid-afternoon.
The problem we were facing was light; despite the near constant daylight we were concerned about the quality of what remained by mid-afternoon. The sky was taking on a grey cast and it would have been criminally irresponsible to travel so far and not get the photographs we needed.
'Suck it up Princess' is one of two family mottos[1], so we hunkered down and just kept driving
The sign welcoming us to the Arctic Circle was a bit underwhelming, as was the rest stop there; litter was strewn around and it was clearly used by teenagers to drink cheap cider and smoke hand-rolled cigarettes. And yet. This was the Arctic Circle, a Bucket List drive I'd had on my list since I was a small child.
Professional detachment was forgotten. I kicked snow around with my heavy winter boots and grinned like an idiot. I shuffled the car around for the photographer and threw the odd snowball at him too. He suffered my childishness patiently for an hour or so, before we reluctantly climbed back into the car to drive back to the hotel.
[1] 'Don't be a dickhead' is the other, in case you're wondering.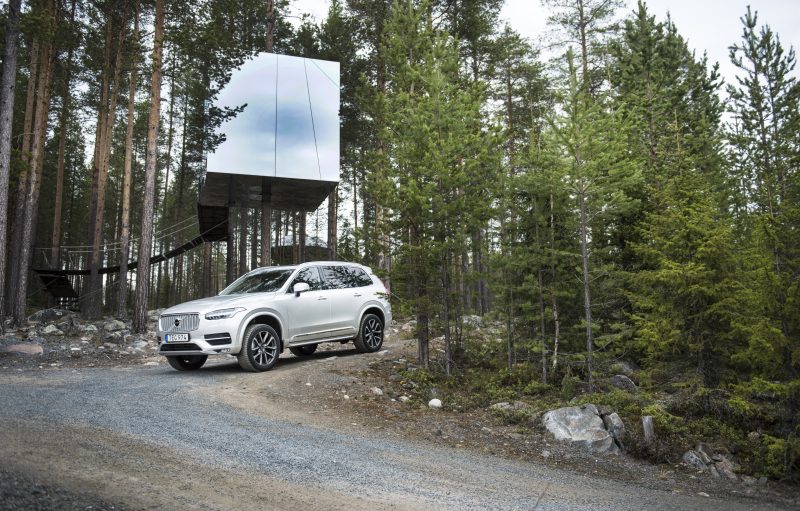 The Tree Hotel is unlike anything I'd ever seen before. Located deep inside Lapland, it features six unique treehouse bedrooms (a seventh has just been added) and is childlike and sophisticated all at the same time. Each room is different, and while none of them are cheap, staying there is worth every penny. Kent, the owner, served coffee in the beautifully retro main building and explained the concept behind the hotel. Everything was going well, until I mentioned my wife, a fact that drew a quizzical look from the normally stoic owner.
All became clear when he walked us through the woods and showed us to our room.
Yes. Room. In the singular.
Wires had crossed somewhere along the line and a double room had been booked. And no, the bed couldn't be changed to a twin.
I was just about the suggest a quick game of 'Rock, Paper, Scissors' to decide who was going to sleep in the Volvo when Kent ventured that the Bird's Nest was empty. That was the good news. The bad was that it was only free because the power was out and he'd be unable to fix it that night.
Andrew took one for the team, and volunteered to sleep there. I think he'd seen the tears in my eyes.
In the end, sleeping there proved to be no hardship. Kent rigged up an extension lead for power and Andrew was almost as cosy as he would have been if we'd been forced to share a bed. The Bird's Nest is named because it looks just like a bird's nest, a nomenclature that isn't a given because the Blue Cube is actually a red triangle…
My room, The Mirrorcube, really is a mirrored cube though, and displayed a Predator-like ability to meld into the background and all but disappear. Such a sleek piece of modernism should have no place in woodland, but it worked, and worked perfectly and the interior was as thoughtful as the exterior, fulfilling every childhood treehouse fantasy I'd ever had.
Dinner that night was eaten in a one of the numerous small rooms set in the main building, all of which had been stage-dressed to reflect early-to-mid twentieth-century rural Sweden. We ate home-cured salmon, followed by a reindeer stew, and a cold wild raspberry tart, all served with the confidence that only comes with the knowledge that you are serving one of the finest meals the diners will ever enjoy.
Although, if I'm being picky, the candles on the table were an uncomfortable reminder of what might have been.
I finished the evening alone at midnight, high up on my rooftop terrace. I smoked a cigar and sipped Swedish whisky and watched the Arctic sun slip briefly behind the horizon. I settled down to sleep but awoke three hours later as the sun rose again through the trees. Few things can get me out of bed at that hour but an eerily lit spaceship – another of the rooms – in a Swedish forest is one of them. (Although I didn't bother getting dressed, standing outside in my underpants to shoot the view. I assumed that no one else would be daft enough to get up so early but if I was wrong, and you were there, I'm sorry. I didn't see you. If I had, I'd have put some trousers on.)
Six o'clock saw us up and shooting the XC90 on an island peninsula (this time fully dressed) before a leisurely breakfast of pickled herring, crackers, and hard-boiled eggs. And coffee. Lots of coffee. The Scandinavians drink a lot of coffee, which is another reason why I love them and their country so much.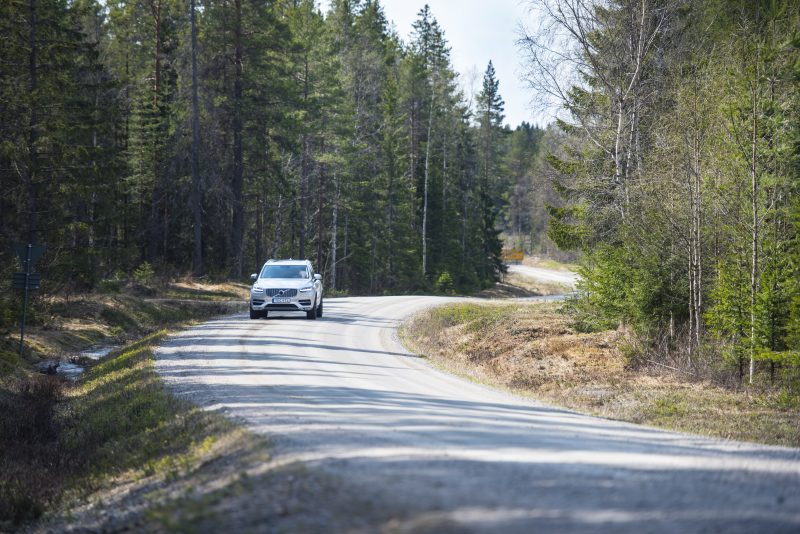 The scenery became more vivid and saturated as we moved south. We'd gotten into a routine by now, stopping for fuel in the morning, stocking up with sandwiches for an on-the-run lunch.
We found the petrol pumps varied in the way they operated, which initially caused some confusion. While some accepted a debit card and printed the receipt automatically, others were programmed differently and you needed you to put your card in again when you'd finished to produce the receipt. That took some figuring out but there was always a friendly local to help – and all of the pumps clicked open and pumped automatically until the tank was full, a la America.
Roadside stops, complete with clean toilets and plenty of bins, make Sweden a great place to drive. Speed limits are, however, rigorously enforced and speed cameras are plentiful. As a result, we found the easiest way to cover the vast distances involved was to latch onto a law-abiding Swedish car and let them do all the hard work. If, like us, you are lucky enough to be driving there in a modern car, its cruise control will probably maintain a constant distance, braking and accelerating automatically. This worked brilliantly for us, as the local drivers followed the lower speed limits religiously, while the faster ones were observed in the spirit, if not the letter. But be warned: The Swedes, unlike the Brits, don't play games with road safety by crying wolf: if there is a speed camera sign, then there is a speed camera somewhere nearby.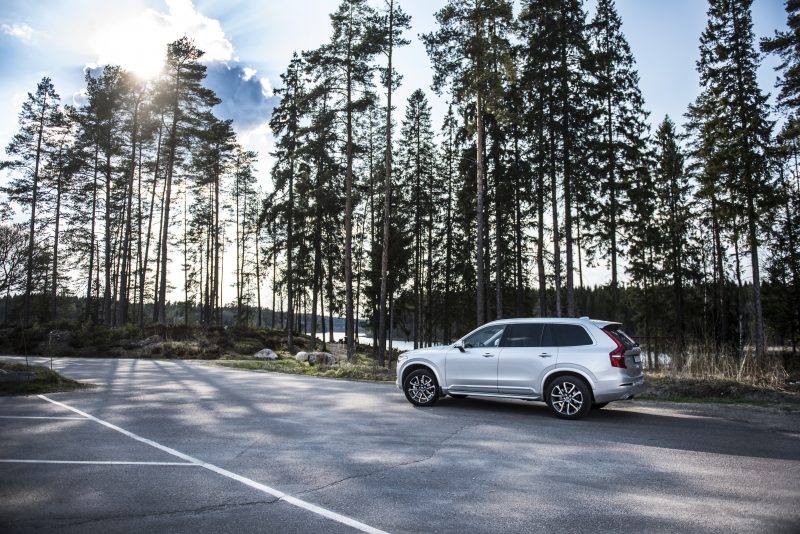 And when we got bored, the Volvo had an interesting little trick up its sleeve; indicating to overtake would cause the car to start to accelerate so by the time I pulled out to overtake, the car was already travelling a bit faster than it would otherwise have been. Gaming the Nanny State like this is very rewarding, adding a frisson to what might otherwise have been a dull couple of days.
Yet the temptation to speed in the southern reaches was minimal. The roads were clear, lane discipline was extraordinarily good (in just over 2,000 miles we saw one car hog the middle lane, and that was a German-registered Audi…) and few cars would pull out to overtake in front of you, almost invariably holding back on dual carriageways and motorways until you've passed, only then pulling out to pass slower traffic. If the Scandinavian social model is equitable precisely because everyone contributes their fair share, their driving is no less an exercise is self-restraint for the greater good.
The final day was an easy run from Gavle to Gothenburg airport. But, again, road fever again took hold and I found myself not wanting to stop, something that had proved to be the theme of the trip: we stopped only for toilet breaks and one slept while the other drove.
Bruce Springsteen provided the near-constant backbeat to a journey that ended up at a little under 2,000 miles at an average of 34.5mpg and 60mph.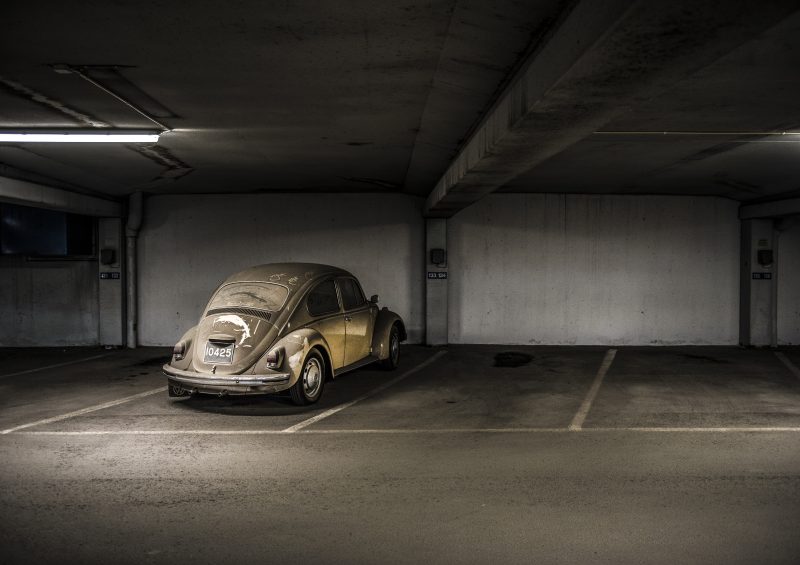 Classic cars
Classic cars are a real thing in Sweden. American cars are by far the most common, with vast, V8-powered pickups being a common sight. But smaller, European stuff is there too, including this forlorn Beetle we found in an underground hotel car-park.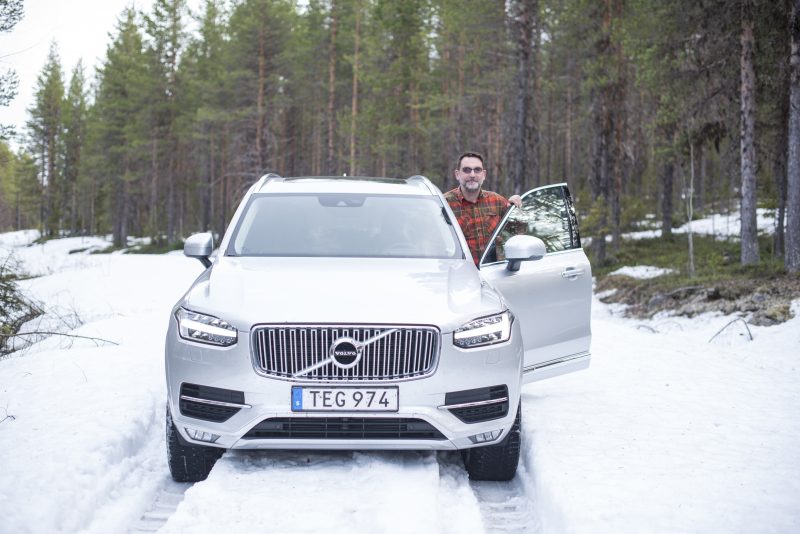 Prices
You too could enjoy your own Arctic Circle road-trip. Flights from Heathrow to Gothenburg start at just over £100 per person. Hiring a car can cost as little as £20 a day and fuel prices are only around 10% higher than here in the UK.
I stayed at the Tree Hotel (http://www.treehotel.se/en/) where rooms start at around 4,900 Swedish Kroner, or about £450 for two people sharing. Yes, that is expensive but it is something of a once-in-a-lifetime treat that you'll remember forever. Of course, cheaper rooms are available elsewhere. Prices start at around £120 a night for a double room in a Travelodge-style hotel.
Your evening meals won't be cheap (few things in Scandinavia are) but £50-75 excluding wine per couple will buy you a three-course meal comprising something like soup, pasta and a pudding. Beer is around £7-8 per bottle, with wine costing £25-35 a bottle.
Lunch is much more reasonable; we bought sandwiches, crisps, fruit, and a couple of bottles of water for around a tenner a head after filling up at breakfast, which is almost invariably a help-yourself buffet, the cost of which will be included in the price of your room.
Words by @motoringjourno
Photographs by @picturecorner