No Third World coup or civil uprising is complete without a rag-tag bunch of ne'er-do-wells waving AK47s from the back of a Toyota Hilux. So ubiquitous is it that it even had a war named after it, the so-called "Toyota War" of 1987 in which Chadian troops fought off and killed more than seven times their number of enemy soldiers. The result was a heavy defeat for the occupying Libyans, who were driven out of northern Chad, a remarkable feat that owed its success in no small part to some of the finest Japanese engineering.
That a small but highly mobile group of highly motivated and well-trained men could defeat a much larger force was a lesson that had been learned long ago; as a tactic, it was honed and refined in the Egyptian desert during World War Two by David Stirling and the men of the Long Range Desert Group. Hit-and-run proved to be extraordinarily effective against larger groups of better-equipped men, becoming a much-favoured tactic whenever the odds were out of kilter and in need of levelling.
The only problem is that it does rather depend on having access to a reliable vehicle; while there are scores of well-bearded men out there whose hobby comprises nothing more than cramming old Land Rover axle grease under their finger nails, when your opponents are armed with surface-to-surface missiles, heavy machine guns, grenades and a seriously bad attitude there exists a gaping void in your life that can only be filled by the world's most reliable car. If your life depended on your four-by-four starting first time, every time, which one would you pick: The Toyota Hilux or a Land Rover Defender?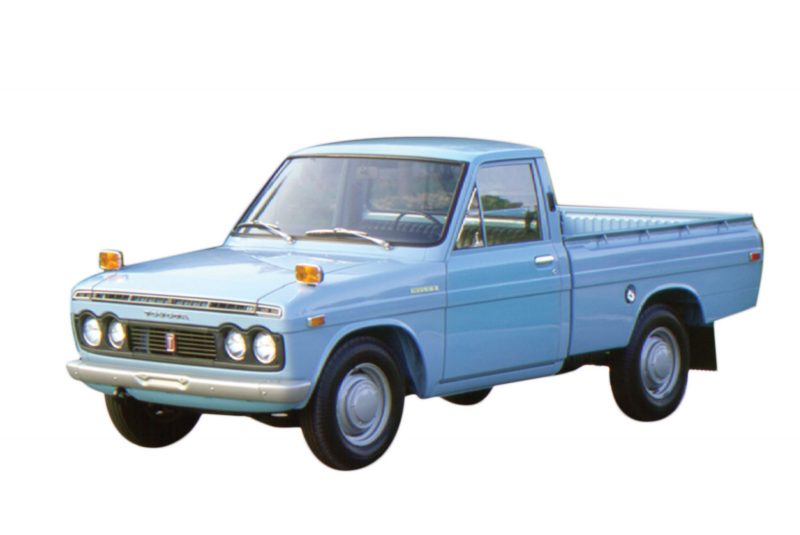 History
The first Hilux was released in 1968 with the chassis code 'N10'. Curiously, the new model's name was a contraction of the words 'High' and 'Luxury', which wouldn't necessarily have been the two words that spring to mind when you thought about what was primarily a working vehicle; whereas the previous two-vehicle pickup range had been based on a Toyota car chassis, the new Hilux was designed from the ground up as a commercial vehicle.
Genesis was a 1.5-litre, short-wheelbase, rear-wheel-drive pickup; the long-wheelbase model arrived a year later. The interior was utilitarian with a column gear change and a three-abreast bench seat. With a mere 75bhp, the first Hilux wasn't fast or clever or even that tough, but it was the seed that sowed the commercial backbone of Toyota.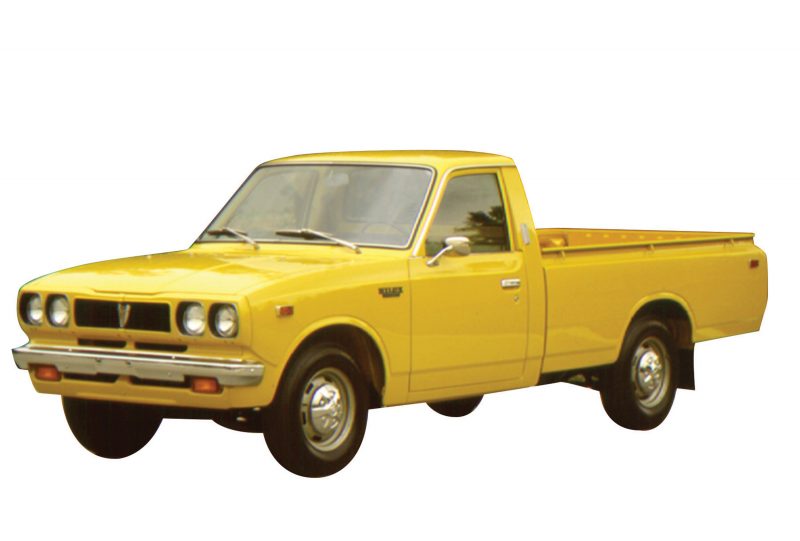 The second generation, unveiled in 1972, marked the first time the Hilux was officially imported in the United Kingdom. The N20 was mechanically identical to the N10 but had a slightly nicer interior – the bench seat and column change could be swapped for four-on-the-floor and two individual seats – and slightly longer wheelbases. The body had been mildly updated too but the big news was the introduction of a two-litre engine and optional three-speed automatic gearbox in 1974.
The Hilux was starting to live up to its name.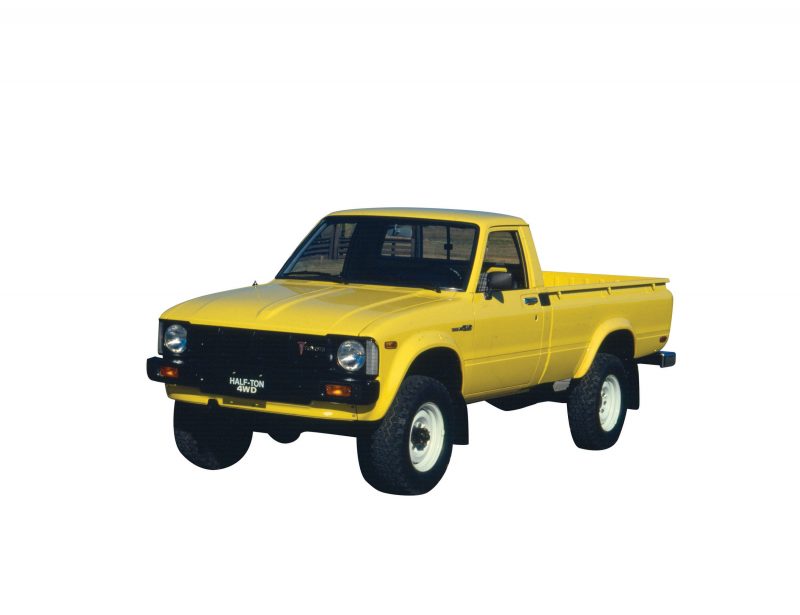 Iteration three arrived in 1978 with the N30. Now available in three short-wheelbase versions and four long-wheelbase, the Hilux was starting its inexorable rise upmarket. Toyota's aim was to provide saloon car levels of comfort and handling allied to its, by now legendary, utility and toughness.
The Super Deluxe topped the range, offering three inches more space in the cab, which might not sound like much but was a real treat to anyone taller than about 5' 8'. A double-cab followed for the first time shortly thereafter, primarily for the American market, a customer base that had long since settled on the pickup as the ideal multi-purpose vehicle.
The Hilux went four-wheel-drive in late 1979, gaining the Land Cruiser 40-series' chassis and running gear. A diesel engine followed shortly, completing the template for the world's favourite pickup.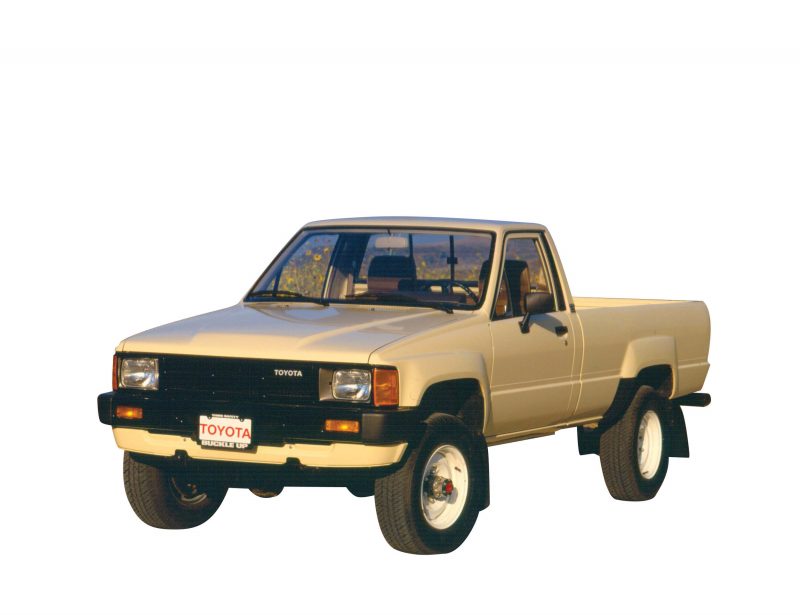 If you're looking for a modern classic pickup, the N40 1983 Hilux is a good place to start. The number of variants had by now reached 20, with customers free to choose from either a short- or a long-wheelbase chassis, two petrol or two diesel engines, a manual or an automatic gearbox, and two- or four-wheel-drive.
The Toyota Surf was born as a result of the explosion in interest of tough SUVs. The basic Hilux was such a capable and civilized vehicle that they simply grafted a glassfibre canopy onto a short-wheelbase chassis, added a rear bench seat, softened the rear suspension and voila, the Toyota Surf/4Runner was born.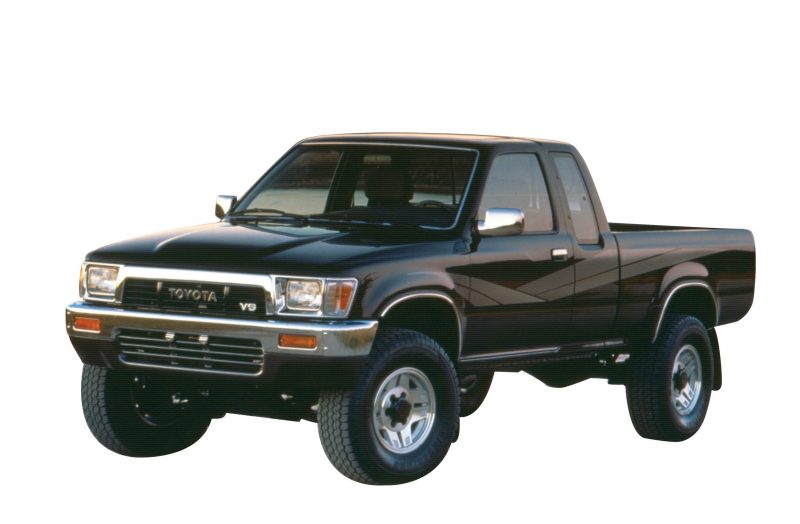 1988 saw the introduction of the fifth generation (unsurprisingly called the N50…) Hilux, an evolution of the outgoing model. The interior was now even more car-like, and the body gained the flared wheelarches that we've all come to know and love. (Interestingly, the Hilux 4×4's wide arches are not there to cover the rubber but to minimize mud splashes along the side of the car.)
The N50 is also the last Hilux to be fitted with a live front axle, something engineering purists will tell you is a bad thing. They might, in theory, be right but it's also a very reliable thing, which is more important when you're building the world's toughest car.
The last classic Hilux died in 1996.
Well, it might be more accurate to say that the model range died but the legend lived on because, as we all know, you simply can't kill a Hilux.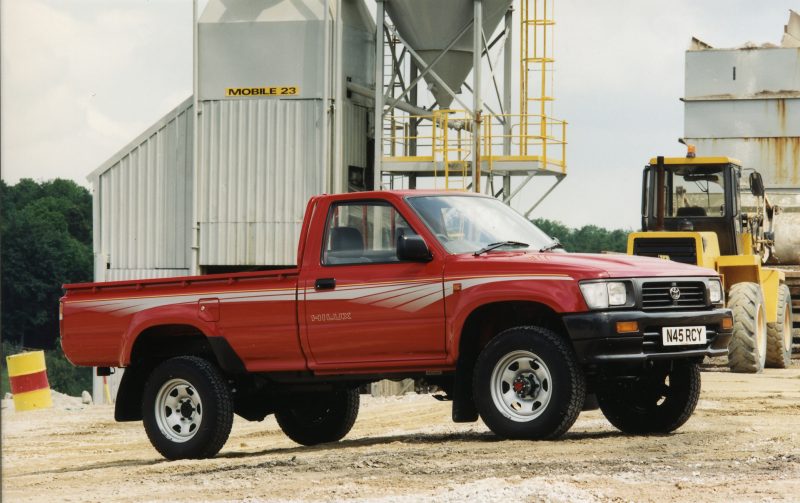 Driving a Hilux
For all Toyota's claims that their High Luxury pickup is as polished as a car, it isn't. However, it's as close as it needs to be and is refined and comfortable enough that you could use one as your daily driver without having to make too many compromises.
The gearbox is a bit crude, although all the gears are in there somewhere. The engine is a bit gruff and generally underpowered, but it'll get the job done long after the bodywork has dissolved around you. And the brakes? Well, they will stop you. Eventually.
The interior is just like that of a car, even if that's a car from the 1940s, especially if you choose one with a front bench seat and column gearchange. (Which, by the way, you should if you can.).
But to nitpick in this way is to miss the point: this is a four-wheel-drive vehicle that will keep soldering on in almost all conditions and under almost any circumstances. It possesses a work-hardened toughness the likes of which almost nothing else can boast of; if Land Rover conquered the world, the Toyota Hilux built it.
The 21st century has turned us into soft, pale imitations of the men the Hilux was built for: Men for whom a six-hour cross-country slog was a commute, not a joy ride; men for whom sub-zero reliability was a life-saver rather than an opportunity for a TV special; men for whom toughness is a given rather than an excuse to drive into a tree for cheap laughs. Real men in other words, and real men don't whinge about a heavy clutch or steering or a seat that lacks lateral support. Real men chuck a tonne of supplies and equipment in the back, hitch up a three-and-a-half-tonne trailer and quietly get on with making the world a better place.
So, if you find a Hilux a bit too uncivilized then the problem is more likely that you've become too civilized.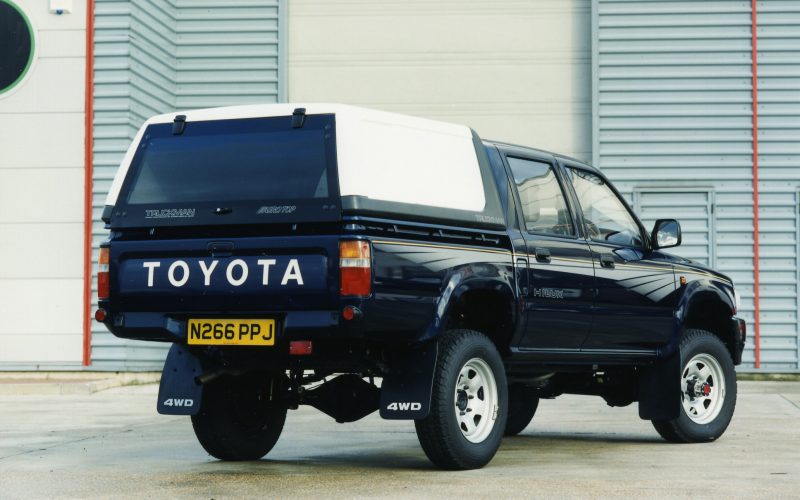 Buying a Hilux
Buying a Hilux is easy; you're looking for a decent chassis, followed by a decent cab; the rear bed is practically a consumable service item, so don't sweat the details if it's dented and rusty.
The mechanicals are tough, cheap and easily fitted (only the Defender is simpler to work on) so a non-runner with a good bodywork and chassis would make a fine project. If you're looking for an investment then early cars are starting to do very well indeed, with enthusiasts showing a soft-spot an early car in original condition – and if it's got a bench seat, no matter how threadbare and cruddy, you can add £500 to the price.
For what it's worth, I like the N40-series. I think they best balance the ruggedness we admire with the creature comforts we prefer, and buying a good 'un – and there are plenty around to choose from – offers the newbie the best chance of at least getting their money back after a few years of hard-core fun.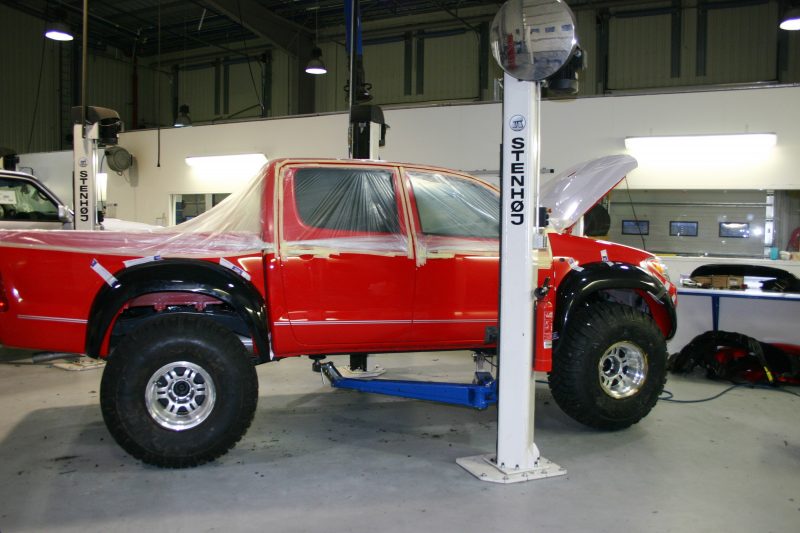 Modifying a Hilux
Few vehicles offer the versatility of the Hilux. Whether it's swapping the standard pickup bed for a tipping version for hauling logs or slotting in a demountable camper body for family holidays, the Hilux will take it all in its stride.
Of course, if off-roading is your thing then the world is your oyster in terms of upgrades; Australia probably has the strongest love affair with the Toyota ute, so it's worth looking at the upgraded gear people like ARB. It sells a wide range of off-roading and expedition goodies for your vehicle, and inspiration can be found here.
For Euro-cool you'll want to look at how Arctic Trucks views the world. While the small ads are full of jacked-up Hiluxs on inappropriately tall tyres, no one does stance like the Icelandic firm. Of course they aren't cheap, but then quality never is.
The smaller wheels (smaller in this context still means a 35-inch diameter with girth the match) fit under the wheelarches after nothing more taxing than a mild body and suspension lift but bigger rubber means relocating the front axle too, which isn't something you'd want to try and figure out in your garage with the help of a Halfords' MIG welder and a Haynes manual.
After that the world's your lobster Rodney; roof tents, winch bumpers, shotgun holders and engine swaps are all possible; the only limiting factors are the depth of your pocket and your mechanical aptitude.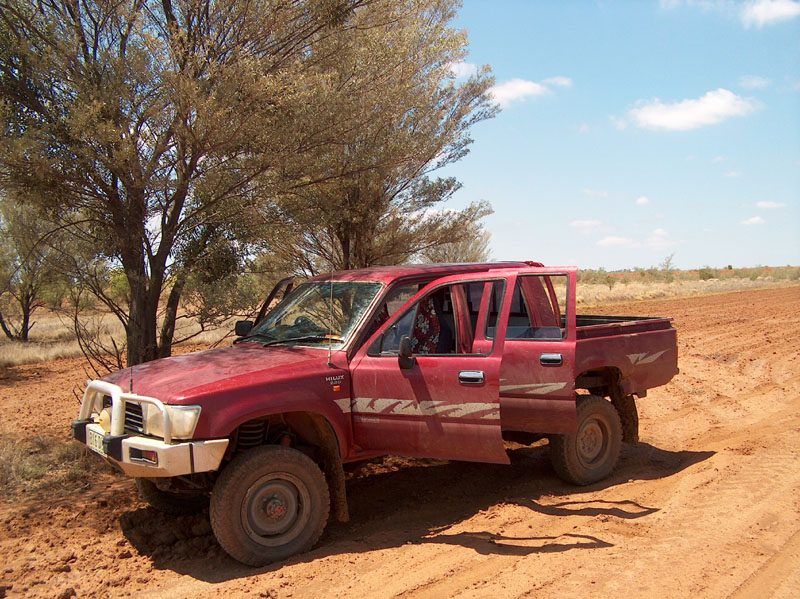 copyright: Vinko Rajic via Wikimedia Commons
The Hilux in Australian culture
I know that Australian culture is a bit of an oxymoron (which gives me a chance to tell you one of my favourite jokes. An Englishman approaches Australian passport control after flying in from the UK. Aussie immigration officer says: "Do you have a criminal record?" Englishman: "No, I'm sorry, I don't. I hadn't realised it was still compulsory.") but no one has taken the Hilux to their hearts like the Aussies. The Hilux was the best-selling pickup for thirty years straight, only recently yielding to the Ford Ranger.
And say what you like about the chaps down under, they are bloody hilarious. So, you've got a series of TV adverts in which the only spoken word is 'bugger'; two bulls and a sheep shagger; the toughness-rubs-off ad; and even the odd non-Toyota parody…
(I found another couple on The Daily Mail website, but I have too much respect for you to ever take you there.)
And why do Australians refer to a pickup as a 'ute'? The reason is, so the story goes, because an Australian farmer's wife wrote to the Ford Motor Company back in the early thirties, asking why she couldn't buy a car that was respectable enough to take her and her family to church on a Sunday yet still practical enough to take the pigs to market on a Monday. The result was the Ford Model T Coupe Utility, or 'ute'.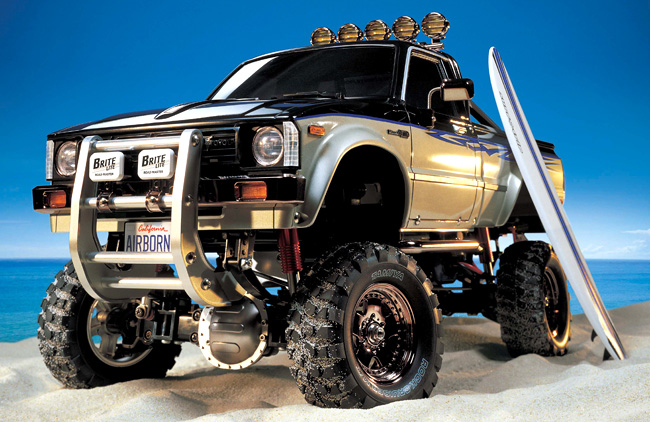 Buying a scale model
Regular readers will know that I'm a strong advocate of buying a 1:18 scale model of any classic car you're thinking of owning. I suspect that you can gain about 50 percent of the pleasure of owning any car this way, at a fraction of the cost and almost zero stress.
In the case of the Hilux, you're going to have to go bigger (obviously) and buy a 1:10 scale Tamiya remote control model. Of course, it'll set you back a few hundred pounds – and yes, that is about the same as an MOT-failure project – but fourteen of them will tow a real-life Hilux.
Yep, you read that right: watch it here.
Carlton Boyce
Yes, I know the header image isn't one of the classic Hiluxs that we've talked about here, but a photograph like this is too good not to use.