When my seven-year-old son heard the audio recording of my two fast laps in a Metro 6R4 Group B rally car his face creased into a wide grin: "cool", he said, "can you put it on my iPod please?"
It is an impressive noise. But then everything about Group B rallying is cool; in the 1980s greed was good and bigger was better – for a while, at least.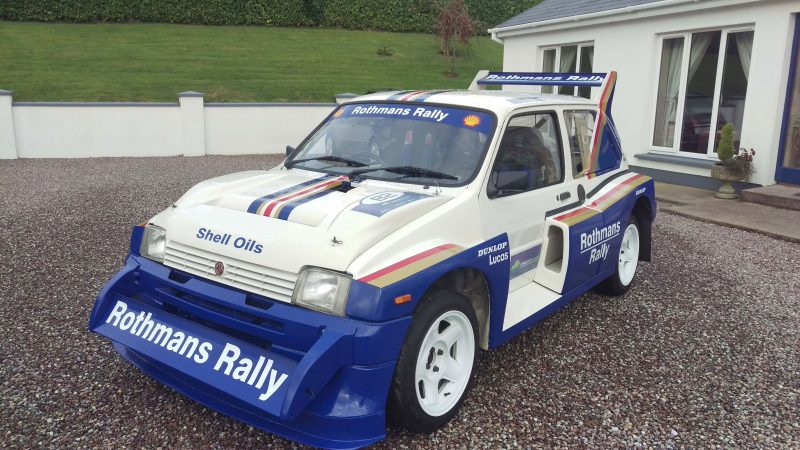 History
The Metro 6R4 was designed by Patrick Head and William's engineer John Piper in the early 1980s to compete in Group B rallying, and after a couple of false starts they arrived at the car we're looking at today. It's squat and bulges in all the wrong places; the aerodynamic performance of the car focused on creating downforce rather not cleaving cleanly through the air.
The bulbous bodyshell, designed by Brian O'Rourke, Williams F1 Chief Composites Engineer and a former F-18 fighter jet engineer, was produced as a kit of 347 body parts that was then transported from Swindon to Longbridge where it was mated with 16 standard body panels. The attention to detail is astonishing and demonstrates that this is a car that was designed by engineers, not accountants; one hundred and thirty-seven feet of welding went into making the 6R4's bodyshell. The standard Metro has just four.
The bespoke V6 engine, designed by ex-Cosworth man David Wood, displaces 3.0-litres and is naturally aspirated to avoid the turbo-lag that bedevilled most of its rivals (although the same engine was later turbocharged and used in the Jaguar XJ220 where it developed over 540bhp). It produces 410bhp at 9,000rpm, and 270lb ft at 6,500rpm in 'International' specification and coupled to a four-wheel-drive transmission will hit 60mph in just 3.2 seconds; every engine was dyno-tested at the factory and came with its own power and torque curve spec sheet.
When the 6R4 was unveiled there was no doubt that it was going to win rallies and a lot of them at that. It might have lacked the top-end of some of its rivals but any lack of outright pace was more than made up for by its agility; that short wheelbase and attention-grabbing aerodynamics ensured that nothing was quicker through the bends.
However, the 6R4 was suddenly rendered completely and utterly obsolete; FISA banned all Group B cars mid-season following a series of accidents and fatalities, the last of whom was Henri Toivonen and Sergio Cresto, killed in their insane Lancia Delta S4.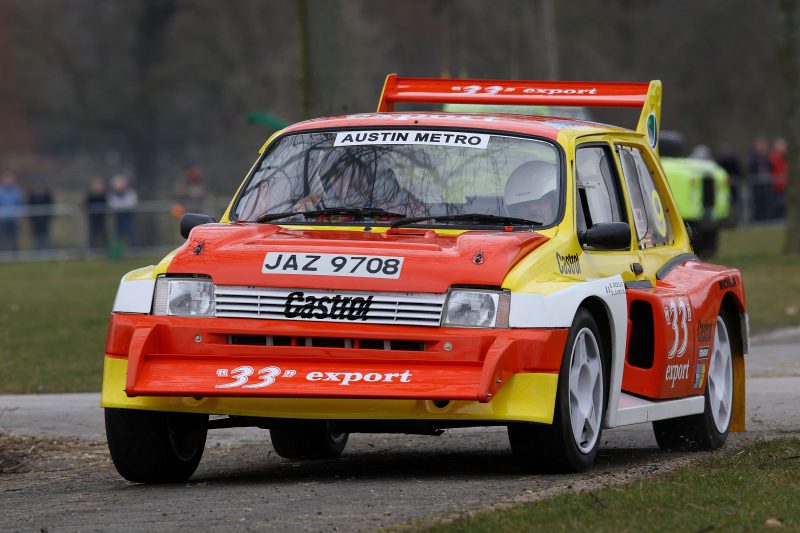 Competition history
The Metro 6R4 – the Metro had been chosen as the silhouette simply because its diminutive size made the track and stance of the finished car look more impressive than it actually was – was developed in the full glare of the public eye, which might have been the best idea. Its track and wheelbase grew as lessons learned in competition were made practical and the aerodynamics were tweaked with wings and spoilers and seemingly random addenda tacked on here and there. The end result was an aesthetic nightmare but it was effective. By golly, it was effective.
"I know it's an ugly beast, but the 6R4 is easily the best rally car I've ever driven. Enormous power with four-wheel-drive traction was a brilliant combination, but the transmission also brought other advantages in grip, stability and braking. Aerodynamics performance, too, was an area where the car was a pioneer, as other manufacturers had always believed rallying speeds weren't high enough for wings to work."  Tony Pond 6R4.net
It took its first win in March 1985 and when it was on-song it was as competitive as anything else in the group but the engine (a new design, you'll recall) lacked reliability and the longer rallies took their toll; while the rest of the car could take seemingly unlimited punishment the crews were often left stranded in a forest somewhere cursing the engine and rifling their pockets for 10p to call a breakdown truck.
The Metro's engine is widely believed to still be the only purpose-built rally engine and even when they were on-song some still said that the 6R4's engine had "all of the problems of a turbocharged car without the grunt." Who knows how successful the 6R4 could have been if they'd used the Honda V6 that was originally on the table?
Tony Pond's third place in the 1985 Lombard RAC Rally was the highlight of its career before Group B was abruptly abandoned in 1986.
Driving one
I've never driven a 6R4 but I have been a passenger in one. Ken Hall had always wanted one and managed to negotiate the purchase of his in 2004; it cleaned him out, to the extent that he even emptied his daughter's piggy-bank. He, quite literally, risked everything to buy it.
He took his time restoring it but tragedy struck in his first season's racing when the engine blew. This set him back another two years, partly because of the difficulty of finding spare parts. Everything on the 6R4 is custom-built and bespoke. Parts are being re-manufactured, but they aren't cheap; an engine block costs £15,000.
Just getting into a Metro 6R4 is a challenge if you are tall and portly. I thread my way past the roll cage, putting one foot down, wiggle my backside into the place where the seat should be and collapse. I fall into the hip-hugging passenger's seat and thread my other leg into the car. Once in, there is actually plenty of space.
Firing up the engine is straightforward and we're soon moving. Ken claims not to know how much power the engine is putting out. "350bhp? 400? What do you think?" He smiles, impishly. "Or am I under estimating it?" Hell, I don't know, but it doesn't seem a whole lot slower than the 550bhp Focus that's been doing the rounds today.
The driveline bangs and judders as we turn into left the pit lane at Croft Circuit. Ken straightens the steering wheel and the juddering stops, to be replaced by an unholy clatter; NVH (noise, vibration, and harshness) are off the scale. We swagger along at slow speed, giving me time to look around me. The fit and finish are, like most competition cars, rudimentary and the car wears its patina with pride.
The bodywork is cursory, designed merely to give the silhouette-illusion of a Metro. There is a piece of air hose stuffed through the window, ramming cool air into the cockpit, a wise move given the fact that the exhaust fumes are making my eyes smart. This is a proper racing car rather than a trailer queen. This is a good thing.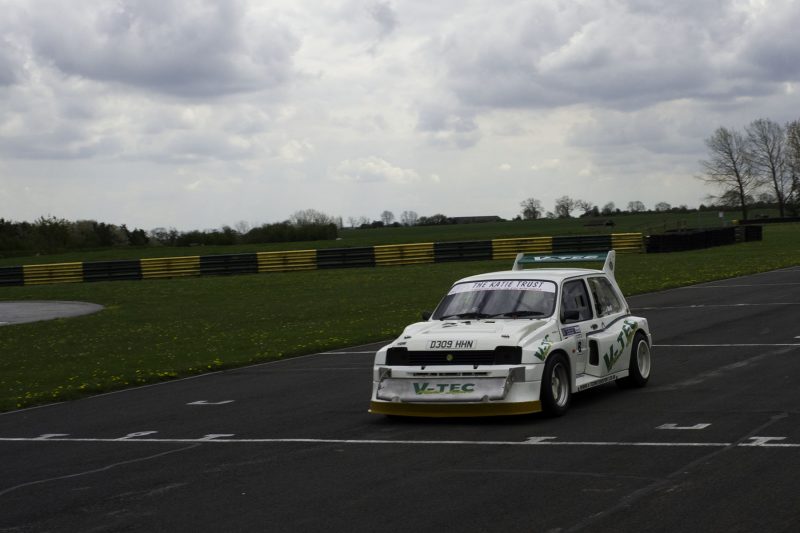 I'm grinning like an idiot. I actually turned out to see Tony Pond in a Metro 6R4 in 1985 with a bunch of mates. I remember the excitement of it all, the long walk from the car park and the cold. Man, I was so cold. And here I am, nearly thirty years later, sitting inside one, steaming out of the pits with a maniacal driver beside me.
We leave the pit lane and he buries the throttle. The engine noise is deep and compelling, forcing itself upon you. I'm thrown back into my seat as we accelerate; hell, even the marshals are smiling at us. We brake early for Clervaux, way earlier than the modern rallycross cars do. The brakes are the weakest part of the chassis, forcing Ken to stand on them hard 'n' early. He acknowledges this, and grins: "I could put bigger brakes on it, but then I'd need to put bigger wheels on it too, and then…" He shrugs. "It wouldn't be a 6R4 anymore?" I offer. He smiles: "Yea, you've got it."
We hit Hawthorn fast. Ken nonchalantly stamps on the anchors and hauls at the steering wheel; no Scandinavian Flicks here, just brute force to haul this old-school rally car round. We're on street tyres, not slicks, yet the traction and roadholding are very good. Ken powers through the chicane in a blast of bravado and unburned hydrocarbons. I stifle a whoop; I am, after all, a professional motoring journalist. I do not whoop, I objectively analyse a car's dynamic range. I laugh out loud instead. This is bloody fantastic.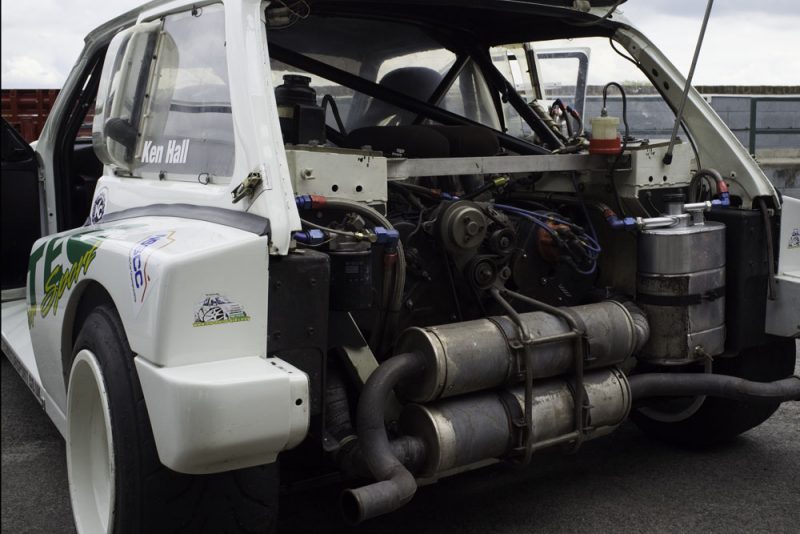 We are only using the short circuit today, so after Tower we have a short straight and then a hard right, ninety-degrees of tyre-scrabbling, bicep-building, hard-core street fighting. This is a short-wheelbase rally car, not a circuit racer, and whilst Ken is very competitive we're in a thirty-year-old unfinished project. An unfinished BL-project at that.
The handling is anything but refined, with more understeer than I would have predicted, a situation that is resolved by Ken banging the throttle down and throwing the car into instant oversteer. The car is rarely in a straight line and it leaves the driver no time to pussyfoot about. This is old school and we hit the back straight to start our first hot lap.
It's much the same as the first; the acceleration from rest is so outstanding that you don't gain as much as you'd imagine with a flying start. We bang our way round Hawthorn again and I suddenly notice that Ken is accelerating hard through the bend, changing gear in a blur before charging through the chicane using every inch of the road. It's a compelling blend of brute force and finesse and he's on a charge.
So much so that he overcooks the final bend. There is a lot of understeer, way too much, and he catches the edge of a concrete pad and we wash out, heading straight for some very solid roadside furniture. Ken dives onto the concrete and spins the Metro round, laughing. We slide into the pits and we extricate ourselves for a debrief.
He tells me that he challenged a 1,000bhp drift car to a drag race at the weekend, a challenge that was refused. Wise man; the 6R4's fusion of power and traction would be unbeatable if you're only packing rear-wheel-drive, even if you are boasting 1,000bhp.
I left Croft full of admiration for Ken, and those like him who risk everything to buy and maintain legendary cars like the Metro 6R4. I admire him too because he does it all surrounded by his family, all of whom are smiling, friendly, and willing to help him pursue his dream.
Ken's a lucky man – and the 6R4 is only a part of that.
Buying one
Back in the day you could buy a Clubman Metro 6R4 for £13,000. Yes, just thirteen thousand pounds would buy you a state-of-the-art car, each one of which cost Austin Rover over a million pounds to design and build. I remember hearing about the big sell-off at the end of the eighties and wondering why they were struggling to find buyers; even then, as a callow and foolish youth, I knew that this was one of the motoring worlds all-time bargains. The 200 'Clubman' road cars, fitted with a de-tuned 250bhp engine but still good for a sub-5 second time thanks to outstanding traction and a 1,000kg kerb weight, languished at Austin Rover for months. Quite simply, no one wanted them.
Even now, the 6R4 lags behind most of its contemporaries. Prices start at £80,000 for a good, usable car and rise to a bit over quarter-of-a-million for a car with an impeccable competition history and provenance.
Weirdly, eBay is one of the better sources: Dr_6R4 has no fewer than four listed for sale at the time of writing, including Colin McRae's old car. You can also find the odd car on the 6R4 website, which is a brilliant resource for anything 6R4-shaped.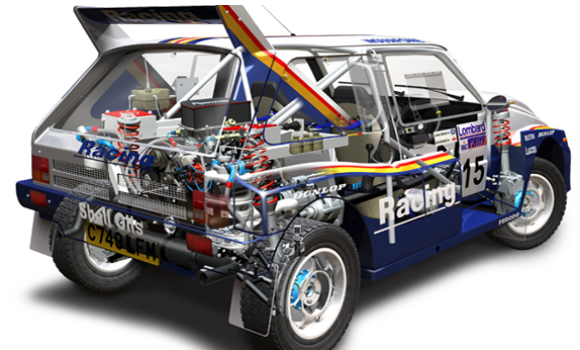 Go on, you know you want to…
Carlton Boyce