It seems that these days everybody is jumping on the classic car bandwagon and nowhere is that more apparent then in the world of auctions. Any company that sells old paintings or that dusty wooden box you found in your loft is now trying to spread their wings by auctioning off British Leyland's finest. So why on earth would we think that bringing yet another auction offering to market is a good idea?
Many of these new entrants are not doing anything different. True, one may offer a % difference in sellers or buyers fees over the other, another may be at swanky location. But is that enough to prove successful? Time will tell but for us there were still some improvements that could be made with the auction format and we decided that we should be the ones to make them. Hence we decided that the world did need yet another car auction and promptly set about creating it..
The auction landscape
Today in the UK if you want to sell your classic car by auction (and why wouldn't you, after all having people compete to buy your vehicle is usually the best way to get the highest price), you have two options; 1) hand it over to some of the nice people at the traditional physical auction companies, or 2) take your life into your own hands have a go at auctioning it yourself online with a well know auction platform from the Bay.
If you take the first option then like many things in life there are some great companies and some less than good ones (we've bought and sold from most) but they all share similar characteristics:
They are quite expensive to buy and sell at by the time you take into account all the fees involved. There are sellers fees (5-10% of bid) and buyers fees (10-12.5% of bid), oh and then you need to put VAT on top of all those amounts. Lets say a Porsche 914 is bid up to £15,000 at an auction, the buyer will actually pay £16,800 (assuming a 10% + vat buyers fee) and the seller only receives £13,200 (assuming 10% + vat sellers fee). Wow – thats a massive £3,600 difference on a £15,000 bid (or 24%). Gulp!
Buyers at these auctions typically need to be onsite either for the auction itself or the viewing day, limiting the potential audience. This is because a typical auction listing contains very limited information about a vehicle (4-6 photos and some narrative) and only allows viewing of the documentation on site meaning a physical visit and inspection really is a necessity to understand what is being bought.
At the other end of the spectrum you can go down the well known internet auction route, write your own advert, pay a minimal listing fee, click submit and then sit back and wait…for the emails asking what is your 'Buy It Now' because they cannot wait until the end of the auction as they need the car to take Aunt Maisie to hospital, or will you ship to Zimbabwe and do you accept payment by Western Union. Or my favourite (which actually happened recently), the good old fashioned tyre kicker…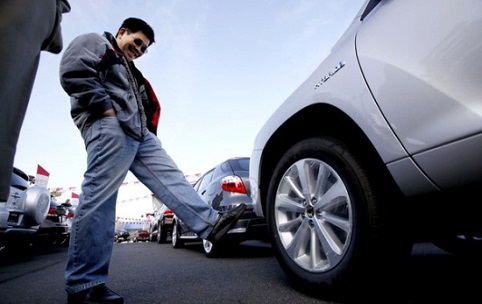 Earlier this year I advertised a car in a 10 day auction to give buyers plenty of time to view the vehicle. At the end the winning bidder came by train to pickup and pay with cash. Upon arrival he first claimed he did not have the full amount of money on him, then he stated that the car was not as described (it was), then exclaimed that his boss had only authorised a lower amount. I politely explained that he could either pay the full amount or he could start the 4 mile walk back to the nearest train station. Hey presto, the full amount of cash suddenly appeared and he went on his merry way with the car. All ended well eventually but his (and many others) expectation was that the winning bid price was simply a point to start negotiating from rather then an actual commitment to buy. Suddenly it doesn't quite look so much like the cheap option….
All is not well on the buying side either, a member of our team was recently trying to buy a Unimog (more fool him you might cry), the first 2 he tried to purchase via that well known auction site turned out not to exist and were scams. Luckily he had not parted with any of his hard earned money but I am sure there are others who did.
So what can be done better?
We believe that a successful auction relies on a few key principles:
Establishing buyer confidence. Luckily we already operated the worlds largest classic vehicle digital history platform and had already demonstrated how this could add value to the auction process by allowing potential buyers to view lots of information and the history of a car in advance of and auction when we sold our Porsche 944 Turbo. Read the story here.
A good listing is critical to a good auction result. Anybody can write an advert, very few people can write a great advert that presents a vehicle in an accurate way and makes it appeal to buyers. Don't under estimate that value of this, we recently auctioned a Land Rover that made more then double its estimate and the seller puts a lot of that down to the listing we created for him. Poor adverts equal poor results, don't leave money on the table!
Competitive lot prices and transparent fees. The amount of times I have been stood in an auction only to watch a car exceed its lower estimate but not make its reserve (tip – in many auctions if a vehicle is estimated £25-30k, the reserve will be slap bang in the middle i.e. 27.5k). As far as we are concerned if a vehicle makes its lower estimate the it should sell. As for transparent fees, buyers should pay what they bid, no fees, no VAT. Bid £30k, pay £30k.
Eliminate time wasters and tyre kickers. If you bid, you should be financially committed to buy, not to go and have a poke around.
Verify Sellers. Ensure sellers are who they say they are and that they own the vehicle they are selling
Reach the widest possible audience. There's only one way to do that in the 21st century and it involves that interweb thing…
We took all of this as input, scratched our heads about how we could solve and then recently launched 'The Market', a dedicated online auction for classic car and motorcycles where we follow a simple ethos, make classic auctions clear and simple. To that end we:
Have a standard 7 Day online auction format that is available across all devices
Use professional writers to create beautiful listings for the vehicles being sold
Allow our listings to have unlimited, photos, videos, document and invoices added to them to furnish buyers with the most information possible (of course they can still go and view the vehicles doing the auction)
Eliminate tyre kickers by requesting financial commitment from buyers at the point of bid by requesting payment card details. If they win the auction then we charge that card 5% of the bid value
Use transparent pricing where buyers pay what they bid with very simple listing fees and a clear 5% sellers fee including all taxes. Returning to our earlier Porsche 914 example where the buyer was willing to pay £16,800, in our auction the seller would be returned £15,960, or 20% more then the physical auction.
Prevent 'sniping' where buyers try to get a bargain with last minute bids. In our auctions, if a bid is placed in the last 2 minutes of an auction, then much like a physical auction we extend it for a further 2 minutes. The auction only ends when all buyers have truly finished competing with each other
Offer an optional concierge service where a seller can simply handover the keys and we prepare the vehicle for sale, store and facilitate any viewings so that the only role of the vendor is to agree a payment method once the sale is complete.
Take a look for yourself at https://market.getpatina.com.
It is different to anything else in the UK but can it be successful? Again time will tell but we've had a great start with some good initial sales and are hoping that we can continue to grow and grow. Looking across the pond a similar approach is used in the US by Bring a Trailer who now auction over 50 classics each week and even list some of the cars that previously were only ever expected to be seen at top tier auction events such as this Porsche 959.
For a limited period during our launch phase we are waiving all fees (no listing fees and no commission), so if you are selling your classic car or motorcycle then why not give The Market a try (worst case you get a free advert out of it)? If you know somebody who is selling then we'll even pay you £50 to refer them to The Market, see here.
Most importantly we want and need your feedback to make The Market even better. Are we on the right track? What do you like, what do you hate? What else would you like to see? Leave your comments below or drop me a note at tim@getpatina.com
Tim Joslyn
Founder – Patina