The legend of Alec Issigonis's original Mini has almost become part of British folklore; every man, woman and child with even a passing interest in cars has probably heard the story of how this plucky little underdog went on to become an automotive star. But don't worry folks, this short feature won't be trotting out those hackneyed old yarns of Monte Carlo heroics, wizardry of the famous John Cooper or even the tales of Paddy Hopkirk's derring-do. No, this is a tribute to an oft forgotten, and somewhat maligned, 'high performance' Mini that we think could prove to be a very canny investment in the next few years, given the booming values of the other pepped-up models. This weeks pick is a home-grown pocket rocket, and an excellent gateway into the world of classic car ownership, the fabulous Mini 1275 GT.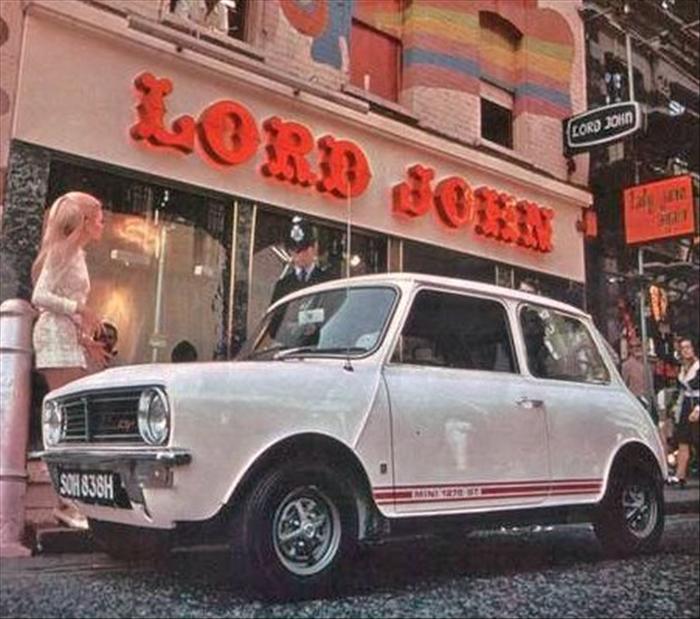 Personally when it comes to acquiring petrol-powered oddities I do seem to be a fairly patriotic chap with two or three half-finished British project cars stashed around my shantytown of sheds and garages. But while I admit to a misguided fondness for all things BMC I'm not one of those deluded anoraks that think they were always beautifully engineered technical triumphs; pretty, ingenuous and occasionally ground-breaking? Well, yes; but always lovingly crafted by passionate artisans? Maybe not. This is an everyday classic that you will need to roll your sleeves up for. However, the good news is that spares are cheap and there's literally nothing you can't obtain; whatever it is, from door shims to body shells, gudgeon pins to gearboxes, it can be in the next day's post from any one of the dozen or so online Mini specialists.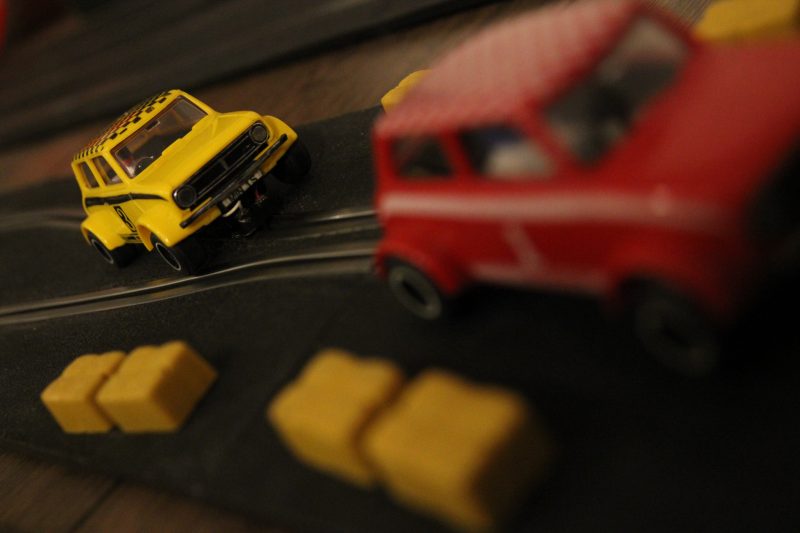 When I was growing up British Leyland had become a bit of a joke; a failing behemoth that frequented newspaper headlines for all the wrong reasons, and the butt of many comedians' cynical social commentaries. However, when I was a kid I mostly thought newspapers were for wrapping chips and didn't really care about, or understand, the politics of nationalised industries. I grew up watching Saturday Grandstand where Minis still dominated rally-cross and the BTCC; I played Scalextrics with my red and yellow 1275 GTs until the motors burned out; and I listened to my Dad regale us with tales of '60s WRC victories and the various 'suped up' Coopers he'd tinkered with in his youth. Minis were not the usual dreary dross associated with Red Robbo, mass walkouts and those woeful Marinas, Allegros and Maxis so often painted in fifty shades of beige. To an '80s kid like me, Minis were still cool.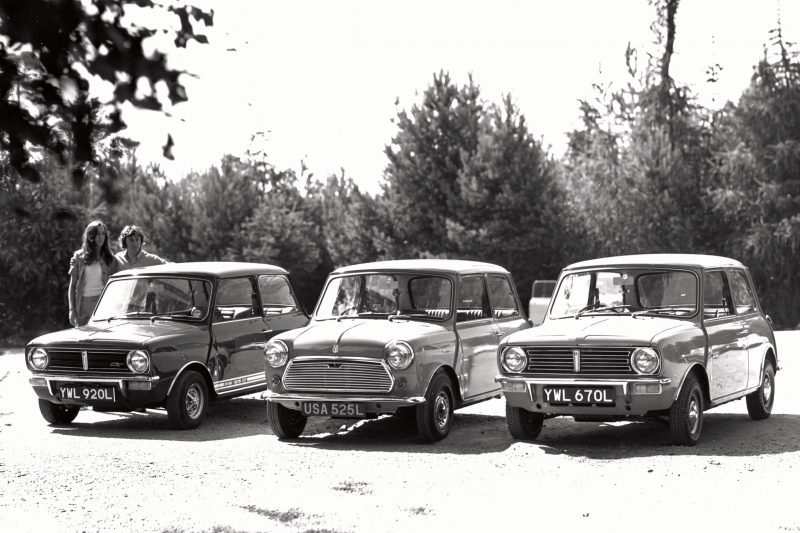 However, the sad truth was within a decade of the first mkI Minis rolling off the production line, the model's heyday had pretty much passed. By the time the updated mkIII Mini appeared – replete with mod cons like internal door hinges, wind-up windows and an anti-theft steering lock – it was already becoming somewhat dated, and it was clear that British Leyland's enthusiasm for the sporty variants was also beginning to wane. Under the new leadership of the penny-pinching Donald Stokes, funding for the Works rally team dried up and eventually all ties with John Cooper Garages were severed to avoid paying the £2 commission Cooper had earned for every performance Mini that bore his moniker on the boot lid.
Subsequently, in 1969 the 998cc entry-level Cooper was dropped from the line up and was replaced with the 1275 GT which utilised a single-carb version of the transverse A-series four pot as found in mainstream fayre like the Austin 1300. Keener drivers were still able to buy the mkIII Cooper S for a couple more years but by the end of 1971 only the 1275 GT remained to take over as Mini's flagship model.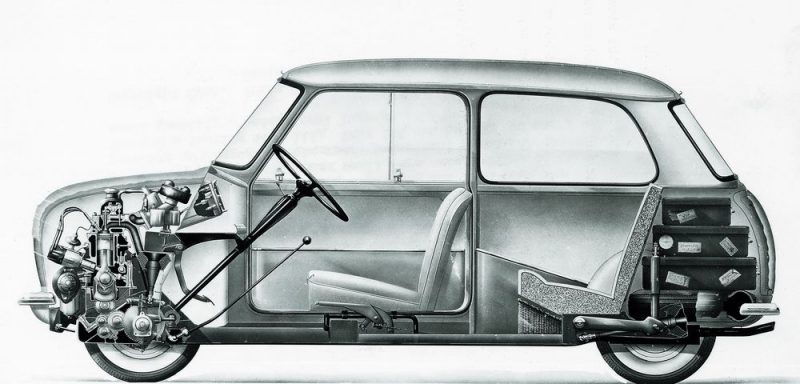 Throughout the '70s and '80s the sportiest Mini you could buy packed just 57 bhp – 25% down on the 76 bhp 'S' – and only 2 bhp more than the 998cc mkII Cooper it had replaced. More controversially the 1275 GT also used the slightly heavier blunt-fronted body shell of the upmarket Clubman, penned by the ex-Ford designer Roy Haynes. While this did offer better under-bonnet access and slightly better crash protection its 'Marmite' looks still divide opinions to this today. In his attempt to facelift the ageing Mini in 1969, Haynes had lazily lifted styling cues from his previous job on the mkII Cortina, right down to the long thin badge that dissects the Clubman's front grill. Personally, I liked its 'frowny' new look … and let's be honest, even an inch more spanner space when working on a troublesome Mini is a blessing.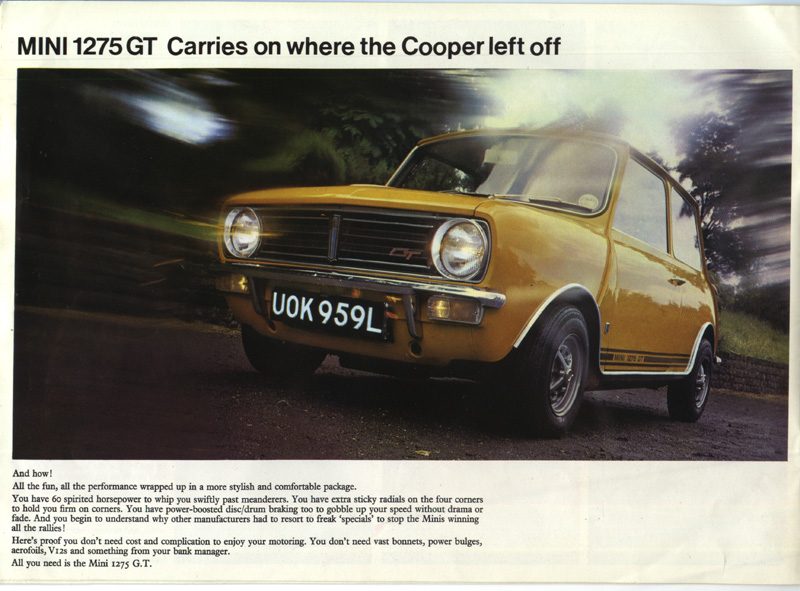 While the 1275 GT wasn't as nearly as quick as the old Cooper S – taking 12.9 versus 11.2 seconds to hit 60 mph from a standing start – it was much cheaper to buy, insure and maintain. But more importantly, to the young boy racers that this new model was being marketed at, the GT also looked the part when compared to the understated styling of the mkIII Cooper S, with its trendy 'go faster' side stripes, funky Ro-style wheels and, for the first time ever on a Mini, a factory-fitted rev counter. For just £834 – more than £100 less than the range-topping 'S' – the 1275 GT got the same disc brake set up, a better trimmed cabin and a close-ratio gearbox which gave it decent midrange torque where it really mattered between 30–50 mph. However, while the Clubman's wide grill helped with cooling issues in export cars destined for hotter climes it didn't help aerodynamics and meant it struggled to break 90 mph flat out.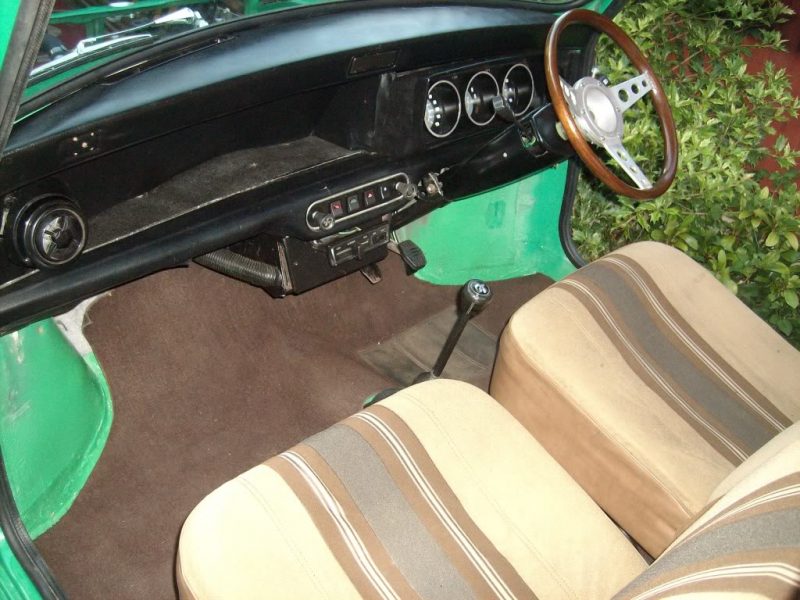 The Mini's peak production year was 1971 when an astonishing 318,475 cars were sold worldwide. But by the end of the decade sales had slumped to less than half that. By 1978 British Leyland were getting worried because the Mini's much-hyped replacement, the Austin Metro, was still a couple of years away. BL desperately needed to sexy-up the brand in the short term but there was no competitions department left to lead a glorious return to rallying. And anyhow, the little old Mini wouldn't have stood a chance against a new generation of rally cars including the Fiat 131 Abarth, Escort RS1800 and the mighty Ferrari-powered Lancia Stratos.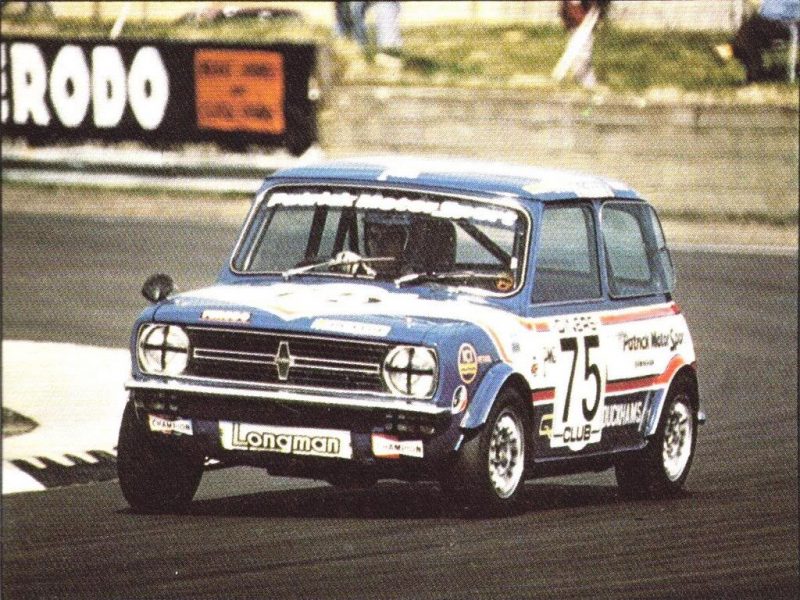 And so BL turned back to touring cars, coaxing expert Mini wheelman Richard Longman out of retirement to campaign a highly tuned 1275 GT in the 1978 BTCC race season. Issigonis' giant killer was back in business, dominating the 1300cc class and taking overall victory in many races against bigger modern muscle cars like the Triumph Dolomite Sprint, VW's new Golf GTI and even the new fangled Wankel of the Mazda RX-7. Longman did it again in 1979 but this was to be the slab-fronted Mini's swansong. In 1980 BL launched the Metro as the Clubman's direct replacement while the 'roundnose' Mini would limp on in production for another two decades.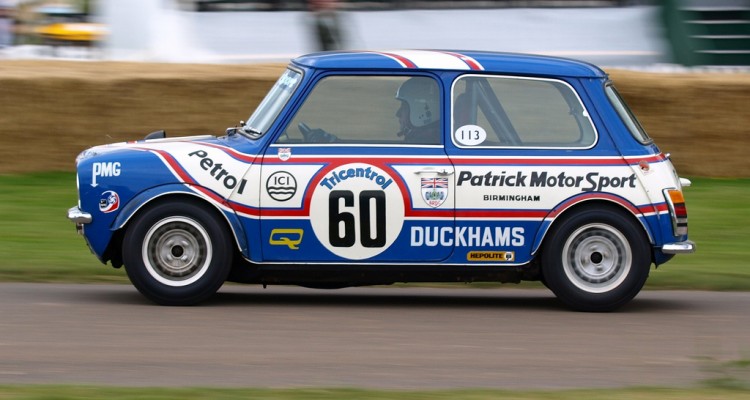 Many Mini-muggles wrongly believe that the 1275 GT doesn't have the same racing pedigree as its Cooper badged cousins; in 2013 the Mini tuning gurus at Swiftune also thought that that it was high time that the record books were set straight and built a perfect replica of that Longman 1275 GT for Goodwood's 72nd Race Meeting. Battling 3.0-litre Capris, Chevrolet Camaros, V8 Rover SD1s and V6 Alfettas the Swiftune car proved that the 1275 GT wasn't just a lackluster ugly sister finishing on the podium to take an amazing 3rd place.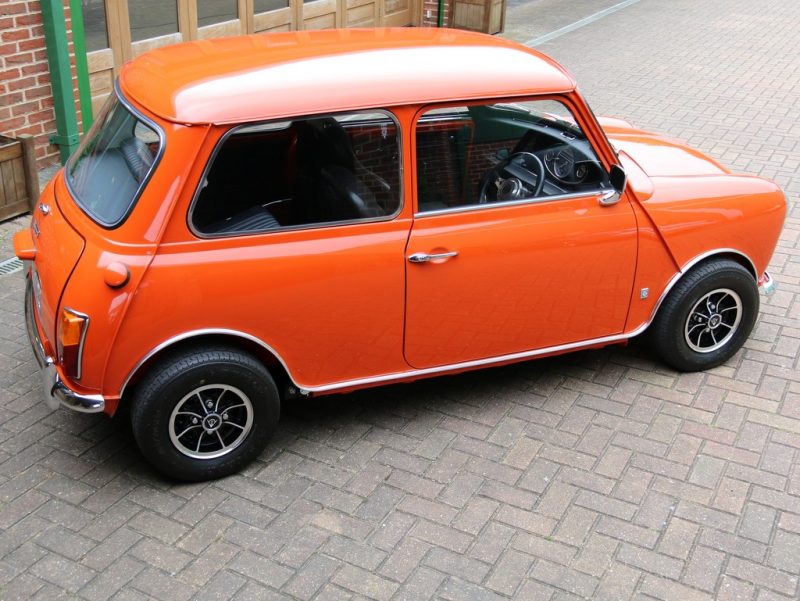 In all 110,673 Mini 1275 GTs were built during its eleven year production run. As with most budget sports cars many have since fallen into the grubby mitts of the backstreet bodgers, have dissolved to rust or visited the wrong side of the hedgerow on more than one occasion. Unmolested good examples are getting highly prized and even tatty project cars are becoming sought after as rising values means restoration begins to make economical sense.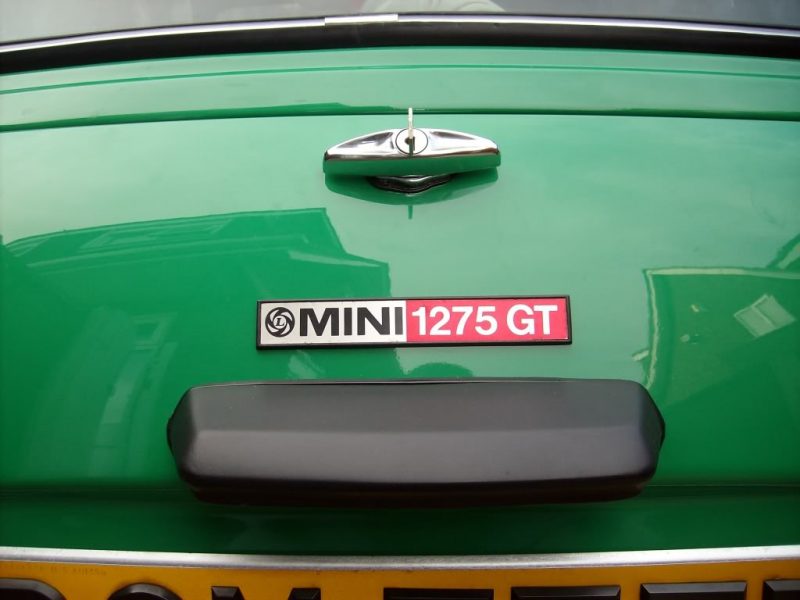 Top notch later cars from about 1975 onwards, with the bigger disc brakes, lurid interiors and 12″ wheels, can fetch £7,000 with useable rolling projects starting at about £3,000. If you really want a challenge then the occasional tatty barn find does crop up on auction sites from time to time. But a word of caution, over the last forty years many humble 1100cc Clubman saloons have had automotive makeovers to look like a GT, and since they used an identical body shell it means ringers and fakes are harder to spot than with the roundnosed Coopers. Cars without a raft of paperwork to guarantee authenticity are probably best avoided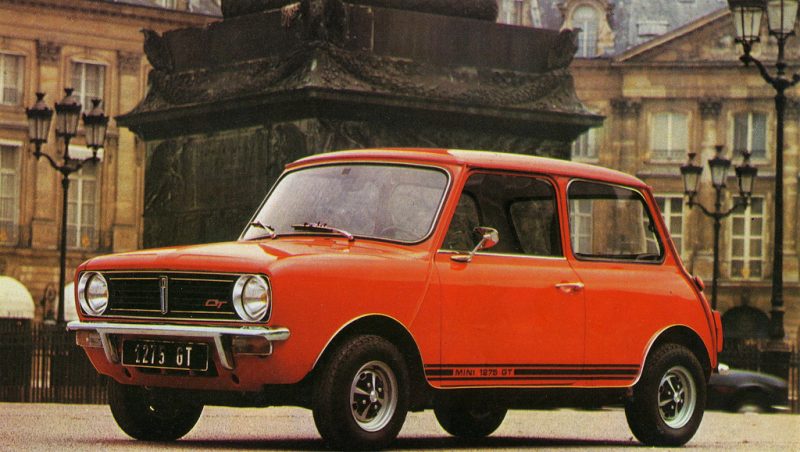 Most desirable of all are the early 10″ wheeled GTs, with the very best ones getting closer to the £10,000 mark – about the same as a decent mkII 998cc Cooper. Even genuine cars requiring a full restoration are beginning to command close to £3,000, as the clever collectors out there start to see potential in this once overlooked model as an appreciating modern classic.
Darryl Sleath