Let's be clear, the original Austin-Healey Mk1 (Frogeye) Sprite is probably not to the classic for you if you hanker after something to give you a regular adrenaline shot of full-on, ten tenths, hoonery. It certainly isn't the most exotic classic to have graced the pages of Patina's Picks; nor is it the rarest, or most revolutionary. But it is, without doubt, the happiest looking piece of automotive design, with its wide-mouthed "frog eyed" grin, to have ever graced the byways of Britain. It should also be celebrated as the first genuinely affordable British sports car that brought the thrill of al fresco touring to the post-war motoring masses. Today, the little Frogeye not only represents a low-cost gateway into the classic car fraternity – thanks to an enormous support networks of specialist, owners clubs and spares suppliers – it may also prove to be a pretty canny investment.
Britain had always enjoyed a proud reputation for producing small and nimble two-seaters, which began in 1920s with motors like the M-type Midget. However, the 1950s and 60s were the golden age for British sports cars, buoyed up by a huge export market to North America, as returning GIs spread the word about the brilliant British sports cars they'd had fun with whilst stationed over in Blighty fighting the good fight.
Confidence was high among the British motor company export managers and when the svelte new MGA landed over the pond in 1955 it sold like hot cakes. But although the beautifully curvaceous MGA marked a technological leap forward, it was also pretty expensive, especially for the modest means of the average British motorists. In fact, just 5,869 of the 101,081 MGA built were sold in the domestic market, making it the greatest ever export exodus of a British built roadster.
It eventually dawned on the British Motor Corporation's top brass that there was a gap in the market for a compact and affordable model to sit just below the MGA in their sports car portfolio. The design brief was for something "small, inexpensive and fun", for "something a chap could maintain in his bike shed", and by the spring of 1956 the concept for the Austin-Healey Sprite was finally hammered out between the BMC chairman, Leonard Lord, and distinguished car designer Donald Healey.
Donald passed the day-to-day running of the Austin-Healey Sprite project to his son Geoffrey. Cleverly, the father and son team started the design process with a price point of just £600, roughly the same as BMC's best-selling runabout, the Morris Minor 1000. Working to such a strict financial plan quickly reined in the egos of engineers and designers that had previously worked on the big six-cylinder Healey 100s and Works competition cars, and led to some interesting and ingenious work-arounds just to keep the project on budget.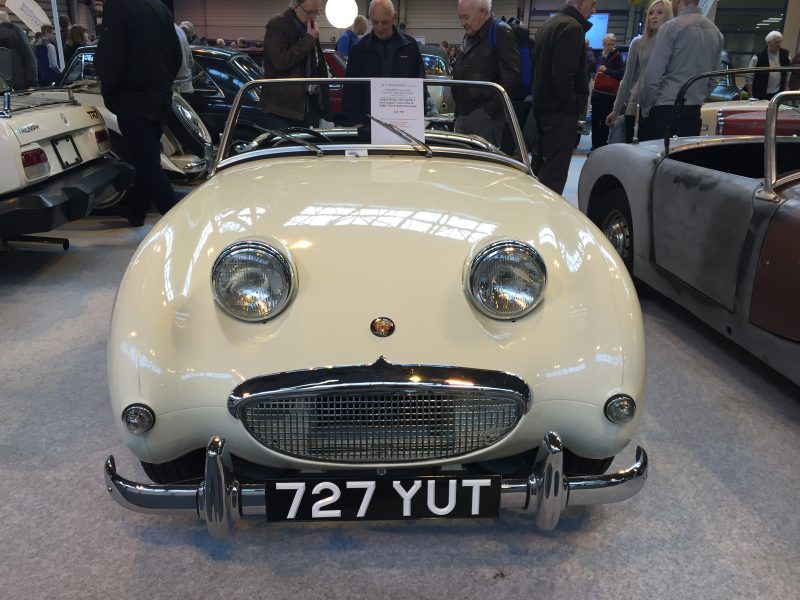 The first order of business was to scavenge the BMC parts bins; there would be no money available for expensive re-tooling and testing on this venture. The Sprite's 948cc OHV engine was liberated from the humble Morris Minor but upgraded with twin 11⁄8 inch SU carburetors boosting performance from 34 bhp to a heady 43 bhp. The Morris also donated its rack and pinion steering while the front coil and spring suspension came from the A35. An Austin four-speed box was lightly modified and given lower ratios, and at the back the rear live axle was hitched to quarter elliptic leaf springs.
Cost-cutting was even more drastic when it came to the Sprite's bodywork as ambitious plans for front-hinged pop-up headlamps (something we'd not see until the Porsche 928 two decades later) were ditched and became forever fixed in the permanently upright position, giving the roadster its 'Frogeye' moniker. There were no external door handles – owners had to reach inside to pull the door release – there wasn't even a boot! Instead the rear cubby space had to be accessed from behind the seats like some sort of automotive spelunker. A one piece rear end might have been okay on a Jaguar D-type race car but it was hardly practical for a low-cost sports car that was also likely to be most folks' daily hack; nevertheless it was crucial to the structural integrity of the Frogeye's part monocoque.
In a desperate attempt to stick to that £600 target price Healey relegated the usual sports car luxuries like carpets, wing mirrors, bumpers and even the cockpit heater to the options list. Considering BMC's intensions to design a nippy two-seater that would appeal to cash-strapped petrolheads here on our damp little island, the Mk1 Sprite wasn't exactly weather proof; it came with draughty sidescreens rather than wind-up windows and hood erection needed a boy scout on call to put together a framework of poles in the event of a downpour. But in the end it didn't matter because of the 50,000 that trundled off the Abingdon lines in its short three-year production run less than 10,000 ended up staying here the UK. Three quarters were built as left hookers with enthusiastic drivers in the USA snapping up the lion's share.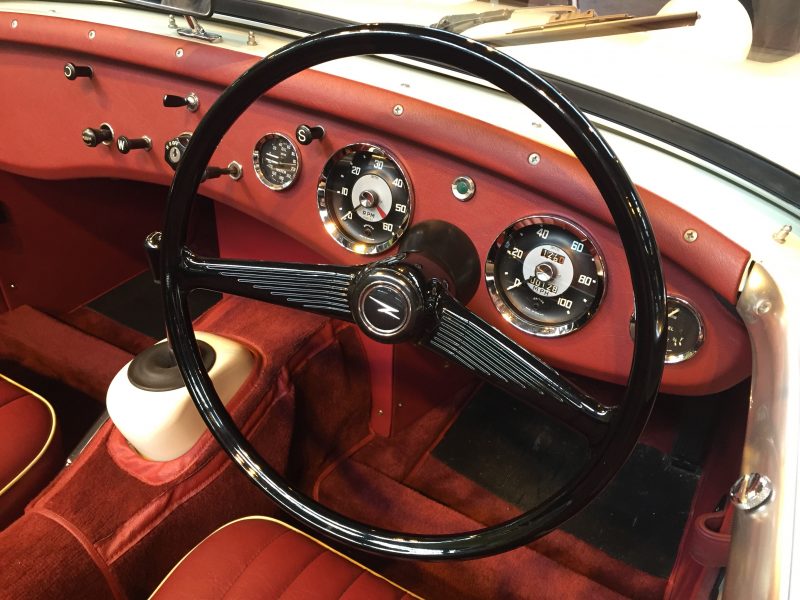 Keen to capture the imagination of the keenest drivers the Austin-Healey Sprite was unveiled to the expectant motoring press in Monte Carlo in May 1958 just a few days before the Grand Prix. An article in The Motor from that time was very complimentary about the car's nimble handling and 'Spritely' performance, reporting a top speed of 83 mph and a 0-60 mph time a smidge over 20 seconds; let's not forget that 1958 was a very long time ago!
Although a Triumph TR3 or MGA could get to 60 mph in about half the time, they were nearly twice as expensive to buy and run. The Frogeye's low purchase price also meant it soon found favour with clubman racers, both here and abroad, looking for a basic platform on which to build a car for competition in lower capacity handicap classes. The Donald Healey Motor Company was more than happy to cash in and oblige keen drivers with all sort of tuning goodies from a thick catalogue of aftermarket parts, ranging from wire wheels to superchargers, and many privateers got their first taste of grassroots motorsport thanks to the Mk1 Sprite.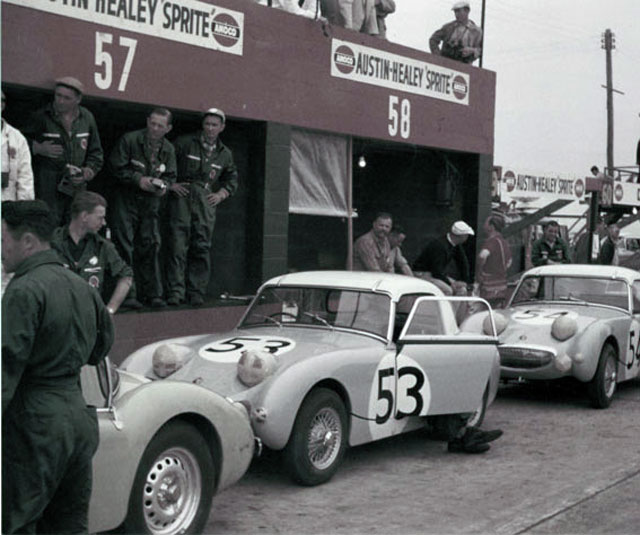 But of course this was the heyday of that famous marketing mantra 'race on Sunday, sell on Monday' and in its first debut year of production the BMC Competition Department had entered the Frogeye in the 1958 Alpine Rally winning its class. Buoyed up by this success BMC hatched an even more ambitious plan to promote the Sprite in its key export markets by entering North America's most prestigious circuit race, the 12 Hours of Sebring . In just three short months parts were scavenged to prepare the cars for the rigours of endurance racing: Dunlop delivered new disc brakes and uprated 13 inch wire wheels, Jenson provided a new aerodynamic hardtop and the factory's own competition department developed the XSP race engines, exhaust systems, close ratio gearboxes and long range fuel tanks.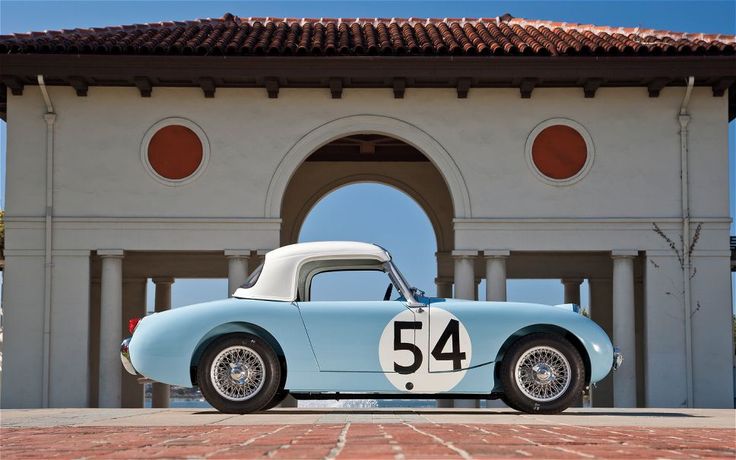 On March 21st 1959, under the banner of BMC's main North American distributor, Hambro Auto Corporation, three powder blue Sprites – numbers 52, 53 and 54 – lined up on the grid alongside the Works Porsche, Ferrari, Lotus, Astons and Maserati. Entering the Frogeye in such a high profile event was a big gamble; while its rugged 984cc A-series put it in strong contention within the sub 1-litre classes, the limited development time spent on this brand new model meant that the 12 hour endurance race would be the cars first major shakedown. Donald and Geoffrey need not have worried, even though they finished over 31 laps after Dan Gurney's Ferrari 250 TR, the plucky little Healeys performed brilliantly, romping home to a 1-2-3 podium finish in the GT1.0 class.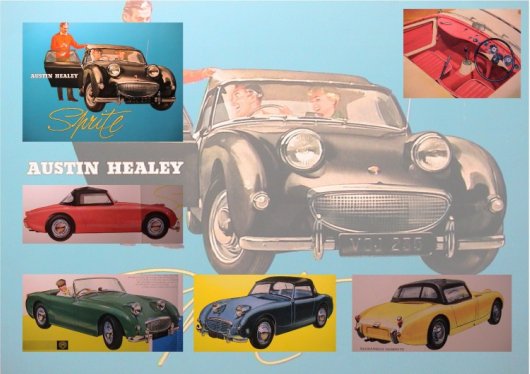 Success at Sebring in 1959 got the Mk1 Sprite featured in every motorsport magazine across North America and kicked off an advertising campaign that eventually saw as many Sprites sold in the following 2½ years as all the imported 'big' Healeys over 14 years! The good news today for those folks looking to invest in Austin-Healey's diminutive two-seater is that many of these cars have survived the ravages of time and tin worm in the drier states of the colonies. Many are now being reimported and converting back to right hand drive isn't a particularly difficult or expensive undertaking.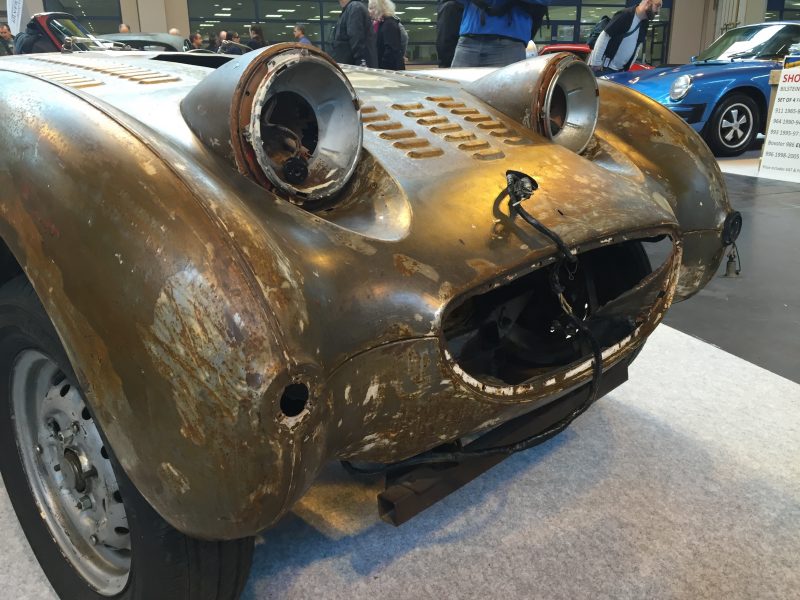 Its estimated that about 2,000 genuine Frog Eyed Sprites survive today worldwide, but the interchangeability of low-cost parts from the later Sprites and Midgets – including disc brakes, 1275cc engines and a plethora of other tuning goodies – means that most have been heavily tinkered with over the years, and you'll often find a big spread in prices when hunting for that perfect Frogeye.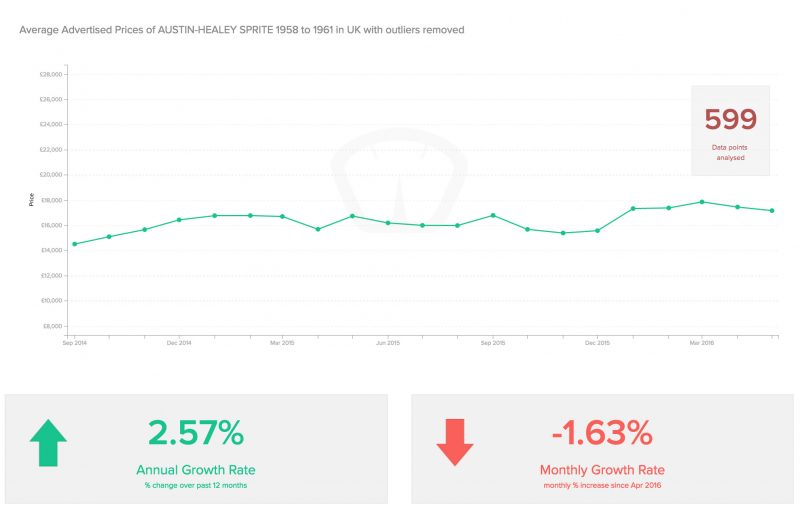 Our Price Trends show a nice gradual increase in values although a real spread in prices.
On just one stand at the recent Classic Car Restoration Show at the NEC in Birmingham we saw one specialist selling cars from £23,000 for a near concourse car to just over £6,000 for a well patina'd project car.
Tempted? Go on, do it; you just know that you'll have a grin almost as big as your car's every time you drive it.
Darryl Sleath