Acts don't get much harder to follow than the venerable 300SL. Nothing screams exotic quite as loudly as a set of gullwing doors, and, even in roadster trim, those sultry lines and huge (for the time) power were enough to set the '50s sportscar scene on fire.
Problem was, it never made Mercedes any money. With specific components derived almost directly from Merc's Le Mans and Carrera Panamericana-winning race car, this period supercar was hellishly expensive to buy and even more expensive to build.
The 300's cheaper little sister, the 190SL, on the other hand, was a profitable car. By sharing its basic platform, drivetrain and suspension bits with the W120 Ponton saloon, costs were cleverly cut. But, with only 1.9 litres of underachieving four-cylinder power, this car was considered by the public (and also some members of Mercedes' executive board) to be a bit anaemic for true sportscar status.
So, as production of the first two SL-Class models wrapped up, Mercedes-Benz was faced with a crossroads dilemma. How would it replace them? The answer was obvious. It would need a mixture of the two's successes bundled into one relatively affordable but still sporty offering. Happy middle ground.
Enter the 1963 230SL, known in-house as the W113… known to the world as the "Pagoda".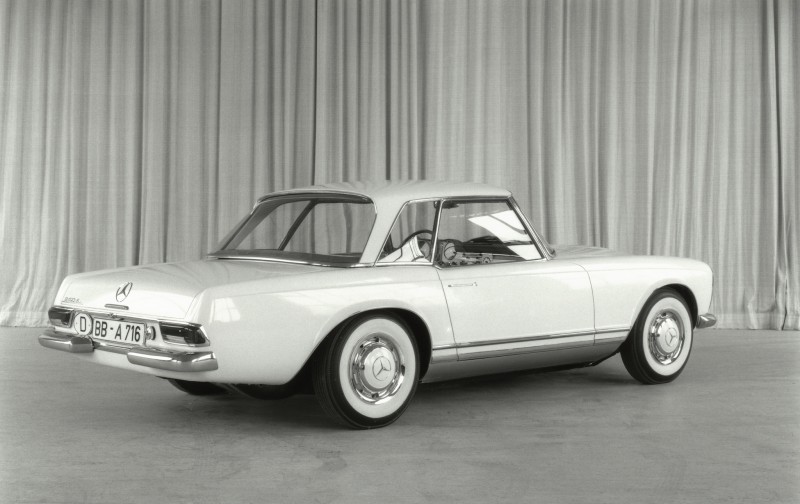 A pre-production design study for the W113, called the 220 SL. Note the traditional convex roof curvature, which was later changed. Good thing too, or else the name Pagoda would never have materialised. 
Advertising material at the time called the Pagoda "The most sensible dream car in the world". And it might just have been. Here was a genuine sportscar with usable boot space, a choice of removable hard-top or retractable fabric roofs, and independent rear suspension borrowed from the common W111 it shared its underpinnings with to give occupants a plush ride on longer journeys. Most importantly though, it got a hi-tech straight-six engine with cutting edge Bosch fuel injection with enough pep to challenge some serious machinery of the era.
Rumour has it that one of Merc's development engineers demonstrated the new 230 SL to the press at a Swiss race circuit on the same day that F1 driver Mike Parkes was testing a Ferrari 250GT Berlinetta – and lapped the track faster.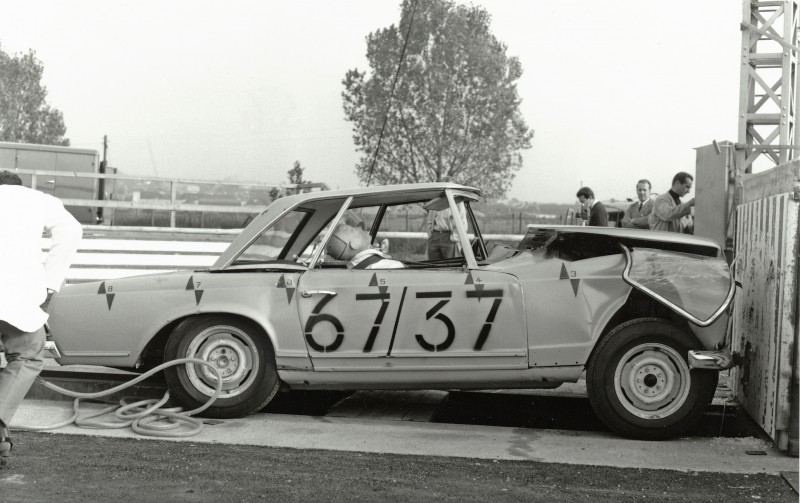 The W113 made massive safety leaps over its predecessors with a passenger safety cell and crumple zones. 
Safety also played a big role in new SL development, and this car lays claim of being the first sportscar in the world to feature a rigid passenger cell and crumple zones at the front and back. The Pagoda's interior was also designed to reduce injury in crashes with smoother, and somewhat softer edges on the dashboard. Strangely, seatbelts were only offered as optional equipment for the first three years of production.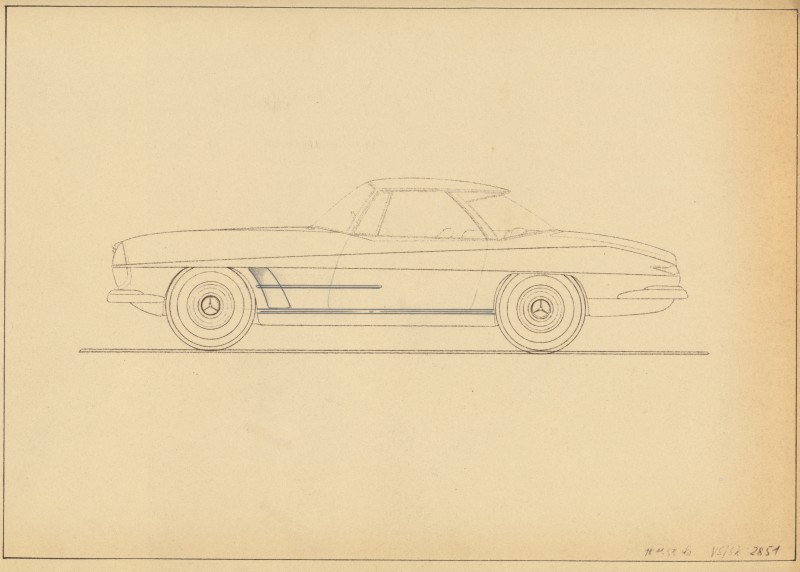 A very early sketch of the next SL, dated November 1958, bears a strong resemblance to the previous 300 and 190 models.
But what's up with this funny nickname? Pagoda. Sounds like oriental architecture, right? Yes indeed, and for good reason. This SL's unique roof design, with an inwardly curving top section, is so reminiscent of Far Eastern temples that it almost immediately acquired the alias "Pagoda". The first use of the term is undocumented, but it was likely coined by Mercedes staffers in its development phase. It's not often a carmaker, especially a German one, officially adopts a nickname unless it was started internally.
And its unique look wasn't only intended as a styling cue. It was Hungarian-Austrian safety guru and car designer Béla Barényi (the same guy credited with drawing the VW Beetle in 1925, five years before Porsche claimed it), who first devised this sturdy structure as an automotive roof for journalists to stand on at racing events. Long story short, the Pagoda-style roof was applied to the W113 SL for added safety in rollovers, and the rest was history.
Three flavours of the SL Pagoda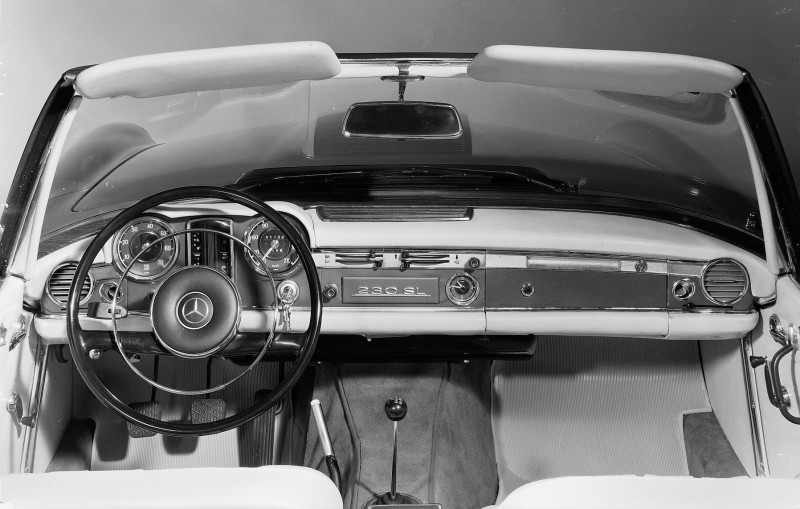 230 SL interior. Note the soft, rounded dash top which Mercedes considered a safety feature. Remember, seat belts were only an option in early 230 derivatives.
1963 - 1967 230 SL
In its first incarnation the Pagoda's engine displaced 2306cc and pushed 150 horsepower with 196 newton metres. This was enough for a 9.7 second 0-60mph time – a figure which at the time slotted the SL smack between Porsche's slower 356 and Jag's quicker E-Types.
Power steering was an optional extra, as was a four-speed automatic gearbox – much to the dismay of journalists at the time, who felt this was an absurd concept for a performance car. Little did they know that 77 percent of Pagoda customers would choose this transmission over the model's lifetime. A five-speed manual (instead of four), also became an option in 1964.
Further options included stiffer springs, luxury floor mats, genuine leather seats, a centre ashtray, a Becker radio, and custom luggage – which could be extremely valuable if you could find a complete set today; let lone the matching hat box; item number 294 on the extensive spec sheet.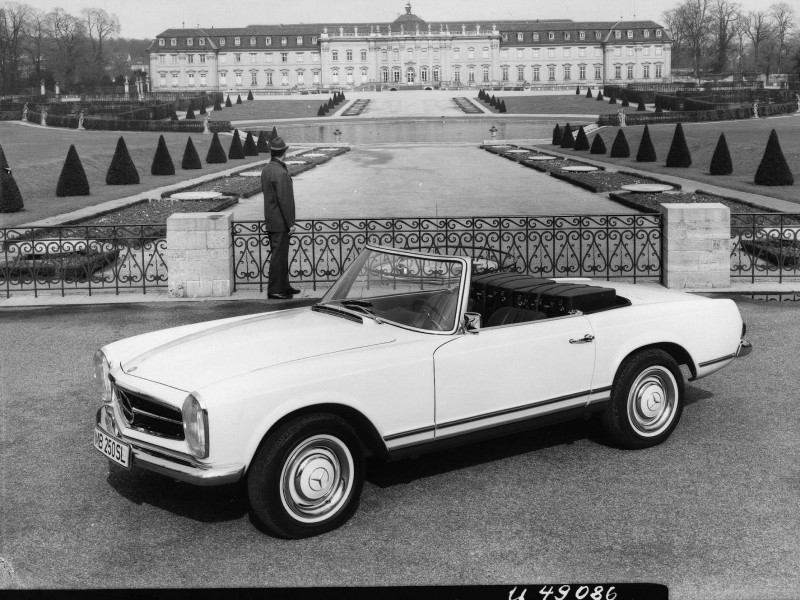 A 1967 250 SL with rare matching luggage.
1966 - 1968 250 SL
Technically speaking, the 250 SL was made from 1966 (17 units) to 1968 (two, yes two), so 1967, when the bulk of all 5196 units were built, is often considered to be the only year of this specific model designation.
The 250 looked identical to the earlier 230 barring its boot badge and slightly changed wheel caps, but under the hood engine capacity was increased to 2496cc. Power stayed at 150hp but torque increased by ten percent, making for a wider powerband. The 230 was often criticised for its peaky power delivery, a problem the bigger 250 SL addressed. Internal changes saw bigger valves, a freer flowing intake manifold, and seven crank bearings (up from four) for a smoother rev-range.
The 250 also added disc brakes at the back wheels, standard seat belts, a collapsible steering column, and a petrol tank capacity of 82 litres instead of the 230's 65.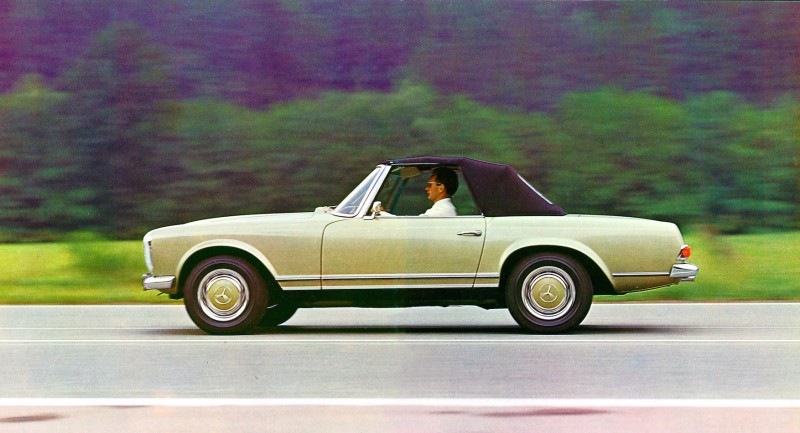 A 280 SL with its very un-Pagoda-like folding soft top erected.
1967 - 1971 280 SL
The short-lived 250 SL was replaced with the 280 after only one year, although all three derivatives were sold for a short period early in '67. Again the only aesthetic differences were new badges and hub caps, but an improved engine, now with 2778cc displacement pushed power up to 170hp and 240Nm.
The 280 SL is the most common of all Pagodas, with a total of 23 885 units rolling off the line in its five year lifespan. It's also one of the most desirable among enthusiasts and collectors today, simply because it's the best to drive. Most examples feature automatic transmissions, which are by no means the slick, intuitive types you'll find in today's Mercedes SLs, but forgive its somewhat clunky up- and down-changes and you've got a capable open road cruiser which will chow distance effortlessly at 100mph or more.
Maintenance and pre-purchase checks
Upkeep on any of the three W113 Pagodas is fairly painless, as a big chunk of its componentry is interchangeable with the W111 Fintail, SE, Coupé and Cabriolet models. Most wear and tear items are easily available and can often be found on-shelf at Mercedes agents without hassle.
Rust can be an issue, and upon first inspection it's wise to check the upper firewall, headlight area and boot floor for potentially serious perforation. It's also important to note that the Pagoda's body panels were bonded, rather than bolted on. This makes it easier to assess accident damage because it's difficult to replace body parts with the same smooth finish, where they butt with the chassis, as the factory. Look for differentiation between the left and right side fitment areas.
Because the 280's engine was the most powerful, many original 230 and 250s were upgraded to 280 spec as a result of either block damage or general modification. Make sure engine numbers match the chassis.
Pagodas have always been the darlings of the classic car world with the best examples fetching over £100,000 for the last few years. Anyone expecting to make a quick buck in the next couple of years may be disappointed as to a certain extent 'that ship has already sailed'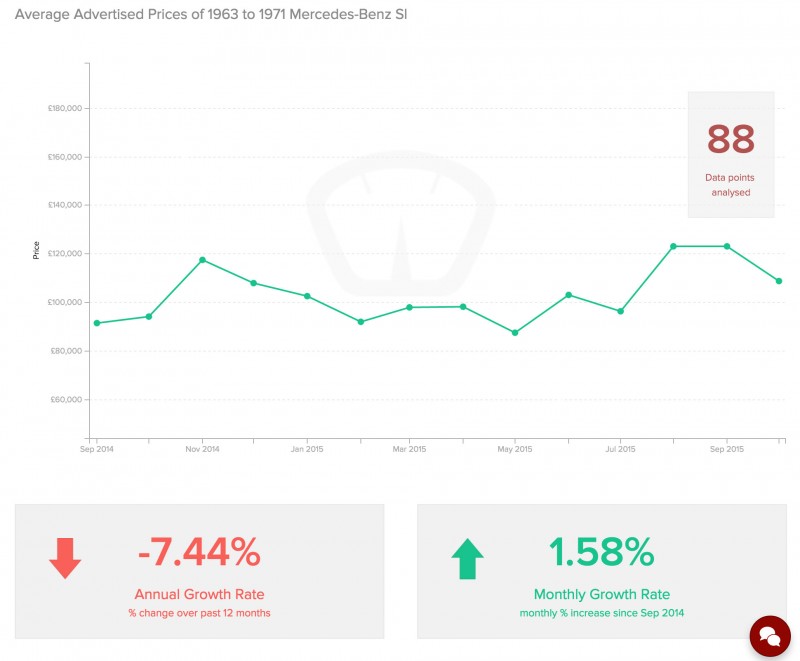 Our data shows that prices are remaining steady and more 'reasonable' examples are available with solid RHD vehicles being priced from £50,000.
Just be warned, these are not cheap cars the restore. Although parts availability from Mercedes is excellent they can be pricey. Much better to buy the car that is already in the condition that you want!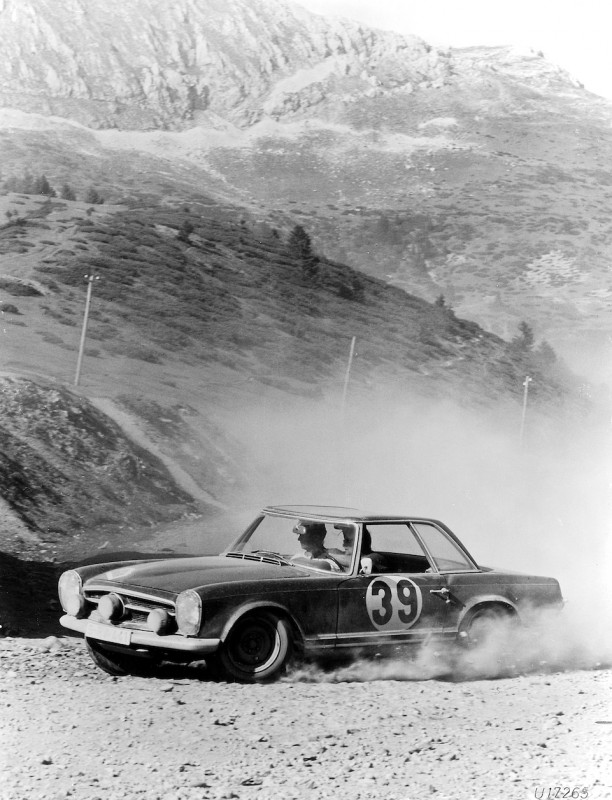 European Rally Champion Eugen Böhringer on his way to victory in the Spa–Sofia–Liège marathon rally in 1963.
Rallying
The W113 Pagoda has never graced motorsport annals in the same way as its race-bred predecessor the 300 SL, but it did make an impressive racing debut at the Spa–Sofia–Liège marathon rally in 1963.
European Rally Champion Eugen Böhringer and navigator Klaus Kaiser had already won the event in the previous year with a 220 SE sedan, but for '63 the duo lined up in a brand new 230 SL Pagoda. The car, with a racy red paint finish, was modified with reinforced suspension mounts, a welded-on hard top, long range tanks and a beefed up engine with 170hp, but other than that it was a showroom spec model entered as a demonstration of reliability and robustness.
Böhringer won the 5500km race which ran from Belgium to Bulgaria and back in a time of 90 hours, beating 128 other entrants. Only 20 made the finish.
In an interview after the race, Böhringer, known for his relentless driving style, said that racing on public roads which comprised the route was "80% easily calculable risk". Of the other 20%, he said "Well, that depends on the circumstances!"
The actual car, complete with rally scars, was then used on stage at the Pagoda's official German launch at the Frankfurt Motor Show a few months later.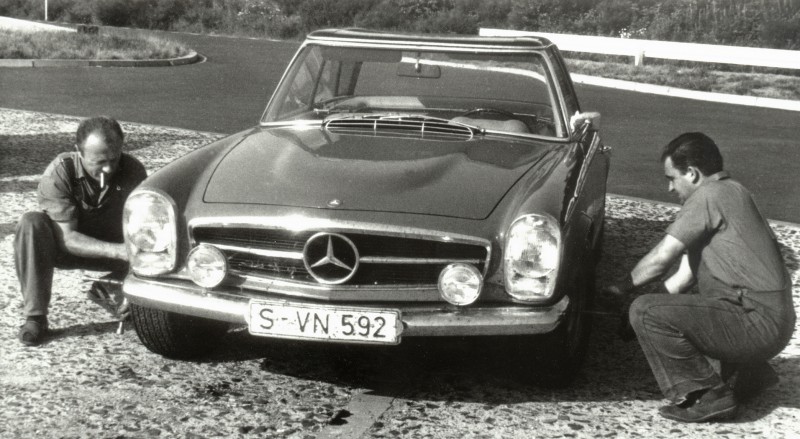 Mercedes built one prototype Pagoda with a 6.3-litre V8 engine, identifiable by a broader power dome in the bonnet.
V8 Pagoda
Increasing demand for an even more powerful W113, especially from the American market, led to a  barrel-chested prototype with a 6.3-litre V8 engine. This M100-codenamed motor would later be used in the giant 300SEL limo, but required extensive engine bay modifications to fit in the relatively tiny SL.
The sole V8 Pagoda got a unique bonnet with a broad power dome and stiffer springs to cope with the added weight, but after only nine laps of testing at the Nürburgring its Dunlop racing tyres were shredded. Mercedes cancelled the project shortly thereafter. The first SL model with a V8 engine would only come out in 1971, in next-generation (R107) guise.