Pininfarina designed the body, using the F-16 fighter plane as inspiration. Ayrton Senna helped to develop the chassis. Gordon Murray had one as his company car and used it as the benchmark for the McLaren F1. LJK Setright, the wisest muttering writer of all time, wrote of it: "[it] was the world's fastest, safest, and most beautifully made luxury car. It still is." Grown men – including me – get all doe-eyed over it. I'm talking, of course, about the Honda NSX.
It remained in production for fifteen years, benefitting from numerous updates, both large and small, but the essence of the car remained true throughout: an all-aluminium monocoque (the first production car in the world to have one) helped keep the weight down to just over 1,300kgs, enabling the free-revving VTEC engine to push it to a top speed of 160mph after passing 60mph after around five and a half seconds. Not impressed? That's not surprising, because the NSX (New Sportscar eXperimental) was never about straight-line drag racing, it was all about the handling. Well, with Senna's input, it would be, wouldn't it?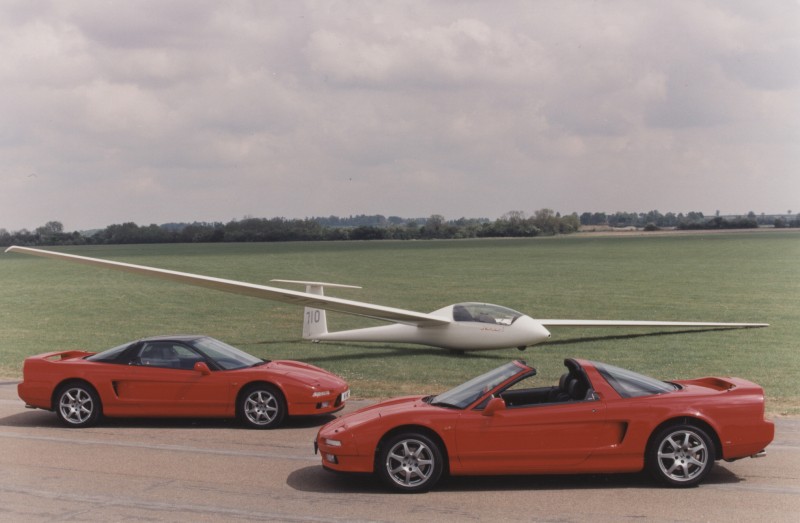 To give you an idea of the obsessive nature of the chassis engineers, you need to know that the front springs were softer than the rear ones, to help shift weight onto the front tyres killing understeer when you braked for a corner.  At fifteen inches, their diameter was also an inch smaller than the rears and even though most owners would never see it, the double wishbone suspension's design was as breathtakingly beautiful to look at as it was effective on the road and track.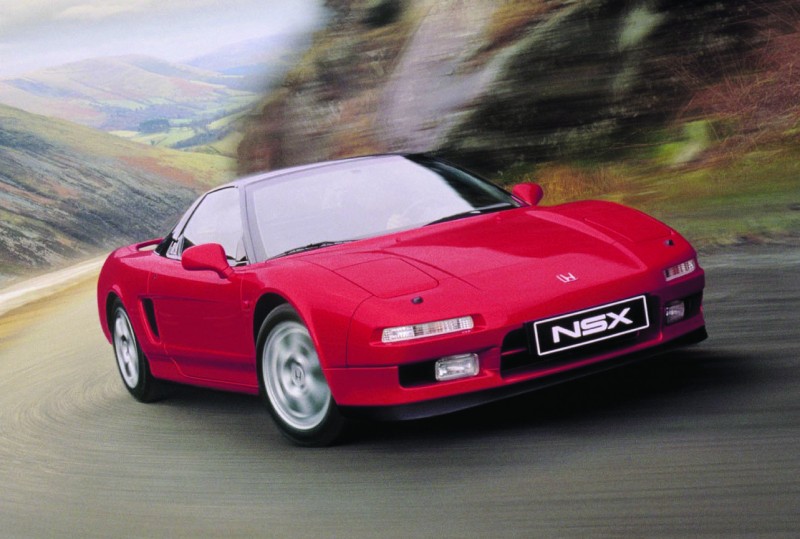 So it defies belief that the car's initial reception was lukewarm at best. Snap oversteer at high speeds was the least of its worries with some (but by no means all) of the motoring press also calling the steering lifeless and over-light, the performance barely adequate, the gearing oddly spaced, and the overall experience too dull to warrant the asking price of £55,000. It felt, they said, like a very expensive Civic. The chaps at Honda must have been devastated.
But they knuckled down to address some of the car's (real or otherwise) shortcomings, boosting engine power by 20bhp to a total 290bhp thanks to a gain in capacity of 200cc to 3.2-litres. They also installed a six-speed gearbox to sort out the peculiar gearing, and fiddled with the suspension to kill some of the oversteer that was threatening to kill its drivers. The 1997 model was, to most people, a better car than the early one an evolution that continued in 2002 when it lost its lovely but ineffective pop-up headlights while gaining wider rear tyres and subtly altered suspension rates.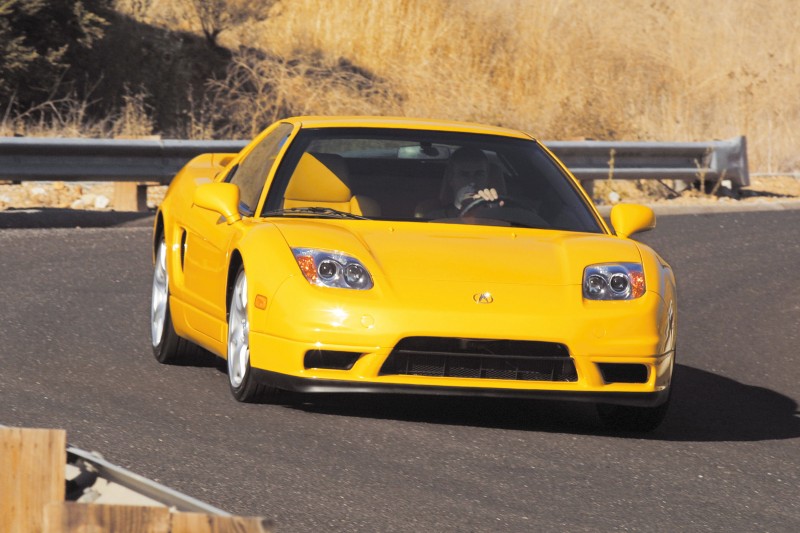 The result, not matter what the year, was a beautifully balanced car that Gordon Murray described as: "one in which I could get in the driver's seat and be out for a drive in downtown London, and then want to continue straight on to southern France. A car that you can trust." LJKS was similarly smitten, saying: "the Honda NSX, sublimely superior to everything. It was exquisitely worked: a whole week of running calculations on a Cray supercomputer went into perfecting the structural stiffness of its stressed sheet aluminium hull; gossamer lattices of forged light alloys formed the most refined of all passive suspensions; the connecting rods within the intricate engine were made out of titanium. There is no need, however, to explore all the car's details; its virtues are already legendary, where those of famous rivals have often proved mythical."
So the NSX is the antithesis of an obsession with speed (although many suggest that the claimed 290bhp is judiciously understated with the real figure being considerably higher. If true, then Honda is to be congratulated on marketing a car that exceeds, rather than defies, expectations…) and the very embodiment of an obsession with handling; the NSX-R, the lightweight, tuned special editions that remain, for the most part, in Japan to this day, might have tilted the scales in favour of performance but any decent driver will be too busy enjoying the handling to complain about any perceived lack of pace. Bragging rights might belong to its period Ferrari rivals, but those who know cars know the NSX.
Values are on the rise too. Three years ago fifteen thousand pounds would have bought you a very, very nice early model; the same car would now fetch more than twice that. The automatic and the targa-roofed models are unloved for a reason and a premium is placed on early, standard cars with a good history. Brave souls would import an NSX-R from Japan but the rest of us would be very happy with one of the regular cars.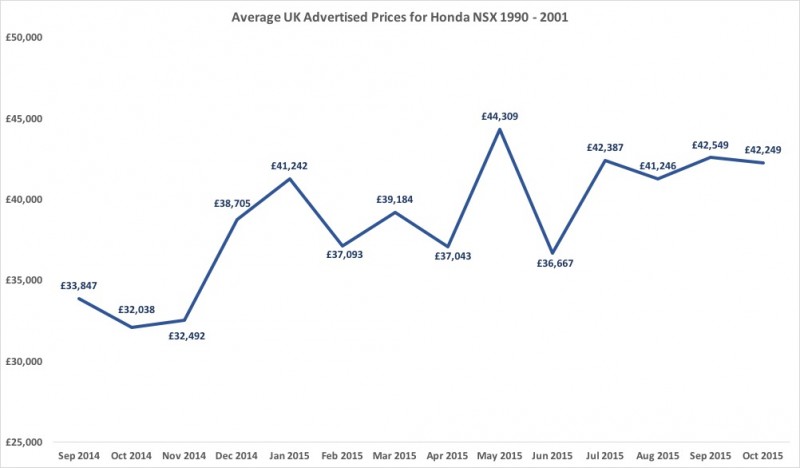 Looking through our own pricing data, there can quite a spread of values typically being driven by condition and mileage (these are capable of covering monster miles if required). This causes some volatility however the underlying trend shows prices to have risen 25% in the past year alone, a bit better then your average ISA….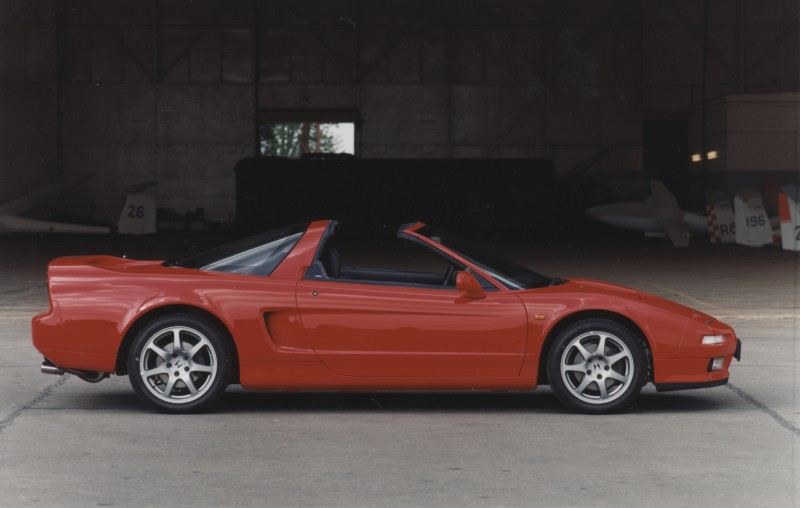 Things to look out for? Well, that aluminium monocoque means that rust isn't an issue but the glorious V6 VTEC engine – good for 8,000rpm – needs love and understanding. It's a strong unit but needs regular oil changes and an understanding mechanic to keep it running at its best. But this is a car of the 90s, so it's pretty straightforward to service and repair and being a Honda it should be more reliable than most cars from that era.
The aluminium body panels won't rot but they'll dent easily and as the NSX was hand-built, any uneven panel gaps will be due to accident damage. Some parts like door mirrors and bumpers are rare and expensive, as is the interior trim.
If you want your NSX to work with you as an investment, then avoid anything that's been modified; they can be made to go, handle, and brake harder than the factory intended but the purists don't like it and they're worth considerably less as a result and probably always will be.
Your greatest challenge though might be finding one in the first place. Only around 400 cars were officially sold in the UK and that number falls by the year as inexperienced oafs crash them in the rain (a motoring journalist did exactly that at Millbrook last year, writing off the NSX from Honda's own heritage fleet…).
But they are out there and little else provides the wonderful combination of sublime handling, breathtakingly good looks, and the potential for serious appreciation. If you've got thirty to forty grand to blow on a car there really isn't anything to compare. But be quick, because it'll probably be fifty grand this time next year – and sixty the year after that.
Coming soon to Patina Picks –  'Honda NSX – The Reality', didn't I mention, I've just bought one….
Carlton Boyce