You could consider Volkswagen's Corrado a glorified Golf. Or, a less celebrated successor to the revered Scirocco. Or, in G60 trim anyway, an unreliable mass of problematic superchargers and finicky electronics.
But, the Corrado could also be considered an exclusive halo hatch of the acid-washed era, when front-wheel drive handling ability was gauged by how high back wheels dangled in bends. Corrados got knee-high scores. Winning scores. Some reports, at the time, went so far as to call this the most fun to drive Volkswagen ever, and Tiff Needell himself said handling was "very, very good indeed" in a 1988 episode of Top Gear. He also said the interior was "roomy rather than spacious"… whatever that means.
Either way we're talking about a special car. One built in limited numbers (97,521 to be exact, around 9,000 went to the UK) between 1988 and 1995, with a proper coach-built body featuring active aerodynamics.
VW never intended for Corrado sales to boom, which made it possible for production to be outsourced to the Karmann Coachworks in Osnabrück, Germany. Yes, the same Karmann responsible for the inimitable Beetle, Porsche 356, Scirocco, and of course, the Karmann Ghia among others. And, when you're going to all the trouble of having a private manufacturing facility with such status build your car, you're going to advertise the fact; as every Corrado does with a spiffy Karmann plaque stuck to the console just below the gear lever.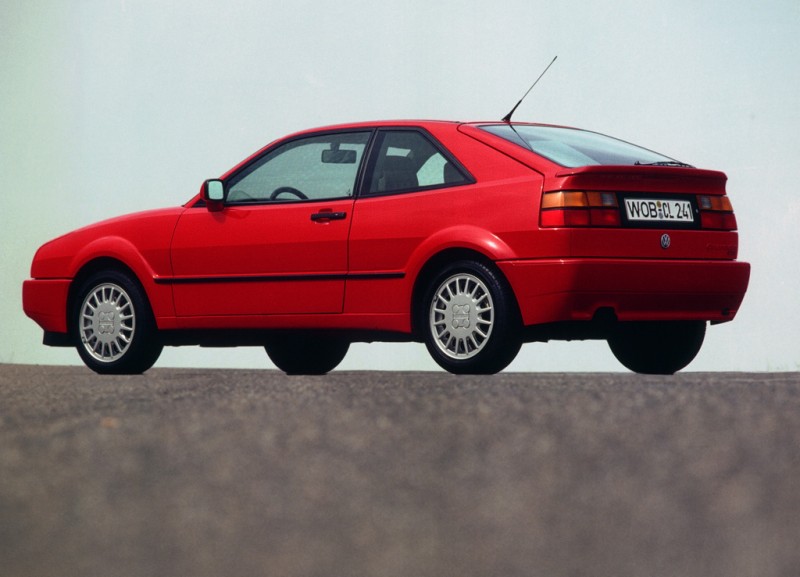 Active aero? Yes. The Corrado featured a movable rear spoiler which extended at either 45 or 75mph (depending on market) to "reduce lift" says VW. No actual downforce figures were quoted however, which all but confirms the device was intended more as a parking lot party trick than anything else. The wing could also be triggered via toggle switch at will, and in doing so acted as an on/off envy function for lookers-on in rival fixed-wing Preludes and Celicas.
The Corrado's seven year lifespan spawned several models but its production can almost be divided right up the middle between two main variants – the G60 and VR6. The late '80s debut makes it easy to deduce that underpinnings were donated mostly from the Golf Mk2. with its basic floorplan, front suspension and subframe shared between the two. Rear suspension, in an effort to differentiate its handling characteristics, was derived from the third-gen Passat.
Three Different Flavours of the Corrado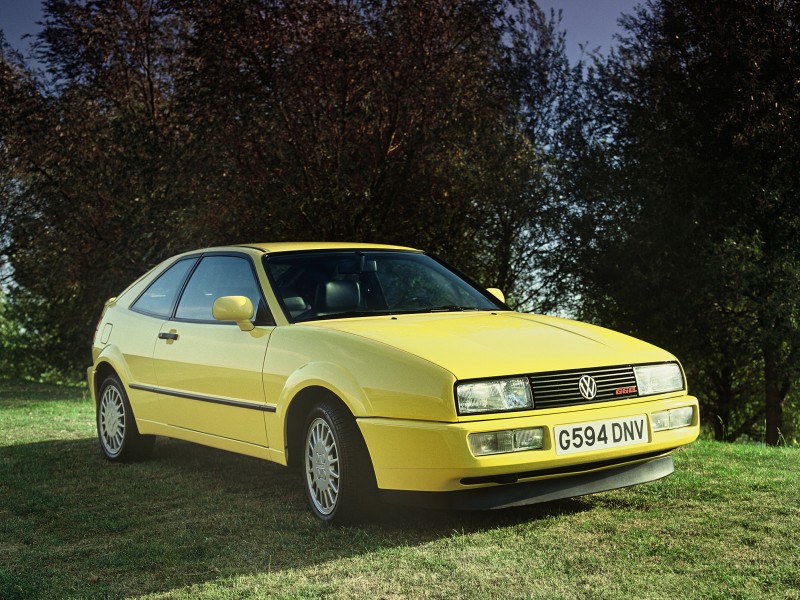 1989 - 1992 G60
They say that a properly running Corrado G60 could hold its own over a later, and more powerful VR6, but those claims could never be verified because no one's ever seen a properly running G60. Okay, that's a two tier exaggeration, but it's entirely true that the blown G60 has a reputation for mechanical maladies and fragility.
Volkswagen went against the turbo grain with its first Corrados, and instead fitted an unusual G-lader type supercharger. Named for its internal spirals resemblant of the letter 'G', the G-lader was paired with an otherwise normal 1.8-litre eight-valve unit which together, in theory, could boost performance to that of a 2.5-litre V6 of the time. VW quoted 140 horsepower and 0-62 in 8.5 seconds, but the problem was never with the G60's gusto. It was with the fact that seals inside the 'charger were designed to wear with age and often compromised performance. Such was the level of seal degradation that the G-lader itself was almost considered a replacement item like wiper blades and brake pads. This led to many die-hard G60 owners throwing in the towel and replacing the unit with a more conventional screw-type supercharger.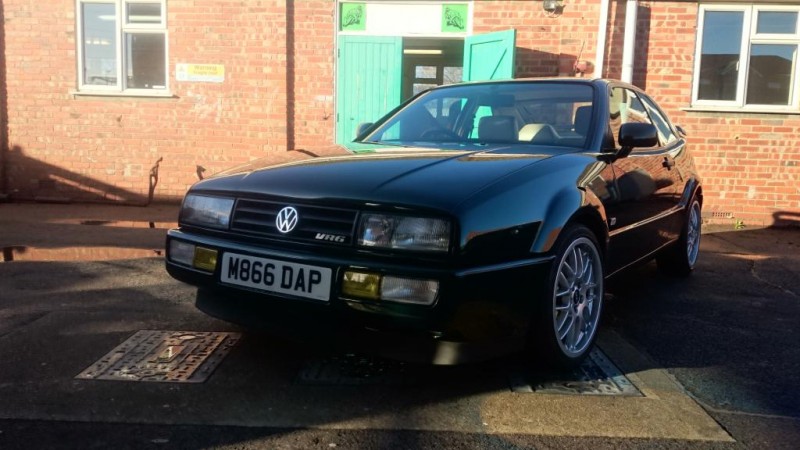 1995 Corrado VR6. Photo by seanl on Patina.
1992 - 1995 VR6
With the Corrado, VW had already created a sportscar masterpiece but the G60 engine was by many considered a blemish on a near perfect package. Enter VR6. With development of this new narrow angle V6 completed in 1991, timing couldn't have been more perfect.
The pairing was beautiful. Here was a Volkswagen with traffic-stopping looks and now it had a torquey 2.9 to give the show some go. This time 0-62 came in a much quicker 6.9 seconds. Ingeniously configured with one cylinder head to top two cylinder banks set at an acute 15 degree angle, the 190hp VR6 got the best parts of both vee- and straight-six engines. A compact block meant it could fit in a tight bay, but with all bores firing at the crankshaft at similar angles of attack it revved like a string of pearls in a tub of butter.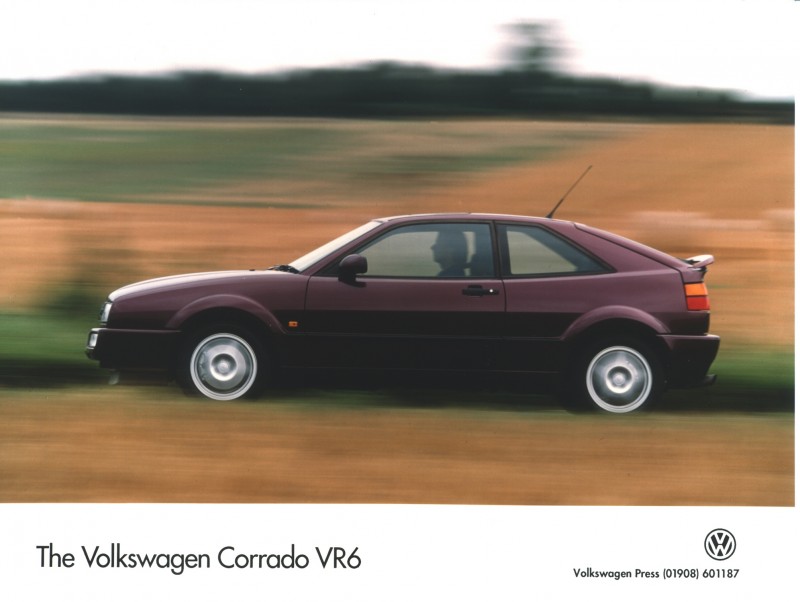 Its lusciously smooth cable-shift five speeder with a weighty throw also gave this Corrado a much higher feeling of substance; and this was a good thing considering the price hike over its four-cylinder brethren. The arrival of the VR6 was also met with some suspension and body tweaks, as well as some much needed interior updates.
1992 - 95 2.0 16V
Although VW's 2-litre 16 valve with K-jetronic injection went down as a legend in Golf Mk2 application, it never gained notoriety as a Corrado model. This, likely because it was only available in Corrado's timeline alongside the much more desirable VR6 version. Output was a relatively paltry 130 horsepower and performance was rather dull – even it banshee-screamed its way to a somewhat sluggish 9.3 second 62mph.
Scour current forums and the overwhelming recommendation of VR6 over 2.0 16V is prevalent for Corrado hunters. Even so, this particular derivative could be a better option than the niggly G60.
Corrados are still in that transitionary period where they are valued higher then equivalent cars of their period, but have not yet got the consistency in values of a car that has passed into classic status. This means there are a lot of fluctuations and no discernible trends (yet) in pricing.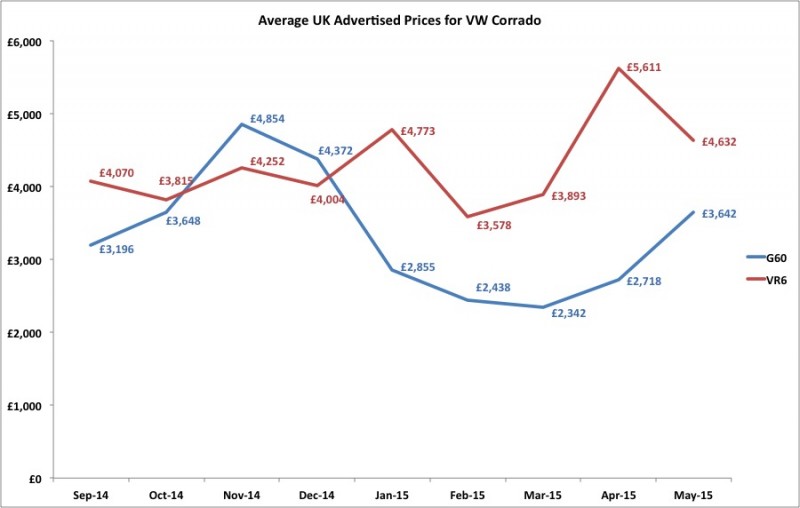 Later VR6 cars are more desirable and therefore do attract a premium. Will they appreciate in the future? Most probably but in our opinion they are not a sure fire investment in the same way that for example a Peugeot 205 GTI is. Buy one because they are relatively rare and great fun to drive, not because you want to top up your pension fund.
If you're lucky enough to find a second hand Corrado G60 in original specification, be prepared for levels of upkeep comparable to Italian exotics in terms of both cost and frequency. On the plus side its close relationship with its sibling Golf means most basic service parts are over the shelf items, but maintaining that troublesome G-lader will require serious effort and cash.
VR6 models are certainly the better option for those less mechanically inclined, but it's also not without its foibles. Head gasket, heater core and timing chain issues could force unwanted bills, and even simple procedures like changing spark plugs can require special tools. Lucky the VR6 had a long life span in many platforms (its basic block and architecture is still used today), so spares shouldn't be too much hassle.
It's also important to note that components in the sunroof, as well as inside the liftgate which make the wing extend, tend to fail and can be extremely costly to replace. That is, if you can even find said components. Keep your scrapper's number on speed dial. Other Corrado-specific idiosyncrasies include mechanised seat belts which swoop along a track from A to B pillars, unique glass and body panels, and hard to find interior bits.
As is usually the case when it comes to rare prototype models, finding reliable information about VW's taste-tester Corrado Magnum Sport Kombi is rather difficult.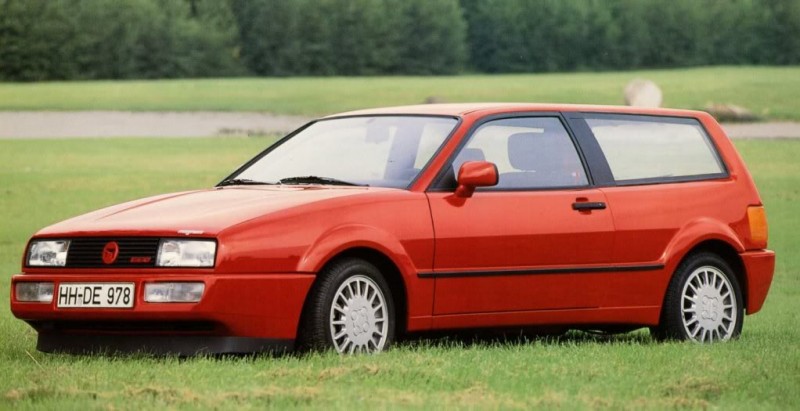 But, scratch around the internet and most posts seem to concur that this bizarre shooting brake-bodied Corrado G60 was put on display at the Frankfurt Motor Show in 1989 to gauge public interest. And alas, there was none. Production was stopped after just two units were built; instead of the planned 200. Probably a good idea right? Who would want a funny looking hatchback, station wagon, sportscar mutt anyway?
Ahem… anyone ever heard of an M Coupé…