With a family tree large enough to fill an Ikea car park, it'll be difficult to talk about every single version of the Peugeot 205. That's OK, because the ones we'll be talking about are the more enthusiast-focused examples of Peugeot's revolutionary hatchback.
Today, they're still strong performers and a 205 GTI often features in performance car tests as a benchmark car for newer hot hatches—not that the comparison is ever fair. The 205 GTI came from an era when much of the engineering went into making the car better to drive…you will not find 10 airbags and the ability to sync your phone.
As a result, the light and punchy 205s compare quite favourably in performance to many new cars, for a fraction of the price. In period, it was named Car of the Year by What Car? in 1983 and Car of the Decade by CAR Magazine in 1990. In fact, just last year, Peugeot Italy restored a late-'80s 205 GTI and offered it as a loaner car to local media.
Did we mention it also won the World Rally Championship two years in a row?
Yes, the car is that special. Read more for our overview of this legendary machine.
For a car to be truly great, it must have a strong foundation, and the 205 is no different. The company's solution to the space problems when designing a hatchback led to the company adopting McPherson struts for the front suspension and a torsion bar/trailing arm setup at the rear.
Peugeot engineers should be applauded, as this setup gave a fully independent suspension, which was great for roadholding, and was compact to endow all versions of the car with a large and flat trunk area. The company also saw fit to push diesel engines in their new hatchback, including some of the first desirable diesel performance cars that drivers had been offered—and many made the switch to the more torquey hatch.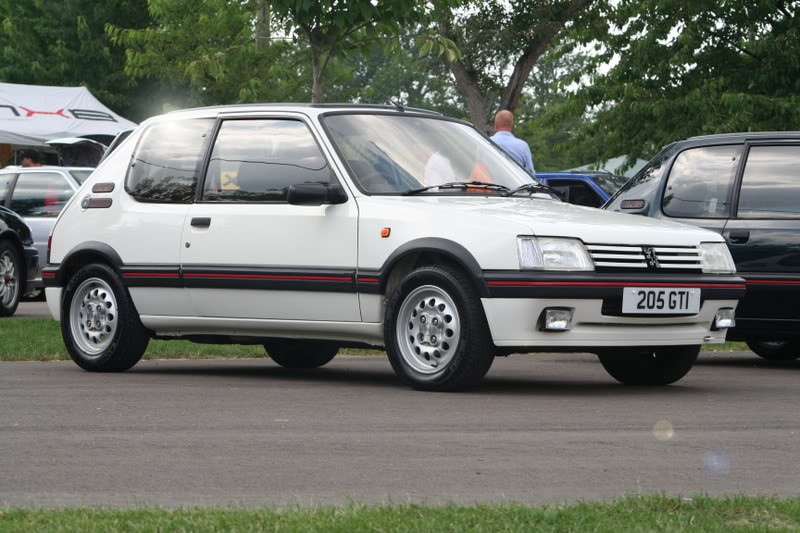 1991 Peugeot 205 GTI. Photo by chrispeugeot205gti on Patina.
When the GTI trim was launched in 1984, it instantly catapulted Peugeot to the top of hot hatch shopping lists. Following a dismal few years and shoddy brand image, the arrival of such a well-engineered and well-received car was the foundation all modern Peugeots stand on to this day.
Buyers had the choice of a 1.6 or 1.9-litre engine, with up to 126 horsepower (depending on year and if it was fitted with a catalytic converter) for the 1.9. Both were equally regarded, with some preferring the more rev-happy and eager 1.6.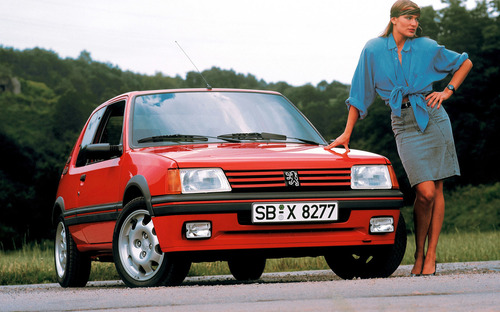 Peugeot 205 GTI. Photo courtesy of Peugeot.
Minor trim and mechanical differences, like seat cloth and disc vs. drum brakes separated the cars at birth, but now given the fleet's age and parts availability, it's relatively commonplace to see 1.6-litre examples with upgrades from the 1.9.
All GTIs received the important bits: stiffer and lower suspension, more aggressive tyres, and larger wheels. To keep interest steady over the decade it was on sale, Peugeot offered a number of trim levels and special editions throughout its run. When picking your ideal 205, spend some time familiarizing yourself with the different versions offered, as it's relatively simple to endow lesser versions with GTI parts, or find limited-edition parts on other models.
Three different flavours of 205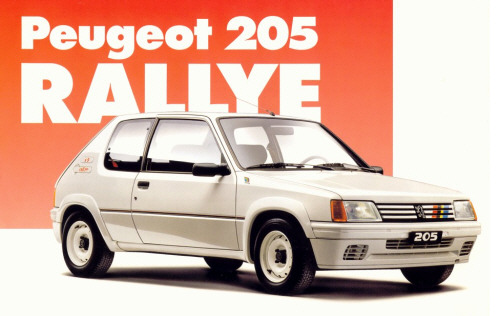 Peugeot 205 Rallye. Photo courtesy of Peugeot.
1988-1992 Peugeot 205 Rallye
Not everyone could afford the GTI, so Peugeot and Talbot Sport introduced the Rallye. With just a 1.3-litre engine and 103 horsepower, it may not sound like enough to make an enthusiast happy, but the company also saw fit to remove almost all soundproofing and optional equipment. This made the car just 1,750 lb (794 kg), offering a buzzy but exciting drive at a lower price. You could have any colour, so long as it was white or yellow.
Peugeot 205 GTI advertisement.
1984-1994 Peugeot 205 GTI
As mentioned above, the GTI is the benchmark performance model in not only the 205 range, but across all hatchbacks made since its introduction. And so we'll just quote Ollie Marriage's test of the car for Top Gear in 2003:
"The engine's intoxicating pursuit of its 7,800rpm limiter is addictive, but just as gigglesome is the electrifying throttle response, and the speed of the gearchange. And when an engine sounds this good (think Mk2 Escort rally car or hotshoe Caterham), you have to blip every downshift, don't you?"
Ollie Marriage, Top Gear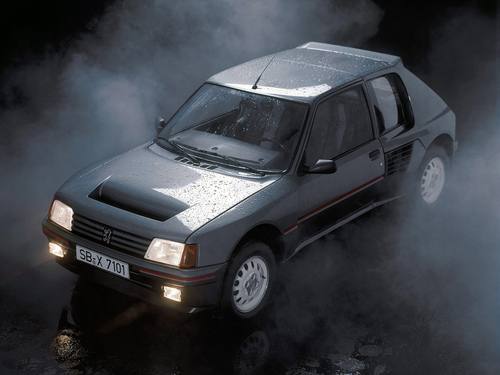 Peugeot 205 Turbo 16. Photo courtesy of Peugeot.
1983-1986 Peugeot 205 Turbo 16
It's perhaps not fair to include the very exotic 205 Turbo 16 (T16) in this roundup, as the rally-derived homologation special isn't exactly a 205. Mid-engined, with all-wheel-drive and a drivetrain shared with its Group B relative, the car was every bit an all-weather supercar.
The spec sheet may say just 197 horsepower, but with simple changes more power is readily attainable. Handbuilt by Heuliez with a clamshell-style rear lid, they're not exactly practical for touring or long-distance driving, but then again, knowing its close relative won the World Rally Championship means you'll likely be happiest on a fast and flowing B-road.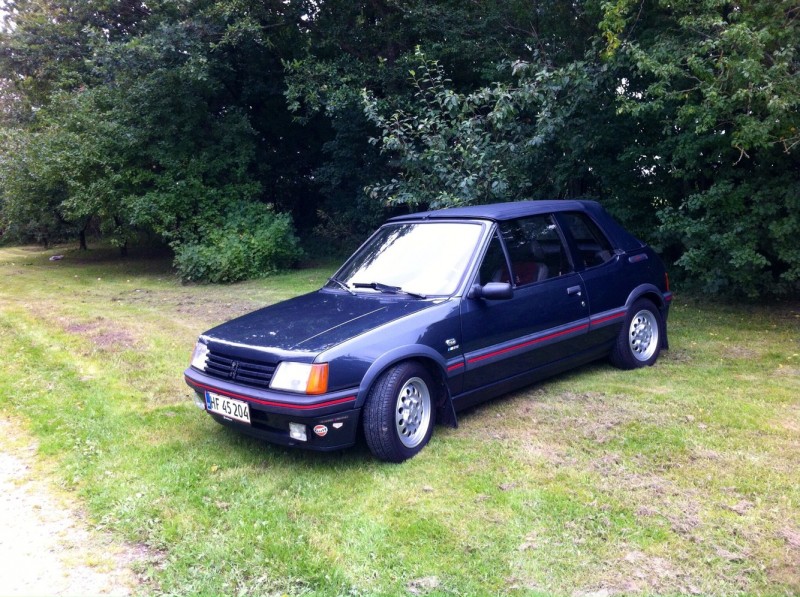 1989 Peugeot 205 CTI. Photo by flemming on Patina.
1986-1993 Junior: The most basic 205, and available with the company's tiny 954-cc "suitcase" engine. It's not a performance car, but someday everyone will wake up and realize they're all gone
1989-1992 Roland Garros: An upmarket trim package in tribute to the Tennis star it's named after, the ultimate in late-'80s luxury has to be the 2-door 205 Convertible in Roland Garros trim.
1991-1995 DTurbo: Turbocharged 1,769-cc diesel engine, and considered the diesel 'GTI'.
1991 GTI Griffe: Rumoured to be modeled after Peugeot Sport boss Jean Todt's personal 205 GTI, the Griffe was sold only in mainland Europe and was a fully-loaded car. All 3,000 made were only available with stunning bright 'Fluorite' green paint.
1993 STDT: Not quite a GTI, but close. With a diesel motor, beige interior, power everything inside, and subdued colours, the car was aimed at toy-obsessed junior executives but had strong performance. Only a few survive.
Prices of good 205 GTIs have strengthened in recent years and gone are the days for picking up a good example for a few hundred pounds. However they have not risen as much as some have expected and will have some way to go in the future. For a good example expect to pay at least £3,000 with concours cars fetching much more. Prices over the last few months have fluctuated but overall remained relatively static: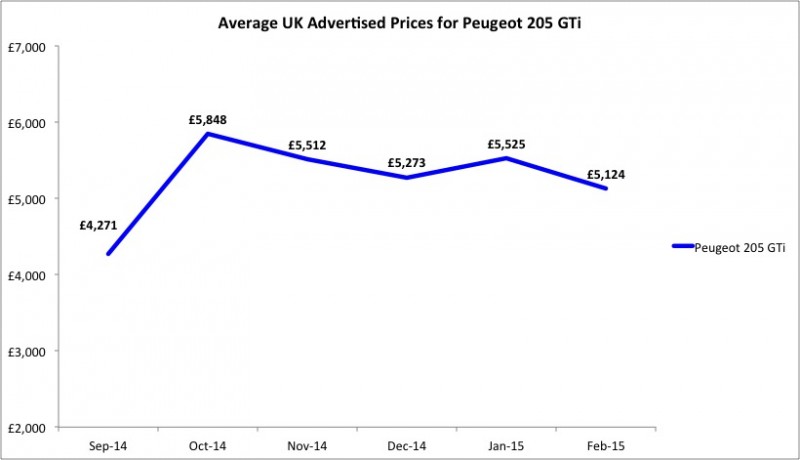 Expect to see prices rise further in the future as the stock of good examples dwindles and the collectability of 80s cars increases. The 205 GTi was seen as the definitive hot hatch of its generation and this reputation will only see prices rise further.
When looking for a 205, the key is to acquire one that's been used and lovingly maintained. Later cars built after 1990 (the so-called 'Phase 2' variants) are more desirable, thanks to their numerous improvements over earlier cars and, generally, fewer miles covered.
A common area in frequently exercised examples with the all-amuminum XU engines is blue smoke when starting or on the overrun, due to worn valve stem seals. Many experts say that the transmission, while strong, should be looked at and will likely need a rebuild owing to age. For GTIs, watch for a worn-out synchromesh on third and fourth gears. Hearing creaks from the rear end may indicate that a rear suspension rebuild is necessary, an inevitable service that can cost £1500 or more.
That said, frequent inspection for rot, wear, and road damage is the best way to keep the car in tip top shape, and there are many 205 specialists who are familiar with all of the places the car can develop faults.
Again, the difference between a good example and one that needs £1000s of repairs may not be readily apparent, so be sure to inspect the car thoroughly and drive it to listen for possible problems.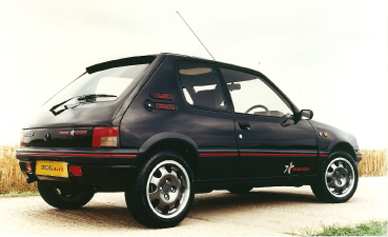 For the anoraks…
To commemorate the 25th anniversary of BBC Radio 1 in 1992, Peugeot and the BBC teamed up to create a limited edition, the 1FM. Peugeot made just 25 of the special model, and it's loaded with all options, plus a Clarion CD player (ironic, right?) and rear speakers. One was given away on air and 24 were made available across the UK, and with a built-in £5,000 donation to the Nordoff-Robbins Music Therapy Centre the car retailed for a significant £17,000.
If you're a unicorn hunter, the 1FM is easily one of the most desirable 205 GTI versions and used examples often command their deserved price premium over similar examples. If you'd like to learn more, there's an entire enthusiast website and owner's registry devoted to the 1FM.