A good friend of mine once explained that there's a difference between a car enthusiast and a driving enthusiast, and that the two don't necessarily need to overlap. You can, for instance, geek out on the details of rotary engines or the 'Corvair line' and not be the slightest bit interested on how a car drives.
Much of the car enthusiast press talks about the outright performance of two-seat sports cars, but what if that's of little concern? What if you want a handsome, durable classic that can give backroad thrills on occasion and reliably take the family for a weekend getaway?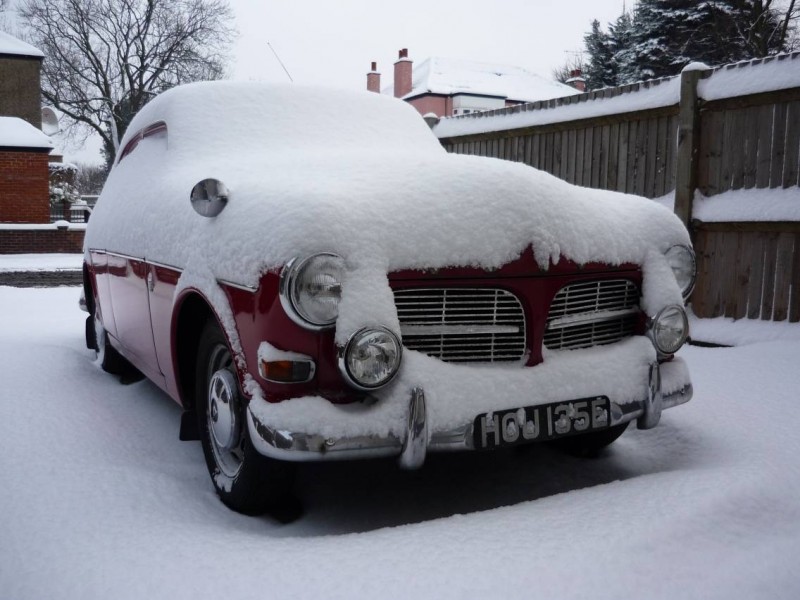 966 Volvo 121 by valvebounce on Patina
The Volvo Amazon (also known as 121/122S/123GT), introduced in 1956, was the Swedish response to two very different markets: chrome heavy, 'Jet Age'-inspired sedans in North America and everything from the opulent Lancia Flaminia to miserly Volkswagen Type 3 in Europe.
In period, it held its own admirably. Now, it is now one of the most modern-feeling classics you can buy, and with racing heritage, a large number of survivors to choose from, and a relatively plentiful supply of parts, the car represents a good opportunity for the average enthusiast to enjoy a robust and useable classic car.
In the US, it was priced higher than most V8-powered muscle cars, cooling many enthusiasts to its charms. In Europe, at least, its success in rallying meant that many were used by drivers who appreciated a durable sporting sedan.
Rather confusingly, it's been known under a number of different names, including the Amazon in Europe from 1956 and the 122 S in North America from 1959. In this article, 120-series and Amazon will be used interchangeably for the series as a whole, unless noted.
Even this commercial trades on one fact: Volvo built cars to last. With thick steel, anti-corrosion undercoating from the factory, beefy, easy-to-repair suspension, strong brakes for the period, and (nearly) indestructible engines and transmissions, even today the 120 series are some of the most reliable and drivable classic cars…no matter which part of the world you live in.
If the car was built to handle racing through Africa in the '60s, chances are the car will handle your commute.
Period advertisement by Volvo Canada
Although 120-series cars were raced in period at endurance races across Europe, including at the Nürburgring and Spa-Francorchamps circuits, it was most successful at off-road events.
By 1963, Volvo had won the European Rally Championship thanks to the 122 S, and the same year they were narrowly beaten to the European Touring Car Championship title by Jaguar. Where the car really excelled was in the roughest rallies ever held, and especially in Africa.
You may not be aware, but in this era Volvo was deeply committed to motorsport, and internally at least, support for racing the Amazon came from the Competition Department. Though not specifically set up to support the scores of privateers who took to the model, lessons learned in racing were applied to improving the production cars, and tuning the 120-series was a relatively straightforward process. In addition, a few cars were factory modified by Volvo—meaning that if you're into hunting unicorns, there are ex-Works racing cars to be found…
In 1971, just a year after the car was out of production, the Competition Department turned its success with the 120-series program into a factory racing parts distribution service called Volvo Competition Service that provided the essentials for privateer racers around the globe for a number of years.
Suffice it to say, if you'd like to improve the performance of the car from floaty family sedan to backroad dance partner, finding useful bolt-on modifications for the car is a simple process.
Three different flavours of 122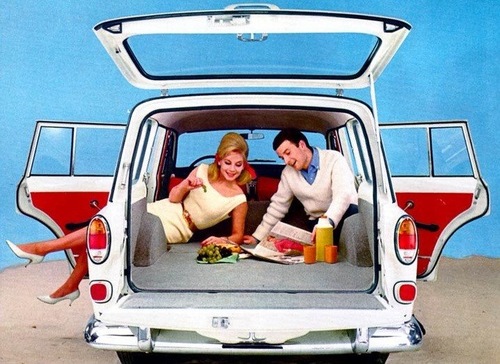 Photo of Volvo 122 Wagon courtesy of Volvo
Volvo 122 Wagon
Between 1962 and 1969, Volvo offered a wagon version of the car with an innovative split-folding tailgate to access the capacious cargo hold. The car retained all of the attributes of the sporting sedan and coupe models, just with far more space for the family, luggage, and pets.
Better still, the wagon could be upgraded to use some of the performance items seen on other Amazon models, and today, with a little bit of cash, can be turned into a comfortable, 100 mph-capable family touring wagon.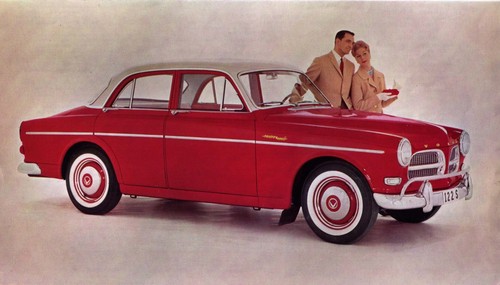 1966 Volvo 122 S photo courtesy of Volvo
Volvo 122 S
The first major improvement to the car came in 1958 with the 122 S, featuring the B18A 4-cylinder engine, now with two SU carburetors and 85 horsepower. It may seem inconsequential to performance, but it's important to note that in late 1958, the first cars fitted with Volvo's latest safety invention—the three-point safety belt—began to roll off the line.
In 1961, the car was uprated again to 90 horsepower, with front disk brakes and improved suspension. In 1966, the car made 100 horsepower, and by 1968, the car had a full 118 horsepower—better than even the performance-oriented special editions that were offered earlier.
Inside, even back in 1964, lumbar support for the driver could be optioned. While interior features and creature comforts remained bare by today's standards, compared to most classics, it's quite plush.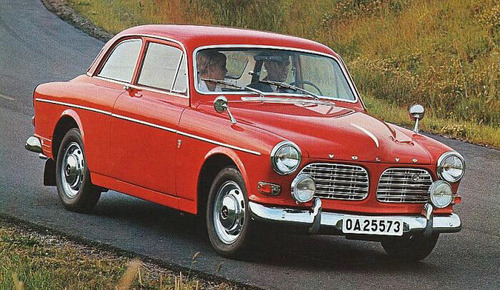 Volvo 123 GT photo courtesy of Volvo
Volvo 123 GT
The hottest factory 'Amazon', the 123 GT, was released by the Volvo factory in 1966, with an engine borrowed from its platform-made, the P1800 Coupé. Front fog lights and a number of interior accessories—including the floating tachometer and Nardi-like sports steering wheel—are an easy giveaway that this is a more special model. (Sadly, the polo helmet for your significant other was not a factory option.)
Most agree that about 1,500 123 GTs were made, making it a rare but not unattainable classic.
Compared to many cars from the 60s, the Volvo is a comparative bargain, testament to the build quality and the fact that so many remain on the road today.
Expect to pay £2,000 – £4,000 for a car needing restoration, up to £15,000 for immaculate versions of the rarer models such as the 123 GT.
If you do decide to buy a car that needs work, take heart in the fact that most of the common parts are readily available and cheap to purchase. For details of common repairs and prices, see the guide from the Volvo Owners Club in the UK.
Would we buy one? Absolutely. A well loved classic that is relatively easy to maintain, has a great pedigree and has a low barrier to ownership (it's cheap, for now) – What more could you want from a 50 year old car?
UK-based firm K. N. Rudd (Engineers) Ltd. introduced what they called the 'Ruddspeed' Volvo 122 and 122 S, packages of parts that improved the performance of the cars—they claimed acceleration to 80 mph improved by 25% over the stock 122, with a top speed above 100 mph (160 km/h).
Now, in a world of story-obsessed classic car collectors, finding a Ruddspeed sedan or wagon with period performance parts is a relatively affordable way to find a desirable classic that is as rare as Volvos get.