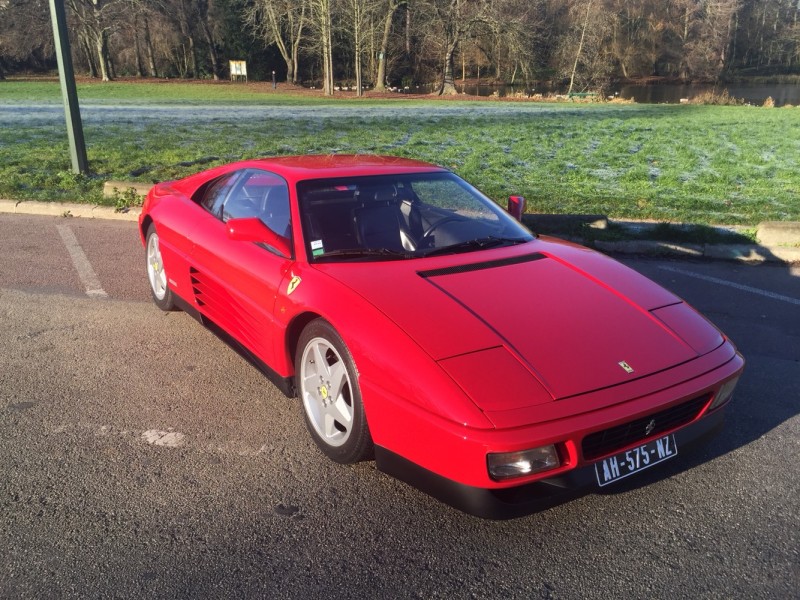 1990 Ferrari 348 TB. Photo by Patina user fred_levaux
I'm not much of a Ferrari guy, but there's something about the 348 and F355 that make my heart melt.
The newer F355 has a race car-worthy name and looks like an Olympian in an Ermenegildo Zegna suit. It's the first glimpse of Ferrari's range of modern sportsmen—fast, poised, and polished.
But it's the older 348 that introduced an engineering change that persists to this day, and along with it, laying the template for what we now expect from a mid-engined Ferrari. It may not be perfect, but the 348 is an intriguing sports car with a style of its own.
(And yes, we've included sound clips…)
Before we get into pretty photos and salacious videos, a quick engineering lesson. The change Ferrari made with the 348 was so important that they put a badge on the back of the car for it: ts (Transversale Berlinetta) and ts (Transversale Spider).
Transversale referred to the 348's gearbox, which was now mounted behind the engine, between the rear suspension components—how the world's best race cars are often designed. Its engine was mounted in front, north-south, or longitudinally. Longitudinally-mounted engines are exactly how kids intuitively draw them, with the engine's cylinders in a line from front to back. This is also how race cars are designed.
Previously, 'mainstream' mid-engined V8 Ferraris like the Mondial and 308 had the 348's layout flipped, with the engine mounted transversely and the gearbox longitudinally. The world's best race cars are often not designed like that.
From its introduction in 1989 until its replacement, the F355, arrived in 1995, the 348 helped introduce the first modern race car-inspired Ferrari to enthusiasts—while retaining a hint of '80s supercar flair that its successors lack.
First, Ferrari introduced the 348 tb and 348 ts—coupé (berlinetta) and targa (spider) versions. Powered by a normally-aspirated 3.4-litre quad-cam V8 engine with four valves per cylinder, dry sump lubrication, dual computer engine management, and more efficient side-mounted radiators.
The result? 300 horsepower at 7,500 rpm—incredible numbers in 1989. It may not be as quick today as, say, a well-driven turbocharged Subaru wagon with three border collies in the back, but the 348 still provides the driving experience that only a mid-engined Ferrari can.
You've read this far into a 348 article and so it's important to note how the car sounds. It may not be your cup of tea, but below is a video featuring an example being driven moderately quickly that has been fitted with a raspy Japanese aftermarket exhaust. Keep one thing in mind as it enters the tunnel: This is how race cars sound.
While the 348 is not just a set of pipes, the way it sounds is part of its place in history between the Ferrari of old and the Ferrari we know today. It was also one of the first Ferraris to enjoy phased-in special editions, with the Serie Speciale (1992-1993), 348 Challenge (1993), Spider (1993-1995), and 348 GT Competizione (1993).
This guide is intended to highlight some of the reasons many have fallen in love with this often overlooked, Leonardo Fioravanti-styled Ferrari. For those of you with a wad of cash in your back pocket, there's no time like the present…
Three different flavours of the 348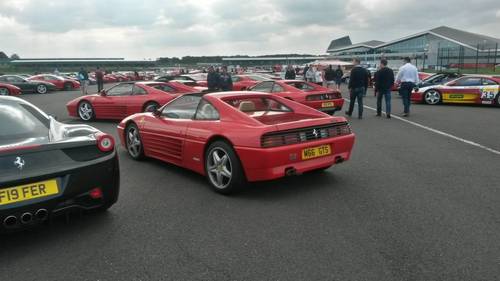 1994 Ferrari 348 GTS. Photo by Patina user jasonb.
993-1995 348 GTB / GTS
The final revision to the 348 brought many improvements to the driving experience. Its 3.4-litre engine had a better engine management system from Bosch, higher compression ratio, a different intake, a more efficient exhaust, and other improvements that raised horsepower to 320 for European-delivery cars and 312 for US examples.
Along with more power, revised suspension geometry and wider rear wheels significantly improved handling. How to spot one? Body-coloured lower body parts are a quick way to tell later 348s apart from earlier models. As before, the 's' denoted cars fitted with a removable targa-style roof.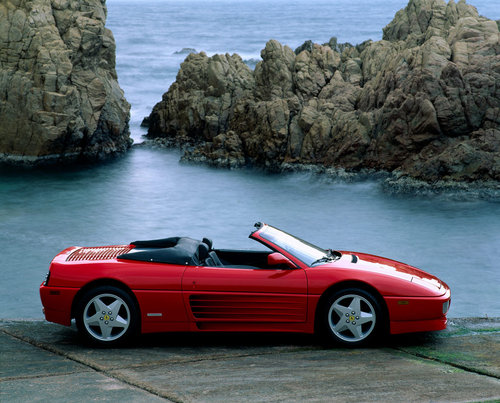 1993-1995 Ferrari 348 Spider. Photo courtesy of Ferrari.
1993-1995 348 Spider
All of the pros of the 348 GTB, plus a convertible roof. While I'm personally not a fan of most open-roof sports cars, I'll admit that the 348 Spider does a fantastic stand-in for the Testarossa Spider when daydreaming of Outrun-style escapades.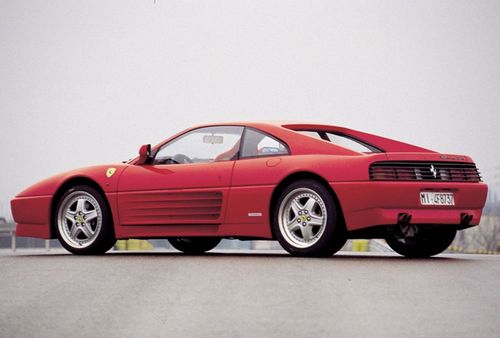 1993 Ferrari 348 GT Competizione. Photo courtesy of Ferrari
1993 348 GT Competizione
With just 50 made, this is practically an impossible variant to find—and its price is often well into Jay Kay territory. But if you must own the ultimate street version of the 348, only the GT Competizione will do. With weight down by more than 400 lbs (185 kg) thanks to kevlar seats, carbon fibre bumpers, carbon fibre doors, and an A/C system left back at the factory. The factory was, however, borrowing from its enviable parts bin: the 348 GT Competizione's brakes were related to those found on the F40 Evoluzione and its safety features came from the factory-supported 348 Challenge privateer race series.
With different suspension settings, exhaust system, 3-piece Speedline alloy wheels, and a final drive tweaked for acceleration, the car was as pure as the 348 got in street-legal form, and all modifications were conducted by Michelotti. A recently-listed example in Germany confirms this with an eye-watering price of €249,500.
A search of the cars available for sale in the major classifieds puts the 348 at the upper-end of affordability for the common enthusiast, although due to some bad press at the time it has always been cheaper to purchase then the models before or after it.
Even Ferrari's Luca Cordero di Montezemolo, newly appointed boss of Ferrari when the 348 was in production said:
"…with the exception of its good looks I was utterly disappointed. This was clearly the worst product Ferrari had developed for some time."
Luca Cordero di Montezemolo
A little unfair in our opinion, a well setup 348 is still a joy to drive now and like other prancing horse's is sure to continue to rise in value.
Current examples of the 348 will cost:
UK: £25,000 – £60,000
Europe: €29,000 – €250,000
North America: $46,000 – $80,000
Although using the Patina Price Trends Database and analysing data points for all 348s advertised in the last few months, values are now starting to rise (more than 10% in just 3 months):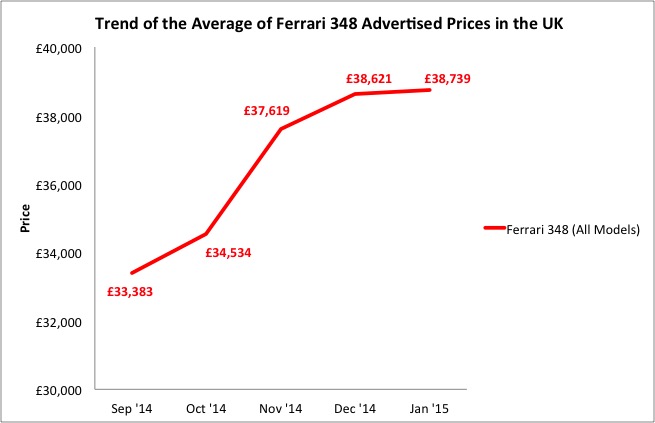 As the wave of collectability hits the 348 (and it will), expect values across the board to continue to rise even further.
Our choice to buy would be one of the later cars (GTB, GTS or Spider) however these were made in low quantities so can be harder to find and any 348 will bring you immense joy. As always with an exotic car, maintenance, originality, and documentation should be key factors in your decision to own one. Savvy 348 owners have started using Patina as an indispensable resource in storing media and documents to help protect the value of their cars.
Maintaining the 348
This is where a membership to Ferrarichat.com comes in handy. Right off the top: well-maintained 348s command a deserved premium, but many owners say that overall maintenance costs for all 348s are well within a manageable budget for many at a few thousand dollars per year.
That said, it may be a shock to some upon learning that to change the cam belt, the 348's entire rear sub-frame or fuel tank has to be removed first—every 30,000 miles (48,300 km) or three years.
Even simple things become more complicated in a Ferrari: 348 owners recommend its engine should be started with a procedure that is roughly as involved as mid-air refuelling a fighter jet or mastering a pipe organ. According to the excellent my348.com these (condensed-by-us) notes are all it takes to start the car and warm it up enough to enjoy its full performance:
Turn the key to run, not start, then fasten your seat belts. Engage the parking brake, clutch, and shift to Neutral. (Your 348 has now had time to energize relays and various electrics.)
Turn the ignition key to start the car.
Verify that you have oil pressure (first quarter mark).
Let it idle only briefly until your ABS light, BRAKE light, Check engine lights (non-Euro 348's), and Slow Down lights (if any) turn off.
At this point, your idle should be down below 1100 RPMs and stable.
Release the parking brake.
Begin driving, but initially keep your RPMs well below redline (except, be sure to shift *above* 4100 rpms to go cleanly into 2nd gear when cold).
Soon, you should notice that when you return to idle, that your idle is 1000 RPMs on the money, that you have oil pressure on the first quarter mark on the oil temperature gauge at idle and at mid point by or before 4,000 RPMs.
When your oil temperature also reaches the first quarter mark, then your mainshaft inside your transmission is now warm enough to avoid cold-tranny gear damage from hard shifts.
With good oil pressure, good oil temperature, and good water temperature, then so long as you have no caution lights on your dash, you are now good for maximum RPMs and full spirited driving.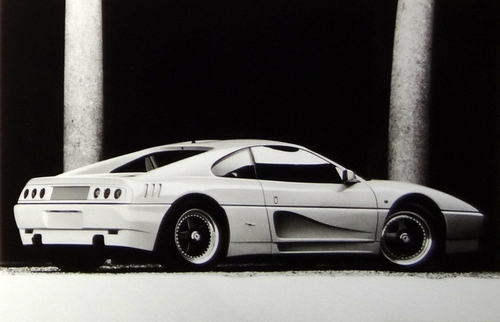 1991 Zagato Elaborazione. Photo courtesy of Zagato.
Finally, for the anoraks…
The car above, a Zagato Elaborazione, was a 348 in drag. With its outlandish handcrafted aluminum bodywork, many consider it to be one of Zagato's misses. In addition to adding round tail lights—that would be introduced soon after on the F355—Zagato put the 348 engine under a non-functional glass cover, a boastful touch that Ferrari includes to this day.
Written by:
Michael Banovsky
www.twitter.com/banovsky
www.banovsky.com